Roundup: A look at how former Hoosiers are faring in the NBA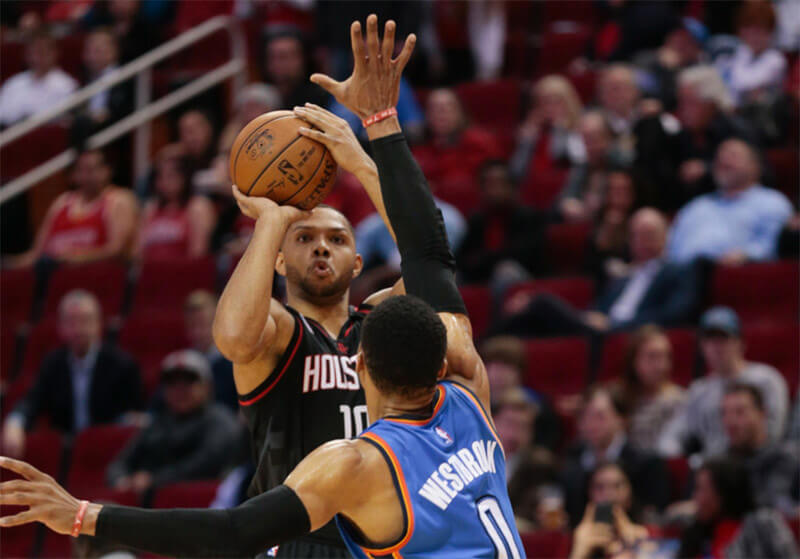 Back in December, Indiana had six players in the NBA this season, which was tied with Michigan for the second most of any Big Ten school. The Hoosiers now just have four as Yogi Ferrell and Troy Williams are both in the Developmental League.
Here's our latest update on how each former Hoosier is faring as the midway point of the NBA season approaches:
· Eric Gordon, Houston Rockets: Gordon, who has been one of the better turnaround stories this season in the NBA, has missed the last two games with a sprained toe. The injury isn't expected to sideline him long term, which is good news for the Rockets. At 31-10, Houston currently sits in third place in the Western Conference. Gordon is a major reason why. In 39 games, he's averaging 17.3 points per game on 41.1 percent shooting on 3s. Playing alongside James Harden and for coach Mike D'Antoni has been a huge boost for Gordon's career and his productivity. If he can stay healthy, which has been a problem throughout his career, Gordon will play in the NBA's postseason for just the second time in his career.
· Victor Oladipo, Oklahoma City Thunder: Oladipo missed nine games with a sprained right wrist, but returned on Dec. 31. He's scored in double figures in all seven games since his return. The Thunder, led by MVP frontrunner Russell Westbrook, are 24-16 and are tied with Utah for the fifth best record in the Western Conference. Oladipo is averaging 16.1 points, 4.4 rebounds and 2.8 assists in 33.9 minutes per game. He's also having his best shooting season of his young career. Oladipo is hitting 38.3 percent of his 3s and is shooting 45.2 percent overall from the field. The Thunder appear to be a lock to reach the postseason, which means Oladipo will play in the NBA playoffs for the first time this spring.
· Noah Vonleh, Portland Trail Blazers: Vonleh is still just 21, but his opportunity to thrive might not happen in Portland. The Blazers started Vonleh in 56 games last season, but his playing time this season has dropped to 11.2 minutes per game. He's averaging just 2.8 points and 3.3 rebounds per game. Unless Vonleh can distinguish himself from Meyers Leonard or Ed Davis, it appears unlikely that he'll be more than a fringe rotation player this season in Portland. The Blazers have already picked his option up for next season ($3.5 million).
· Cody Zeller, Charlotte Hornets: Zeller has missed four of Charlotte's last five games. The first three misses were due to a concussion and most recently, he missed Charlotte's 121-114 loss to Houston with an illness. The Hornets have been stumbling as of late and have fallen all the way down to seventh in the Eastern Conference. They're just a half game ahead of Washington for the eighth spot. Chicago, which is ninth in the standings, is just one game back of Charlotte. In 32 games (30 starts), Zeller is averaging 10.7 points, 6.3 rebounds and 1.1 blocks in 26.3 minutes per game. He's shooting a career-best 59.6 percent from the field.
· Troy Williams, Memphis Grizzlies/Iowa Energy: Williams hasn't played significant minutes for Memphis in nearly a month and is now in the Development League with the Iowa Energy. He was called up for one game recently, but didn't play and was sent back to Iowa. In 24 games (16 starts) with the Grizzlies, Williams is averaging 5.3 points and 1.8 rebounds in 17.4 per game. Injuries are what helped Williams carve out a rotation spot in Memphis earlier this season, but with a healthier roster over the last month, the Grizzlies have opted to find more playing time for Williams in the D-League. In six games for the Energy, he's averaging 20.2 points (51.2 percent shooting), 4.7 rebounds, 1.7 assists and a steal in 24.8 minutes per game.
· Yogi Ferrell, Brooklyn Nets/Long Island Nets: Ferrell was waived by Brooklyn on Dec. 8 and is now playing with the team's D-League affiliate. According to multiple reports, he recently had a tryout with Philadelphia for a 10-day contract, but nothing materialized. In 10 games for Brooklyn, Ferrell averaged 5.4 points, 1.7 assists and 1.2 rebounds in 15.1 minutes per game. For Long Island, he's averaging 18.4 points, 5.4 assists, 2.8 rebounds and 1.8 steals in 34.8 minutes per game.
(Photo credit: Bob Levey/Getty Images North America)
Filed to: Cody Zeller, Eric Gordon, Noah Vonleh, Troy Williams, Victor Oladipo, Yogi Ferrell