Five takeaways from Indiana's loss to Maryland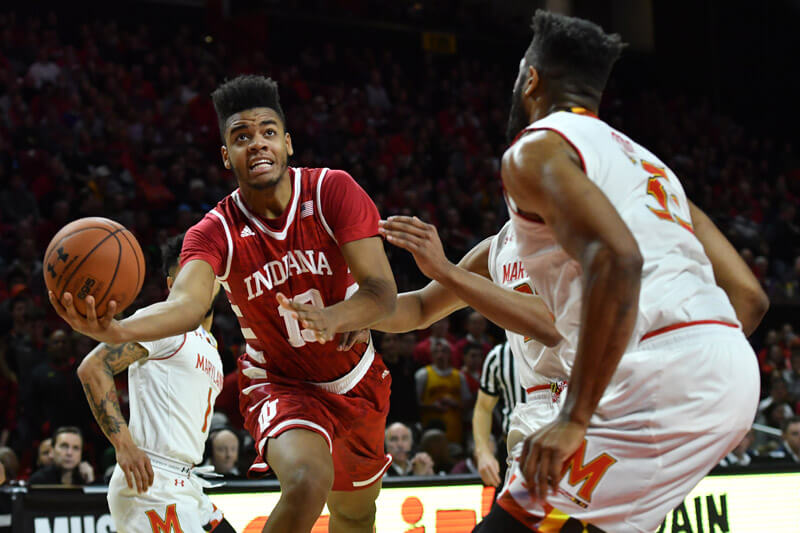 COLLEGE PARK, Md. – Indiana battled, yet still came up short in its first Big Ten road game. The Hoosiers led for much of the second half, but couldn't close the deal and fell 75-72 to Maryland on Tuesday night at the XFINITY Center.
Here's a look at five takeaways from the loss to the Terrapins:
· Indiana's defense – again – comes up short: The Hoosiers are now four games into the conference schedule. The numbers are officially a trend: Indiana isn't coming close to being an average defensive team.
Indiana has now given up 1.14 points per possession in every Big Ten game. The Hoosiers have the league's 13th best defense through four games. The season turned around in 2015-2016 because Indiana developed an identity on defense. Indiana finished last season with the league's third best defense.
This season is quickly going south because Indiana doesn't have a defensive identity.
Tuesday night was just the latest example of Indiana's defense being exposed. Four of Maryland's five starters finished in double figures. Indiana couldn't keep the Terrapins out of the lane. Despite Indiana committing only 16 fouls, Maryland shot 22 free throws. Most of the fouls were in the lane and at the rim. Maryland outscored Indiana by 10 points at the foul line. That, in a nutshell, was the game.
· Bryant, Anunoby both struggle: There were plenty of NBA scouts in attendance Tuesday night at the XFINITY Center. What they saw from both Thomas Bryant and OG Anunoby wasn't particularly impressive.
Bryant was 2-of-8 from the field and finished with just six points in 28 minutes. He did have seven rebounds, two assists and three blocks, but was repeatedly blocked at the rim by Damonte Dodd.
Anunoby had two athletic finishes at the rim in the second half, but missed his other seven attempts from the field. He finished with five points and only three rebounds in 24 minutes.
Whether the preseason accolades were warranted or not, both have underwhelmed when you look at the full body of work. Anunoby has been very good at finishing 2s, but is hitting just 33.3 percent on 3s. He's also failed to take on the role of defensive stopper with any consistency.
Bryant, meanwhile, is making less than 55 percent of his 2s after shooting close to 71 percent last season. When two of your best players struggle, particularly on the road, it's tough to win close games.
· The lack of a closer hurts in close games: Indiana is now 1-4 in games decided by five points or less. The Hoosiers beat Kansas in a narrow game to open the season and have now dropped four straight games decided by five or less.
This is where the loss of Yogi Ferrell, combined with Indiana's point guard platoon, really stings. The Hoosiers built a five-point lead a couple of times in the second half on Tuesday. But they couldn't extend the lead further. And with each failed opportunity to do so, the door was left open for Maryland.
"There were a couple of plays that could've gone either way," James Blackmon Jr. said. "We need to find a way to make them come our way. We just have to bounce back next game and make those corrections."
· Blackmon Jr. carries a huge offensive load: The bright spot for Indiana? The offensive play of Blackmon Jr.
The Marion product went 9-of-15 from the field, including 4-of-8 on 3s. Some of the shots, particularly in the second half, were deep, tough looks.
Blackmon Jr. finished with a game-high 22 points and also surpassed 1,000 career points in the loss.
"My teammates were finding me, and I was getting open," he said. "There's just a couple more things I wish I could've done."
· Is Indiana's back up against the wall? Blackmon Jr. said postgame that Indiana doesn't feel like "our backs are against the wall."
But the Hoosiers have reached a crucial point in the season. Any hopes for a favorable NCAA tournament seed? Likely gone. Hopes to contend for a Big Ten title? Slim. It's been a stunning fall from the top 10 in the polls to the bottom half of the conference race.
So where do things go from here?
Assuming Indiana wins on Sunday at home against Rutgers, next Wednesday's game at Penn State is looking like a must win. According to KenPom win probabilities, it's Indiana's second best remaining chance to win away from Assembly Hall. With two home conference losses already, the Hoosiers have to win two road games to finish with at least a .500 Big Ten record. And that assumes winning out at home, which is far from certain.
(Photo credit: Tommy Gilligan-USA TODAY Sports)
Filed to: Maryland Terrapins