A look at where former Hoosiers are playing professionally this season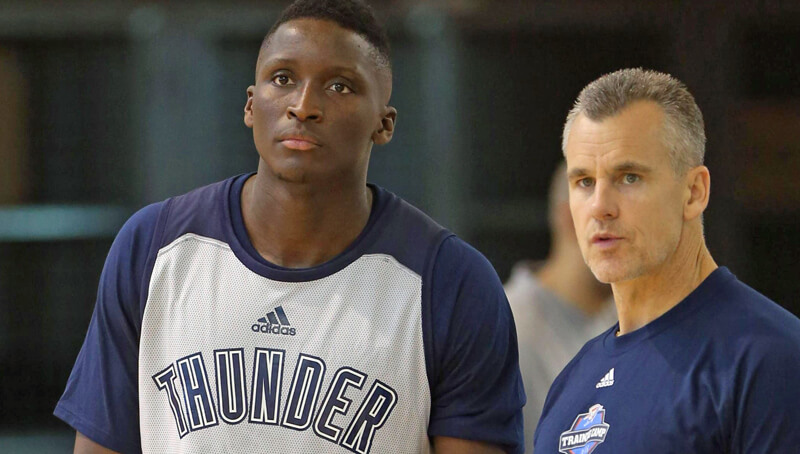 The NBA tips off later this month and several professional leagues around the world are already underway. Here's a look at where former Indiana players will be suiting up professionally this season:
Cody Zeller, Charlotte Hornets (NBA)
Zeller is entering his fourth season in the league and he'll earn $5.3 million as he remains on a rookie scale contract. He's yet to play in the preseason for the Hornets as he battles a knee injury. In fact, Hornets coach Steve Clifford recently said Zeller "isn't expected to play anytime soon."
Noah Vonleh, Portland Trailblazers (NBA)
The 20-year old Vonleh is entering his third NBA season and will earn $2.7 million in Portland. In his first preseason game, Vonleh recorded a double-double with 14 points and 14 rebounds.
Victor Oladipo, Oklahoma City Thunder (NBA)
Like Zeller, Oladipo remains on a rookie scale contract and will earn $6.5 million this season. It will be Oladipo's fourth NBA season, but first in Oklahoma City following an offseason trade from Orlando. In two preseason games, Oladipo is averaging 22 points, 3.5 assists, 2.5 rebounds and 1.5 steals per game.
Eric Gordon, Houston Rockets (NBA)
Gordon agreed to a four-year, $53 million deal in Houston in the offseason as he continues to be the highest paid former Hoosier playing professionally. In three preseason games with the Rockets, Gordon is third on the team in scoring at 14 points per game and is shooting 53.6 percent from the field.
Yogi Ferrell, Brooklyn Nets (NBA)
Ferrell's deal with the Nets is partially guaranteed and is reportedly worth $100,000. If Ferrell doesn't make the Nets roster, he will likely be assigned to the Long Island Nets, the Development League affiliate for Brooklyn. In two preseason games, Ferrell is averaging 6.5 points, two assists and 1.5 rebounds per game.
Troy Williams, Memphis Grizzlies (NBA)
Williams also got a partially guaranteed deal with a reported value of $150,000. If Williams doesn't make the Grizzlies, he will likely to be assigned to the Iowa Energy, the Development League affiliate for Memphis. In two preseason games, the former IU forward is averaging nine points and 2.5 rebounds per game.
Will Sheehey, Raptors 905 (NBA Development League)
Sheehey, who did not play in the NBA Summer League, will play for Raptors 905, the Development League for Toronto. He has spent the offseason working in Chicago.
Christian Watford, Fort Wayne Mad Ants (NBA Development League)
Watford also did not play in the NBA Summer League, but has signed to play for the Fort Wayne Mad Ants, the Development League affiliate for the Pacers. Watford spent much of the offseason in Birmingham and also traveled frequently to watch his younger brother, Trendon, play in events across the country.
Nick Zeisloft, Indiana Pacers/Fort Wayne Mad Ants (NBA/NBA Development League)
After not being invited to play anywhere this summer, Zeisloft inked a partially guaranteed deal worth $25,000 with the Indiana Pacers and appears headed for Fort Wayne. He is in training camp with the Pacers, but has played in just one of the team's three preseason games.
Jordan Hulls, Eisbären Bremerhaven (Germany BBL)
Hulls is in his fourth professional season and is with Bremerhaven in the Germany BBL. In four games, he's averaging a team-high 29.8 minutes per game. Hulls is also averaging 13.3 points, 4.3 assists and 2.3 rebounds per game. He recently penned a blog entry discussing his season so far in Germany.
Earl Calloway, Istanbul BBSK (Turkey BSL)
Calloway's season just got underway in Turkey and in his first game, he finished with six points, five rebounds and five assists in a loss. Calloway has played in the NBA Development League, Croatia, Spain and Turkey.
Bracey Wright, Acibadem Universitesi (Turkey-TBL)
Wright's team in Turkey is off to an 0-2 start, but he's averaging a team-high 15.5 points. He's also averaging 4.5 assists, 1.5 steals and 1.5 rebounds per game. Wright was a second round pick of the Timberwolves in 2005, but played in just 26 games over two seasons.
Marco Killingsworth, Maccabi Kiryat Gat (Israel-Winner League)
Killingsworth is coming off a productive season in Israel where he averaged 15.6 points, 8.4 rebounds and 2.3 assists per game. Maccabi Kiryat Gat lost their opener on Oct. 10, 90-68.
D.J. White, Auxilium CUS Torino (Italy-Serie A)
White is currently averaging 22.5 points, 11 rebounds and two assists in 35 minutes per game in Italy. Auxilium is currently 1-1.
Filed to: Christian Watford, Cody Zeller, Eric Gordon, Noah Vonleh, Troy Williams, Victor Oladipo, Will Sheehey, Yogi Ferrell