That's A Wrap: Mike Woodson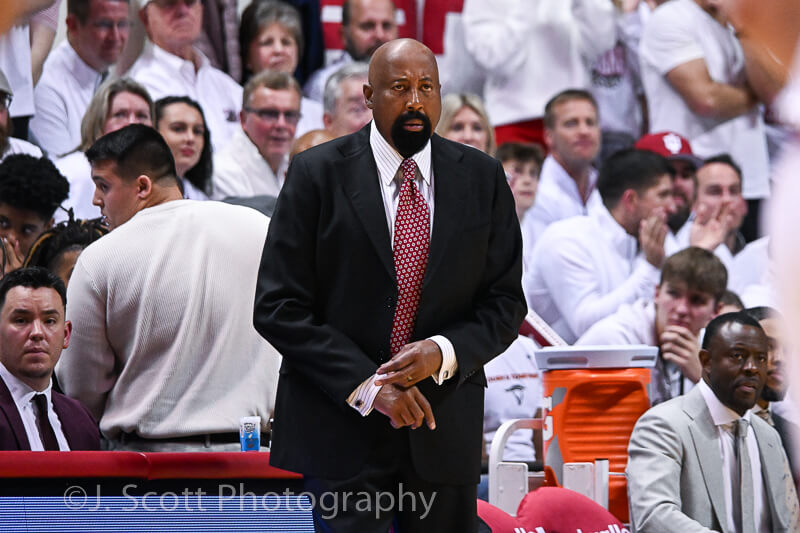 Welcome to "That's A Wrap," our recap of the 2022-23 Indiana Hoosiers. The series concludes today with our look at Mike Woodson. Previously: CJ Gunn, Kaleb Banks, Jalen Hood-Schifino, Malik Reneau, Trey Galloway, Jordan Geronimo, Logan Duncomb, Tamar Bates, Anthony Leal, Miller Kopp, Xavier Johnson, Race Thompson, Trayce Jackson-Davis, Team Defense, Team Offense
Things weren't going well.
After a 19-point beatdown at the hands of Penn State, the Hoosiers were in the midst of a three-game losing streak, starting conference play just 1-4. With Xavier Johnson and Race Thompson injured and out of the lineup, Indiana's defense looked lost. Iowa dropped 1.20 points per possession on the Hoosiers. Northwestern posted 1.14. The Nittany Lions? A whopping 1.31, including an 18-of-31 mark from deep. This was not an ideal start for a team with aspirations of a Big Ten championship and beyond. Fans were irate; the pitchforks were out.
"Our two veterans are sitting there on the side. They're not coming through the door any time soon," Mike Woodson said after the Penn State loss. "Our guys are a little down and they should be. We got smacked in the face tonight. We're just not competing right now, and that's on me."
But just when things appeared to be going off the rails for good, a once-promising season lost, Woodson rallied the troops for the next game, a home bout against Wisconsin. The Hoosiers held the Badgers to just .72 points per possession in an 18-point victory, their most efficient defensive performance of conference play. It was the start of a five-game winning streak where the Hoosiers began to figure things out minus two starting veterans (though Thompson would return two games later), and Jalen Hood-Schifino emerged as a strong option at Indiana's offensive point of attack.
Crisis averted.
After the game, Woodson was asked about it looking like the Hoosiers went away from his nail-slot-rim defensive principle, one that Northwestern's and Penn State's  5-out offenses exploited for open 3-point looks on the wing off high ball screens. But against Wisconsin's swing offense, it wasn't a configuration the Hoosiers had to use and Woodson cut off the reporter mid-question.
"No that's not true," Woodson said. "They ran a bunch of staggers, they had a bunch of pin-aways, they run what they call chin actions. They cut, move and slice off people. So there's no nail there … for the most part, there's not a lot of pick-and-rolls."
As Woodson continued to answer the question, he leaned into the mic to deliver his final statement on the topic.
"I'll never get away from nail, slot, rim. It's what we do."
That's Woody. Borderline stubborn in his ways, but also owning an unwavering confidence in himself and his plan. Indiana's leader is comfortable in his own skin, unafraid of this job and all that comes with it. He frequently talks about Big Ten and national titles, making them normal and part of the deal.
And he doesn't care — or seem to notice — what anyone else thinks.
"He has zero social media," Trayce Jackson-Davis said before Indiana's NCAA tournament game against Miami. "He's old school. He doesn't know what anyone says, nor does he care … He still has a flip phone."
Woodson's not stubborn beyond the point of change and is humble enough to admit he's still learning the college game. That proved true in his coaching this season. Gone were the hockey lineup changes from his first season. Instead, he rode Jackson-Davis and Hood-Schifino to little or no rest in games, which gave him the best chance of winning. He also put his thumb on the scale more in year two, using timeouts to calm the waters instead of letting his players figure it out. When the Hoosiers got down four out the gate in Champaign, he called an early timeout. It helped as Indiana righted the ship and cruised to a 15-point victory against the Illini.
When things weren't going Indiana's way over the first 20 minutes, Woodson used halftime to make the adjustments and try something different, even if the execution failed or it only sometimes led to victory.
Perhaps most important? Woodson has created a culture of tough love, straight-shooting and accountability. Players are bought in. There's no BS.
"I just think coach Woodson was from the beginning, the moment that he got here, he told us it was going to be a family," Jackson-Davis said after he decided to return for a senior season. "I think all the players took that to heart. We all hold each other accountable. We pick guys up, and he's the same way … I asked around, I asked last year, Carmelo Anthony, he told me he was his favorite coach he ever played for, and I can see why now."
Not every player on the roster he inherited has panned out. But Woodson has shown an ability to develop players that stick with his teaching. Jackson-Davis raised his game to another level thanks to his coach pushing him to be even greater. Indiana's all-time leading rebounder and shot blocker almost left the program to play professionally before Woodson stepped on campus. He wasn't expected to get drafted by an NBA team then. Two years with Woodson has him projected as a late first-round pick.
Hood-Schifino also raised his draft stock considerably in his lone season as a Hoosier. The point guard went from an intriguing prospect to a potential lottery pick as Woodson handed him the keys to Indiana's offense after Johnson's injury.
Bottom Line: Indiana was a rung below the elite college basketball teams this season. Still, Woodson's ability to retain key pieces of the roster he inherited while sprinkling in two high-rated Montverde products secured Indiana a tie for second place in the conference and a No. 4 seed in the NCAA tournament. That seed is the program's highest since the No. 1 seed it received in the 2012-2013 season. While there were gripes about Indiana's low 3-point volume and the defense taking a step back, this was IU's most successful season in quite some time. At this point, there don't seem to be huge questions about Woodson's coaching ability or culture building. The biggest question, instead, seems to be this: Can he land enough high-level talent season after season to compete at the highest level in today's game, giving Indiana a legitimate shot at another banner?
Quotable: "A Big Ten title. A national title." — Woodson at Hoosier Hysteria this past season when asked "What's next?"
Filed to: Mike Woodson