That's A Wrap: Tamar Bates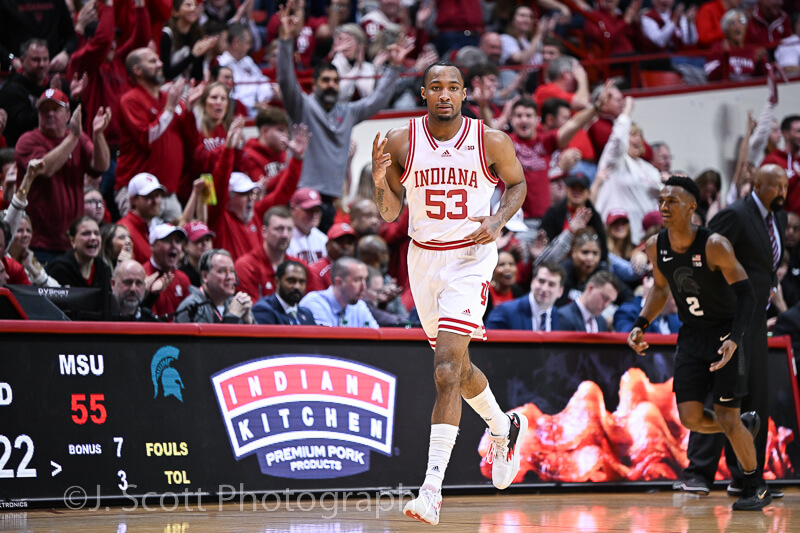 Welcome to "That's A Wrap," our player-by-player recap of the 2022-23 Indiana Hoosiers. Today: Tamar Bates. Previously: CJ Gunn, Kaleb Banks, Jalen Hood-Schifino, Malik Reneau, Trey Galloway, Jordan Geronimo, Logan Duncomb. 
Bates (35 games): 6.1 points, 1.6 rebounds, 1.1 assists and 39.2 FG% in 20.4 minutes per game.
Tamar Bates was Mike Woodson's first recruit as Indiana's head coach. Less than one month after Woodson arrived in Bloomington, Bates switched his commitment from Texas to Indiana following former Texas head coach Shaka Smart's departure for Marquette.
It would follow, then, that hopes for Bates were high. The 6-foot-5 guard was a four-star recruit, the No. 23 prospect in the nation out of high school by ESPN.com, a consistent shooter and fast-moving defender.
Bates appeared in 32 games his freshman season, averaging 3.9 points and 1.3 rebounds — numbers well below what it seemed he was capable of. In preseason media availability last fall, the consensus from Woodson and the team was that Bates was ready for a breakout season as a sophomore.
A major source of motivation for Bates was the arrival of his daughter, Leilani, last spring.
"As soon as I saw her, you know, it was kind of just like a flip switched," Bates said over the summer. "Everything that I'm doing, all of the work that I'm putting in, you know, it's not just for me anymore."
Bates' sophomore season started relatively well. He came off the bench to consistently play between 20 and 30 minutes in non-conference play, with the exception of games against opponents like North Carolina and Xavier. He scored a career-high 22 points against Jackson State in November, and was the offensive spark in Indiana's win over Kennesaw State in December.
In the next game, against Iowa, Bates was put in the starting five for the first time in his career. At that point, Xavier Johnson was already injured and Woodson was open to switching things up and inserting Bates, who seemed to be figuring things out finally.
But in the only two starts of his Hoosier career — against Iowa and Northwestern — Bates didn't produce. He made some mistakes, but more importantly, he couldn't bring the energy Indiana needed. A ray of hope came once again at the end of January as Bates exploded in the second half of Indiana's home game against Michigan State.
After his daughter, Leilani, won the halftime baby race, Bates took that same energy and scored 17 points.
But as promising as that performance might have been, it became clear that Bates hadn't truly figured everything out. He struggled in Big Ten play, often unable to make a real impact away from Simon Skjodt Assembly Hall.
Bates scored 11 points in Indiana's loss at Penn State in January but didn't score more than eight points in any other conference away game. And, unfortunately, his defensive efforts didn't make up for lackluster offensive performances.
Fast and efficient teams routinely got the better of Bates — and the rest of the guards — and his confidence seemed to take a hit each time.
Soon after the end of the season, Bates announced he would enter the transfer portal. In the middle of April, the Kansas City native committed to Missouri. He'll play out the final two seasons of eligibility with the Tigers.
Bottom Line: Bates' departure doesn't come as a surprise, given his role and performances in his two seasons with Indiana. This past season, Bates was overshadowed by Trey Galloway and Jalen Hood-Schifino, and his development stalled in his second season. He has the tools and athleticism to be a skilled player, and with the right team in the right conference, Bates has a chance to be that impact player he was expected to be.
Quotable: "Just calming down and shooting the ball, kind of just having that mentality just to shoot the ball in the game the same way I do when I'm in there working out and it's empty…Not being so tense, really, and just taking all the pressure off myself." – Bates about staying confident after his performance against Kennesaw State.
Filed to: Tamar Bates