Tamar Bates brings the spark to melt away Indiana's ice-cold offense in win over Kennesaw State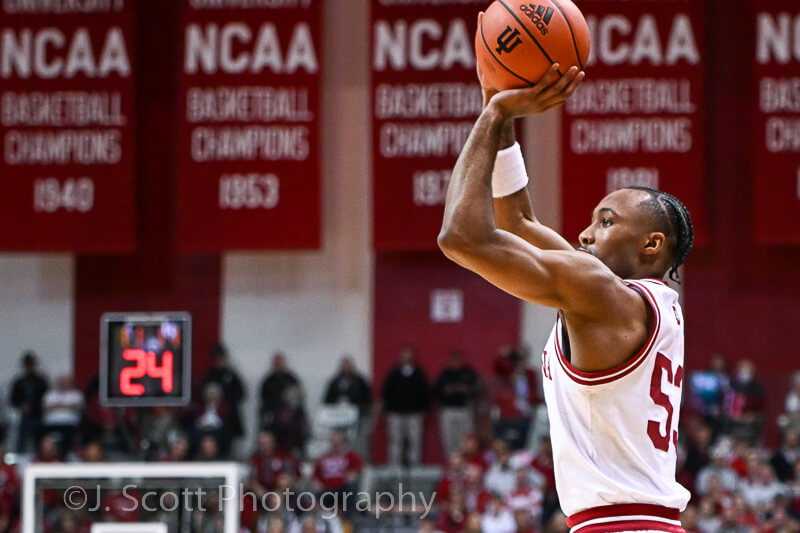 Even Simon Skjodt Assembly Hall wasn't impervious to the winter chill that settled over much of the United States on Friday.
For most of Indiana's contest against Kennesaw State, the Hoosiers were without a spark on either end of the court. At times, their offense was as frozen as the ice outside and the defense looked stuck in a rut, just like cars on the side of the road.
In the first half, Indiana shot 43.5 percent from the field and was, in a word, unmotivated. Trayce Jackson-Davis sat out for the second game in a row due to precautionary reasons and Xavier Johnson remains out indefinitely after undergoing surgery on Wednesday. No Hoosier looked prepared to take on the responsibility of facilitating plays or driving to the basket.
Entering the second half tied at 27, that trend looked likely to continue. Jalen Hood-Schifino ingited a small flame with five early points, but was sent to the bench just as quickly with three fouls.
Hood-Schifino would finish the game with 18 points, but he wasn't the one able to melt the ice that had settled over Indiana's offense.
That gift came from Tamar Bates.
In the 13 minutes he played in the first half, Bates showed he held the energy Indiana needed badly. He put up six points with two fastbreak slam dunks that illuminated some of the holes in Kennesaw State's defense and brought life back into the crowd and team.
But the second half was when Bates brought out the match, the spark and the flame.
A second-half stat line of 13 points with 3-of-5 shooting from beyond the arc led Bates to one of his best performances of the season, as he finished with 19 total points to lead all scorers.
"Just depending on the flow of the game, I always just want to try and pick my spots and do what I can to bring us some energy," Bates said. "'Cause we needed that tonight."
Almost always in the right spot, Bates was cool, calm and collected as his shots descended like snowflakes. And while some floated prettily through the basket and some didn't, he remained the stalwart for Indiana and came through in the biggest moments.
"Just calming down and shooting the ball, kind of just having that mentality just to shoot the ball in the game the same way I do when I'm in there working out and it's empty," Bates said about his success. "Not being so tense, really, and just taking all the pressure off myself."
Two of Bates' 3-pointers came within one minute of the other, with the second giving Indiana a two-point lead with 11 minutes left in the game. The Hoosiers never trailed again.
Bates' proficiency with the ball also forced Kennesaw State to switch up some of its defensive alignments to better defend Indiana's most successful shooter of the night.
The Owls began the game almost fully focused on double-teaming Race Thompson, but eventually switched to guard Bates in a similar fashion, leaving other shooters like Hood-Schifino, Trey Galloway and Miller Kopp with better looks.
All three were able to take advantage of their opportunities, splashing a little more fuel on the fire lit by Bates and bringing Indiana to victory.
Bates' standout performance wasn't unique, as he consistently has been a reliable player off the bench. Averaging just under 10 points per game, Bates has appeared in 11 of Indiana's 13 games and has brought some sort of positive contribution with him each time.
"Tamar is starting to figure it out," Mike Woodson said postgame. "And he's done some good things for us throughout the 13 games that we've played. It's just that his minutes, now, are going to increase because we're gonna need him to step up and play."
It's still relatively early in the season, but Bates is getting more chances, and making them, at a significantly better rate than he was last season.
With Indiana's starting five now in flux due to injuries, Bates' recent showings have brought the question as to whether he should be inserted into that lineup. Galloway currently inhabits that fifth spot, and has proven he can play for extended minutes and bring good things to the floor, but on Friday the difference in energy between the two was clear.
That question will stay in the minds of Hoosier fans for at least 13 days, until Indiana takes the court against Iowa on January 5.
But one thing is certain: Tamar Bates has the fire within him to melt away at least some of Indiana's problems. Now, it's all about when he can light it — whether it's coming off the bench or not.
"He's put in the time and he's getting some more minutes now," Woodson said of Bates. "It's what he's capable of doing, it's what I expect. When I run plays for him, I expect him to deliver, and I thought tonight he did."
Filed to: Tamar Bates