That's A Wrap: CJ Gunn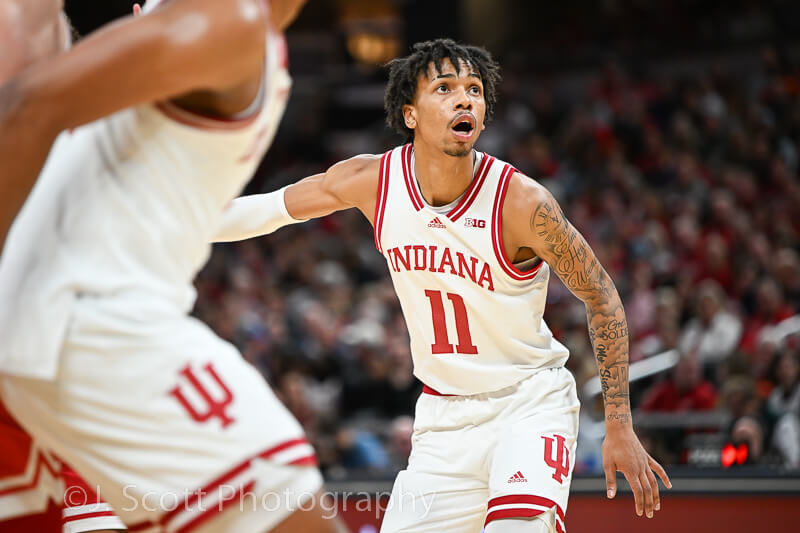 Welcome to "That's A Wrap," our player-by-player recap of the 2022-23 Indiana Hoosiers. First up: CJ Gunn.
Gunn (20 games): 2.0 points, .6 rebounds, .4 assists and 30.9 FG% in 7.5 minutes per game.
A top-120 recruit nationally in the 2022 class according to 247Sports, CJ Gunn finished his first season in Bloomington with mixed results.
The 6-foot-6 Lawrence North product committed to Indiana in the winter of 2021 when Archie Miller was still roaming the sidelines in Bloomington.
Gunn chose to stick with the Hoosiers following the coaching change from Miller to Mike Woodson in the spring of 2021 and inked a National Letter of Intent in November of 2021.
"C.J. is a local kid who has tremendous love for Indiana University," Woodson said at the time of Gunn's signing. "He's loyal and dedicated and will bring size and athleticism to the wing position. He comes from a very respected and winning high school program in Indiana and will be able to help us with his ability to play multiple positions. I think he, like the others, will have a real opportunity to grow and improve in our system. We can't wait to have the opportunity to work with him when he gets to campus."
After averaging 23.5 points per game and being named an Indiana All-Star in 2022 at LN, Gunn arrived in Bloomington on a team with a well-established rotation and competition for minutes.
He appeared in 20 of Indiana's 35 games in his first season but logged double-digit minutes in just five games. Four of those games were against "buy" opponents in November and December. After logging two minutes in a win against Ohio State on Jan. 28, Gunn played a total of 11 minutes over Indiana's final 14 contests. He did not play in any of IU's five postseason games.
Gunn shot 38 percent from 3-point range as a senior in high school but struggled from distance in his first season as a Hoosier. He made just two of his 24 3-point attempts (8.3 percent) and didn't make a 3-pointer in Big Ten play. His final offensive rating as a freshman – 78.8 – was the lowest on the team according to KenPom. To Gunn's credit, his confidence didn't wane despite the misses. He never hesitated to take shots from the perimeter when he was open.
Defensively, Gunn often brought energy and athleticism when he earned an opportunity to see the floor. His size and length for a two-guard will give him an opportunity to become a disruptive defender as his career progresses.
Bottom line: This offseason is an important one for Gunn, who will have an opportunity to claim a spot in the rotation next winter. Jalen Hood-Schifino is off to the NBA, Miller Kopp graduated and Tamar Bates left for Missouri. Those departures open minutes in the backcourt that Woodson and the coaching staff must fill. To play more regularly, Gunn is going to need to prove he can knock down perimeter shots consistently while also showing growth as a defender. Given the lack of minutes he played as a freshman, it's hard to draw any conclusions about Gunn's potential as the Big Ten level. If he gets an opportunity to play more next season, the talent is there for a significant leap forward.
Quotable: "I'm just playing the game the right way. Last year I was used to playing against tiddlywinks, so now it's a different level. It's a different level of ball. I've just got to adjust to the game, and it comes with practicing hard and meshing with the guys, and that's how I look at it." – Gunn after scoring a season-high 11 points in a 96-72 win against Elon on Dec. 20, 2022.
Filed to: C.J. Gunn