That's A Wrap: Kaleb Banks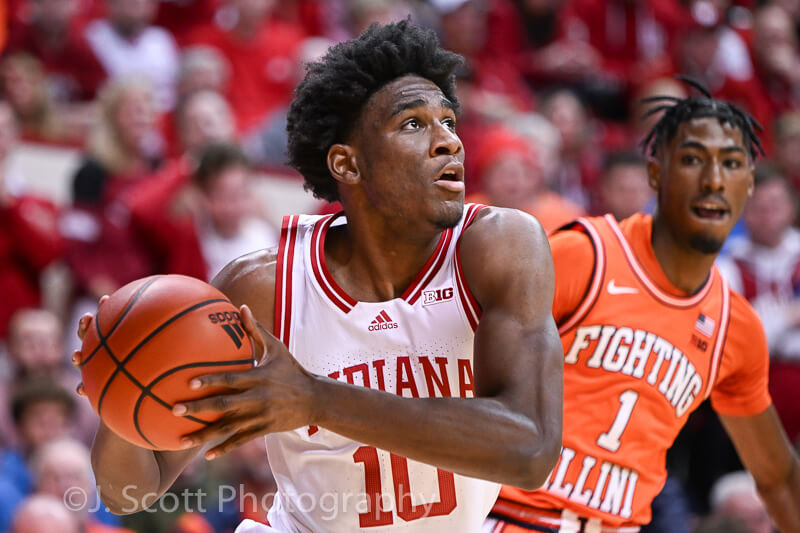 Welcome to "That's A Wrap," our player-by-player recap of the 2022-23 Indiana Hoosiers. Today: Kaleb Banks. Previously: CJ Gunn. 
Banks (24 games): 2.0 points, .9 rebounds, .3 assists and 55.2 FG% in 5.6 minutes per game.
Perhaps one of Kaleb Banks' best moments in his freshman year came in Indiana's season-ending loss to Miami (FL) in the second round of the NCAA tournament.
Indiana had been down the entire first half and at times looked lifeless. The Hoosiers were down 10 with a minute and a half to play before the break. Then Banks checked in.
The freshman forward didn't attempt a shot in that stretch, but his effort on the defensive end got him a block which led to a Miller Kopp 3-pointer to cut the lead to five at halftime. Suddenly, the Hoosiers had life.
Obviously, the game didn't end in IU's favor. But that moment with Banks at the end of the first half served as a microcosm for his efforts in his first year in Bloomington.
The Hampton, Georgia native flashed his length and athleticism in many ways. At 6-foot-7 and 215 pounds, Banks can compete defensively. He uses his hands well in passing lanes and can be disruptive.
This length also made Banks an above-average rebounder. On Jan. 28 against Ohio State, Banks saw the floor for 12 minutes and tallied seven rebounds — three offensive.
"He's been patient with me," Mike Woodson said after Indiana's win over Ohio State. "He's been very in tune with what we're doing in practice and shoot-around and walk-throughs. I thought it was time to give him an opportunity and I thought he came out and played well for us. He shined tonight…his stat line was pretty good for the 12 minutes he played."
The freshman is stellar at moving off the ball, too. He has good awareness and positioning on the court and played smart basketball when he saw playing time. Banks was mostly used as a cutter and ran the baseline this past year on the offensive end.
The issue for Banks in his freshman season was his offense. Banks struggled to flash a multidimensional skill set on the offensive end of the floor, something he'll have to develop in his time at Indiana.
In his time with the Hoosiers, and based on his freshman season, it's unlikely that Banks will be setting screens and playing with his back to the basket. He'll have to find ways to create his own shot, instead of playing cleanup duty on the baseline. Banks scored 2,000 points in high school and had two seasons where he averaged 20-plus points per game. In his junior year, he made 40 3s and shot 63 percent from the field. It's unlikely that Banks will ever put up those kinds of numbers in college, but he should blossom into more of a scoring threat.
A more versatile offensive skillset could get the former top-100 recruit a lot of playing time in the coming seasons. He doesn't need to become a primary scoring option, but if he can knock down open shots, be a threat in transition and keep rebounding and defending at a high level, it may force Woodson's hand.
In the locker room, Banks seemed adored. He hailed the nicknames "motion man" and "lemonade" (for his admiration of yellow Powerade) from his freshmen teammates and passes time in his dorm playing video games against them. Claiming — of course — that he was the best out of all of them.
Bottom Line: Banks showed plenty of promise and avoided a lot of the head-scratching plays that freshmen make. When he was on the floor, the forward made positive plays and gave positive minutes. With plenty of room to improve on the offensive end, Banks made a difference with his effort, rebounding and defense. After a solid freshman campaign, Banks has met expectations and he's given himself a nice roadmap for what he can provide for the Hoosiers in future seasons.
Quotable: "I learned a lot throughout my freshman year, just playing against these guys. And just learning every day. I'm still working, I've got a ways to go. Ima be ready for next year," Banks said before the NCAA tournament. "I'm just staying ready in case my name is called, if my name is called I'll be ready."
Filed to: Kaleb Banks