That's A Wrap: Logan Duncomb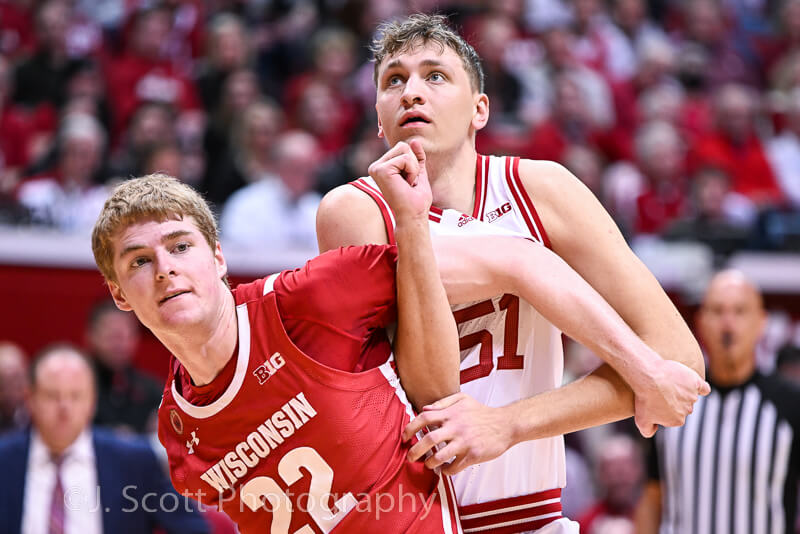 Welcome to "That's A Wrap," our player-by-player recap of the 2022-23 Indiana Hoosiers. Today: Logan Duncomb. Previously: CJ Gunn, Kaleb Banks, Jalen Hood-Schifino, Malik Reneau, Trey Galloway, Jordan Geronimo. 
Duncomb (9 games): 2.9 points, 1.7 rebounds and 75 FG% in 2.2 minutes per game.
One of the storylines discussed at last fall's Indiana basketball media day was Logan Duncomb.
After a freshman season marred by injuries and illness, there was hope Duncomb could develop into a rotation piece in Mike Woodson's second season.
A top 100 player out of Cincinnati Moeller in the 2021 recruiting class, Duncomb's teammates spoke openly about his potential to contribute in his second season.
"I think that he'll be able to help us out this year," Race Thompson said. "He's different than he was last year. You can see it on the court. I mean, he's smiling, he's playing hard, he's talking trash. It's a lot of fun to watch him grow and get better overall."
Duncomb's sophomore season started out relatively well.
He played 22 minutes and recorded a double-double in an exhibition win against Marian on October 29.
"It felt awesome," Duncomb said. "It's super rewarding because I felt like I put in a lot more effort this year, over the summer, trying to get better to be able to go out there and play and contribute. So super rewarding, super exciting. I had a giant smile on my face after the game.
In IU's season-opening win against Morehead State, he came off the bench and scored a bucket in six minutes. And he followed that up with four points in a win against Bethune Cookman on November 10.
Over the first month and a half of the season, Duncomb appeared in eight games, but he registered only one minute total in games against Xavier, North Carolina, Rutgers, Nebraska and Kansas. That was the first signal that Duncomb, for all of the preseason talk, was on the outside of the rotation.
His most notable game in an IU uniform came on December 20 against Elon. With Jackson-Davis held out for a sore back, Duncomb logged a career-high 16 minutes, scored 10 points, and grabbed five rebounds.
From that point, however, Duncomb appeared in only one game for the remainder of the season. On Jan. 14 against Wisconsin, he logged five minutes and went scoreless in five minutes.
The only explanation IU gave for Duncomb's absence for the season's final 18 games was a "non-COVID illness." According to a report by Tyler Tachman, Duncomb had surgery in February for a sinus issue.
Shortly after the season's conclusion, Duncomb announced that he would enter the transfer portal. A few weeks later, he committed to Xavier, where he will play out of his final two seasons of eligibility.
Bottom Line: A separation between IU and Duncomb was no surprise given his role over his first two seasons. Duncomb was buried on the frontcourt's depth chart, and his injury issues didn't help. Even with Jackson-Davis and Thompson moving on, his role would have mostly stayed the same next season with the additions of Kel'el Ware and Payton Sparks from the transfer portal. Duncomb will now be closer to home at Xavier, where he'll get a chance to play for the brother of the coach who recruited him to Indiana. The tools are there for Duncomb to become a productive college player, but he has to stay healthy and get stronger to realize his potential.
Quotable: "Well, he's not in great shape. Logan has had his ups and downs, but I thought he responded. Logan, seemed like every time I throw him in there, he does something positive, but you can't play him in long stretches. He's had his problems in terms of illness and things of that nature that's really put him behind from a physical standpoint. I mean, tonight he played well, and I did play him in some stretches, but I've got to get him in better shape." – Woodson on Duncomb following a 96-72 win against Elon on December 20.
Filed to: Logan Duncomb