That's A Wrap: Jalen Hood-Schifino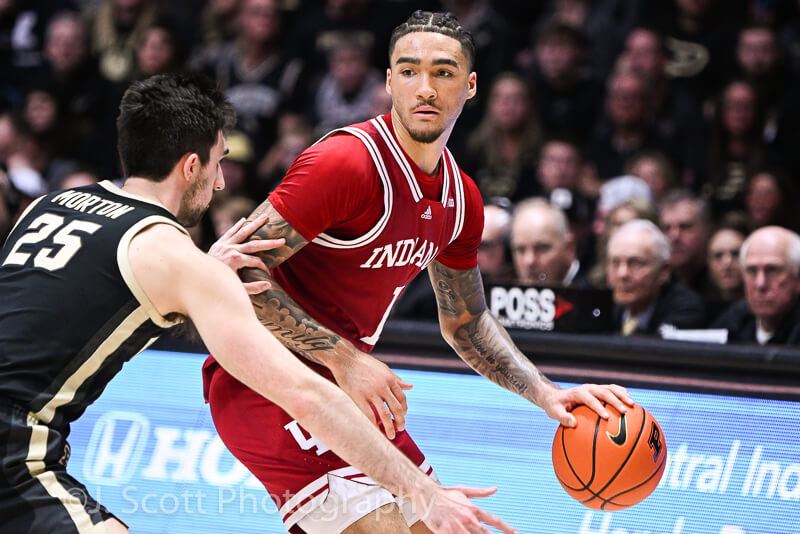 Welcome to "That's A Wrap," our player-by-player recap of the 2022-23 Indiana Hoosiers. Today: Jalen Hood-Schifino. Previously: CJ Gunn, Kaleb Banks. 
Hood-Schifino (32 games): 13.5 points, 4.1 rebounds, 3.7 assists and 41.7 FG% in 33.1 minutes per game.
Before he even arrived in Bloomington, Jalen Hood-Schifino was surrounded by expectations. As the highest-rated incoming Big Ten recruit, Hood-Schifino was the one to watch.
Amid all the excitement surrounding the young guard, however, was the bittersweet idea that he wouldn't be at Indiana for very long. Indiana hadn't seen a "one-and-done" player since Romeo Langford in 2019, but Hood-Schifino seemed to show all the promise of being the next Hoosier to declare for the NBA draft after just one year in college.
So, when the season ended and he announced his intent to do just that, it surprised very few. And while the Hoosiers will be without the freshman phenom in the future, the season that saw Hood-Schifino don the cream and crimson will not be easily forgotten.
"My freshman season was nothing short of amazing and my coaches kept their word by having the ultimate trust in me as a freshman," Hood-Schifino told ESPN when he declared for the NBA Draft. "We didn't win a national championship, but overall the season was successful and experiencing March Madness was a surreal moment."
The 2022-23 season was full of ups and downs for the entirety of Indiana basketball, but there are more positive takeaways than negative ones. The same is true for Hood-Schifino.
The Big Ten freshman of the year finished the season averaging 13.5 points and four rebounds per game, and was second on the team in assists, with 117, behind only Trayce Jackson-Davis. However, Hood-Schifino also led the team in turnovers with 89, averaging 3.4 per game.
Part of that, of course, can be attributed to Hood-Schifino's role on the team as the primary point guard. When Xavier Johnson was injured in December, the responsibility of running the team landed on Hood-Schifino's shoulders. He stepped up.
Hood-Schifino commanded the floor and worked well with his teammates, especially skilled at finding Jackson-Davis near the basket. He worked with speed and accuracy, playing as the leader his teammates needed him to be.
One of his most notable performances — of which there were many — came in Indiana's victory against Purdue in West Lafayette. Hood-Schifino played all 40 minutes, scored a career-high 35 points and put up another career-high with seven rebounds. Mike Woodson called it an "unbelievable display of basketball."
That, in itself, was what Hood-Schifino was known for.
Hood-Schifino stood out with the way he moved on the court, whether he was showing off his ball-handling and passing skills or pushing through defenders to create his own shots. As just a freshman, Hood-Schifino's basketball IQ, poise and confidence shone through time and time again.
Not every game was a clinic, however. Hood-Schifino struggled with shot selection and decision making throughout the season, sometimes pulling up too quickly for shots, throwing the ball away or simply not being able to find his open teammates. A bit of a trend emerged in the latter part of the season, as Hood-Schifino would play extremely well in one game and struggle to score more than two or three baskets in the next.
But no one is without flaws, and the positives outweigh the negatives for a player like Hood-Schifino. The 6-foot-6 guard proved extremely proficient in finding space for pull-up jumpers, playing with peak athleticism more often than not.
There's no question that Hood-Schifino played a big role in the Hoosiers' success in the 2022-23 season. His flashy plays and high-level basketball skills helped put Indiana in the national spotlight, not to mention win games.
If Hood-Schifino had chosen to stay in Bloomington for even just one more season, he could have developed and matured while continuing to play a key role in Indiana's success. But he was pleased with his freshman year, and felt the time to move on is now.
"NBA teams were able to see that I can take over a game, create my own shot, run a team, that I have a high IQ, that I'm tough, and that I have a unique pace to my game," Hood-Schifino told ESPN. "I'm looking forward to showing the NBA teams my body measurements matching what's on paper, my athleticism, and my shooting ability."
Bottom Line: Hood-Schifino left an indelible mark on Indiana basketball, even in just one season. He stepped into a big role with relative ease, and demonstrated impressive skill and basketball IQ as a freshman. Hood-Schifino met some expectations and exceeded others, and has set himself up as a projected lottery pick in the NBA draft.
Quotable: "He just listens. I mean, even when I challenge him, he listens, and he doesn't bark back… He's been great in that regard. The guy, he's professional about his approach. When he steps on the floor, he's serious about it, and that's why the carryover when he plays in real games is like he plays. He plays pretty damn good basketball for us." – Woodson on Hood-Schifino.
Filed to: Jalen Hood-Schifino