That's A Wrap: Malik Reneau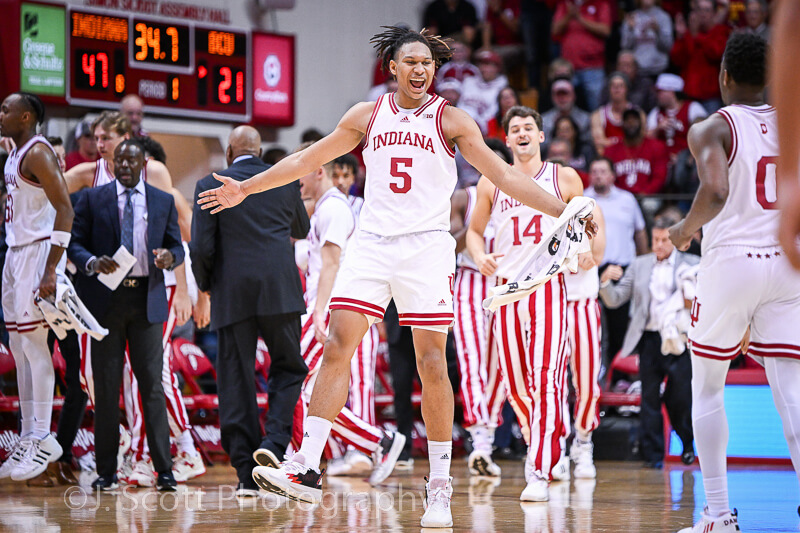 Welcome to "That's A Wrap," our player-by-player recap of the 2022-23 Indiana Hoosiers. Today: Malik Reneau. Previously: CJ Gunn, Kaleb Banks, Jalen Hood-Schifino. 
Reneau (35 games): 6.1 points, 3.7 rebounds, .8 assists and 55.3 FG% in 14.9 minutes per game.
A coaching change at Florida led Malik Reneau to Indiana.
Reneau, a 6-foot-9 forward from Miami, considered the Hoosiers out of high school but ultimately committed to Mike White and Florida.
But White departed Gainesville for the Georgia job in the spring of 2022 and the Montverde Academy big man reopened his recruitment. The Indiana coaching staff was there to capitalize on the opportunity.
The Indiana staff had already successfully recruited Jalen Hood-Schifino from Montverde Academy and worked to get Reneau on campus quickly. He committed to the Hoosiers on April 18, 2022. It was the second straight spring Indiana landed a top-30 player after a coaching change.
"We always had a good relationship," Reneau said last spring. "Me, coach (Kenya) Hunter, coach (Mike) Woodson. It was just bad timing (the first time). They came in pretty late, but we always kept that relationship together. And they wanted to get me on a visit last time around, but I was already pretty locked in with the Florida coaching staff. But now that I reopened and took this visit, it was a clear no-brainer. I should have taken the visit the first time."
Reneau's role as a freshman was a backup to Trayce Jackson-Davis and Race Thompson. He was one of three Hoosiers to appear in all 35 games last season and made three starts.
His first season started on a high note as he scored 15 points in the season-opener against Morehead State and reached double figures in four of the first five games. Reneau's 12 points and six rebounds at Xavier on Nov. 18 were a significant reason the Hoosiers left Cincinnati with a victory.
Reneau's effectiveness in the post was uncommon for a freshman. His footwork was stellar and his vast array of post moves helped him find openings to finish at the rim despite not possessing elite athleticism. In Big Ten games, Reneau shot 58.6 percent on 2s and 78.6 percent from the free throw line.
He was also the second-best defensive rebounder among regulars in the rotation. His defensive rebounding percentage of 18.8 would have ranked in the top 15 of the league on KenPom had he played the minutes to qualify. As a starter next winter, Reneau should blossom into one of the Big Ten's best on the glass.
The biggest struggle for Reneau in his debut season was staying on the floor. Fouls were a constant issue as he averaged 6.8 fouls per 40 minutes, easily the highest mark on the IU roster among rotation players. Reneau had four fouls in nine games and fouled out twice despite only playing more than 20 minutes six times all season. On several occasions, Reneau was whistled for fouls for being out of position and reaching or trying to make a play on the ball after the other team had secured the rebound.
Bottom Line: Like with any freshman, there were bumps in the road for Reneau in his first season. The fouls were an ongoing problem that were never solved. That's a clear area for improvement this offseason if Reneau is to expand his role and play the 30-plus minutes Indiana will need him for next winter. The recent addition of Oregon transfer Kel'el Ware should allow Woodson to pair the duo together in the starting lineup and have more floor spacing than the Jackson-Davis/Thompson combo. Ware can stretch the floor, which should give Reneau the opportunity to operate freely in the post. Expectations on Reneau will be sky high next season, but he has the talent to take a major leap forward with a strong offseason.
Quotable: "Just being an energizer off the bench and just showing that I'm able to do anything on the court, helping my team out with rebounding, posting up, stepping out and handing the ball on the perimeter. It's just showing that I can do a lot of stuff and just being a spark plug off the bench." – Reneau in early November after an exhibition win against St. Francis.
Filed to: Malik Reneau