That's A Wrap: Jordan Geronimo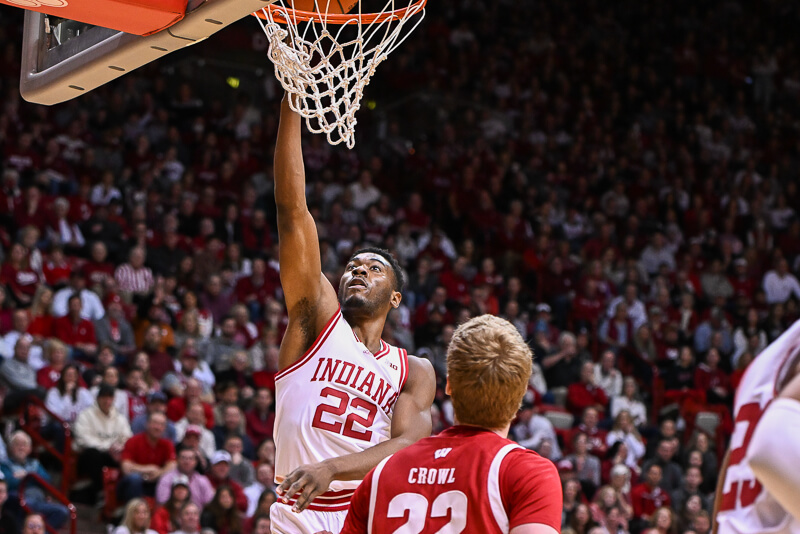 Welcome to "That's A Wrap," our player-by-player recap of the 2022-23 Indiana Hoosiers. Today: Jordan Geronimo. Previously: CJ Gunn, Kaleb Banks, Jalen Hood-Schifino, Malik Reneau, Trey Galloway. 
Geronimo (27 games): 4.2 points, 2.4 rebounds, 0.3 assists and 54.8 FG% in 12.4 minutes per game.
There was positive momentum behind Jordan Geronimo as he prepared for his third season in Bloomington.
The Newark native had a solid run in the 2022 NCAA tournament and seemed like a potential breakout candidate in Mike Woodson's second season.
In Indiana's 66-58 First Four win against Wyoming in Dayton, Geronimo was terrific off the bench. In 19 minutes, the 6-foot-6 forward scored 15 points on 7-for-11 shooting and added seven rebounds, an assist and a blocked shot.
Geronimo followed that up with nine points and six rebounds in 20 minutes in IU's season-ending loss to Saint Mary's in Portland.
Much of the offseason discussion surrounding Geronimo concerned his position and where he would fit in the IU rotation. With Race Thompson and Trayce Jackson-Davis the starters in the frontcourt, Geronimo would again be looking at backup minutes unless he could develop the ball skills necessary to play more on the perimeter.
"I have seen improvement in just making the right decision around the perimeter," Geronimo said last summer. "My jump shot has been getting better. My (ball) handling is getting better. Overall, I see a lot of improvement in my decision-making and just knowing when to make the right play."
But the offseason talk of an improved floor game for Geronimo was not a reality. As the 2022-23 season tipped off, the third-year forward never displayed the skills needed to play away from the basket.
Geronimo was a porous 5-for-19 on 3s (26.3 percent). His assist rate was unchanged at only 4.2 percent. For the season, he had 17 turnovers to only eight assists. And his ball-handling still needed to be improved.
That left Geronimo behind Jackson-Davis, Thompson and freshman Malik Reneau in the pecking order for minutes. His role was exclusively off the bench until the Northwestern game in early January. After Thompson went down with an injury in a loss at Iowa, Woodson inserted Geronimo into the starting lineup, where he would remain for five games.
Geronimo had two of the best games of his career as a starter in that span. Against Wisconsin in Bloomington on Jan. 14, he scored 12 points and grabbed 11 rebounds. And at Illinois on Jan. 19, Geronimo had 13 points, eight rebounds and three blocked shots in 30 minutes.
Once Thompson returned, Geronimo returned to a bench role and his minutes plummeted. Over the season's final 16 games, he logged double-figure minutes just once. He was in and out of uniform due to injuries in that time span, but over the season's final four contests, he played a total of only six minutes. He didn't get off the bench against Penn State in the Big Ten tournament or against Miami in the NCAA tournament.
Geronimo entered his name into the transfer portal shortly after the season concluded. Geronimo entered his name into the portal after his first season following Archie Miller's firing, but opted to return to Bloomington after getting to know Woodson. This time, however, Geronimo seems destined for the next chapter in his basketball career.
Bottom Line: Geronimo's 7-foot wingspan and 40-inch vertical made him an exciting prospect out of high school. While he showed some flashes of production over 82 games in an IU uniform, he never made the leap many projected as his career progressed. Some of that can be attributed to the fact that Geronimo never got much of an opportunity to play through mistakes. In his first season, Miller was under extreme pressure to keep his job and couldn't afford to play a deeper rotation. And under Woodson, Indiana's rotation was tight down the stretch of the last two seasons with pressure to capitalize on the presence of Jackson-Davis. Geronimo has yet to pick a school for next season, but for the sake of his development, going to a program with a clear need at his position where he can play major minutes would be beneficial.
Quotable: "He looked comfortable. You know, as a coach, when I'm challenging players, you know, sometimes it makes them a little uneasy and get that. But at the end of the day, they have to understand that I'm in their corner and I need them to perform at a high level. It ain't personal, but it's culture; what I call it. I thought he was more relaxed tonight and he did a lot of positive things on both ends of the floor. I just hope he can just grow from this game and continue to play that well." – Woodson on Geronimo following Indiana's win against Wisconsin on January 14.
Filed to: Jordan Geronimo