That's A Wrap: Trey Galloway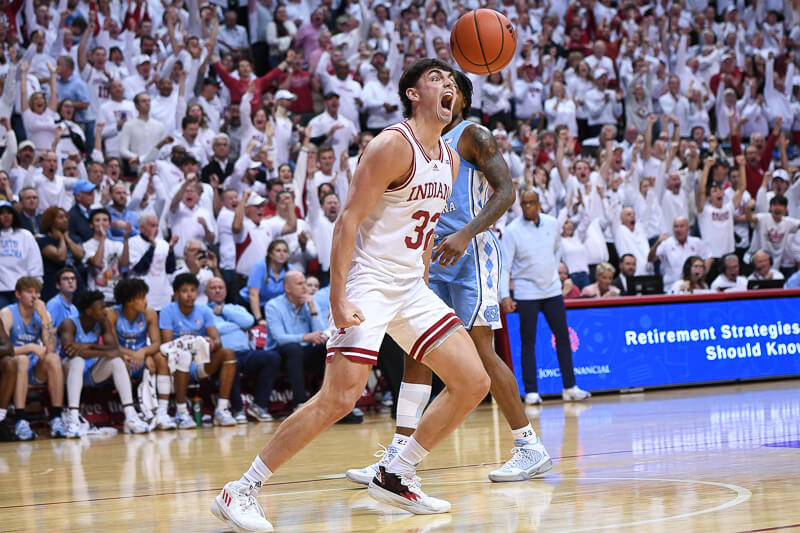 Welcome to "That's A Wrap," our player-by-player recap of the 2022-23 Indiana Hoosiers. Today: Trey Galloway. Previously: CJ Gunn, Kaleb Banks, Jalen Hood-Schifino, Malik Reneau. 
Galloway (32 games): 6.7 points, 3 rebounds, 2.1 assists and 47.2 FG% in 27.7 minutes per game.
Indiana was up 13 with under eight to play at Purdue when Trey Galloway went for it.
He came off a handoff and screen from Race Thompson at the top of the key and with a head full of steam he attacked the rim. Standing in his way? 7-foot-4 Zach Edey.
"Gallo" didn't flinch. He took it to the big man and while he missed the dunk, that moment became emblematic of the season he had in Bloomington. He never backed down.
When Xavier Johnson broke his foot in December, there were a lot of questions surrounding what guards would step up in his absence.
Galloway, who started 22 of IU's 24 games after Johnson's injury, answered those questions in a way many people weren't expecting.
Coming into his junior season, the 6-foot-4 Culver, Indiana native was limited offensively. He was one-dimensional, struggling to make an impact on the perimeter and often found himself swarmed when he was handling the ball.
Galloway didn't make a huge statistical leap from his sophomore to junior year. But there's no question he improved. Most notably, Galloway changed his jump shot. In his first two years at Indiana, Galloway made just 12 of 61 (19.7 percent) of his 3-point attempts. This past season Galloway made 30 triples, shooting 46.2 percent from beyond the arc. While he didn't shoot a lot, Galloway's shooting improvement was pivotal. It stretched Indiana's offense out; more importantly, for Galloway, it gave him more reason to be on the floor. Galloway averaged 27.7 minutes a contest, a 6.9-minute per game increase from the season before.
Defensively, you know what you're getting with Galloway. He competes to the final whistle and plays hard. He earned the nickname "Crazy Man" early on in the season for his efforts on the defensive end of the floor.
When Indiana visited No. 5 Purdue in late February, Galloway thrived. He made the Boilermaker's freshman backcourt duo of Fletcher Loyer and Braden Smith visibility uncomfortable and put up 13 points and five assists in 38 minutes.
"He played an excellent game," Trayce Jackson-Davis said postgame. "He was excellent defensively, always pressuring the ball. We call him 'Crazy Man' for a reason."
Galloway does play like a "crazy man". But sometimes, it's a little too crazy for his own good.
The Culver Academies product had six games where he had four or more fouls, a lot of which were very ill-advised. And under Mike Woodson, foul trouble is one of the easiest ways to not see the floor. Galloway doesn't have the elite quickness or speed that some Big Ten guards do, but he never backs down from competition. Playing smart hands-free defense while maintaining aggressive ball pressure will be key for his defensive development.
In terms of his offense, Galloway improved as a ball-handler. As the Hoosiers' second-best ball handler for most of the season, he was forced to play as a point guard at times. While Galloway was not a liability, it's not his strength. Expecting the junior to play off-ball more in the future seems more reasonable. With his size and strong floater game, Galloway can be used as a cutter and can be effective downhill off dribble handoffs. In transition, his improved jumper gives the Hoosiers a lot of options.
Entering his fourth season in Bloomington, Galloway will need to find ways to be a consistent scoring threat on offense if he wants to take another leap. He had 12 games where he played 20-plus minutes and scored four or fewer points.
Bottom Line: Galloway was thrust into the starting backcourt due to injury and exceeded expectations. His improved jump shot was one of the bigger developments we saw over the course of the season. Since he's been in the cream and crimson, he's done everything you could ask of him and played hard. His effort is not in question. The next step for Galloway will be his offensive consistency. Will he continue being used as a secondary ball-handler or play more off-ball?
Quotable: "Gallo's starting to really mature," Mike Woodson said after Indiana's road win at Purdue. "He does a lot of nice things, dirty things, that most players don't like to do. And that's play defense and get into people…he plays hard…that's what I like about him."
Filed to: Trey Galloway