That's A Wrap: Race Thompson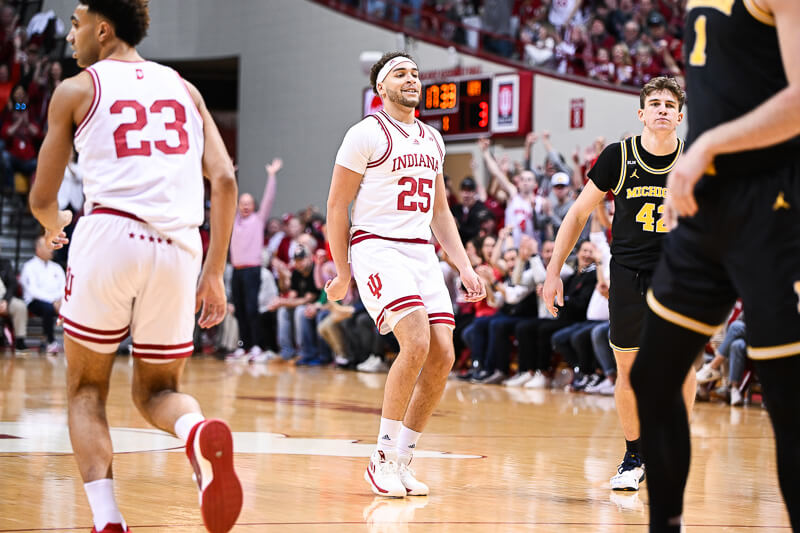 Welcome to "That's A Wrap," our player-by-player recap of the 2022-23 Indiana Hoosiers. Today: Race Thompson. Previously: CJ Gunn, Kaleb Banks, Jalen Hood-Schifino, Malik Reneau, Trey Galloway, Jordan Geronimo, Logan Duncomb, Tamar Bates, Anthony Leal, Miller Kopp, Xavier Johnson. 
Thompson (30 games): 8.4 points, 5.2 rebounds, one assist, one steal and 49.2 FG% in 23.2 minutes per game.
While he may not have been the biggest face of Indiana basketball in recent years, Race Thompson was still one of the most well-known guys on the floor. Easily recognizable by his 6-foot-8 stature and — in the second half of the season — a white headband, Indiana fans saw Thompson battle through injuries and ups and downs on and off the court.
He didn't talk about them, but it was clear there were times Thompson was struggling to perform to his best ability.
"He's gone through a lot of the stuff behind the scenes that people don't know about," Trayce Jackson-Davis said after Indiana's win over Kent State in the first round of the NCAA tournament. "But he's really battled and he's really fought to get to this point. And I can say so for myself, and I can say probably for my teammates, we're really proud because he deserved this more than anybody on our team."
Thompson played arguably one of the most impactful games of his Indiana career against Kent State, where he scored 20 points — two points shy of a career-high — and secured nine rebounds. He scored 10 of Indiana's first 15 points in the game, and the Hoosiers were able to advance to the second round of the tournament largely thanks to his efforts.
Throughout the season, Thompson could either come up big in key moments, or falter and find himself in foul trouble or simply just unable to make shots.
But at the end of the day, and the end of the season, Thompson was a key contributor in a plethora of Indiana's victories. Fittingly, on senior day, Thompson helped lead the charge to beat Michigan in overtime. He played aggressive defense at the end of regulation and didn't let up until the game was truly over.
Off the court, Thompson was one of the quieter members of the team. He wasn't outspoken with the media, so oftentimes the best way to tell what he was feeling was simply by watching. Wondering if he's sluggish? Watch warmups. Is he injured? Keep an eye on his footwork, or his aim, or whatever it is you're concerned about.
Similarly, if you're wondering if a cut on the face or a newly acquired headband would hinder the forward, just look at Indiana's victory over Little Rock. Thompson went down in the first half after an elbow to the face, and returned with a white headband covering the injury. His final stats read 20 points and eight rebounds, and those numbers meant he led Indiana in both categories.
And thus, "Headband Race" was born.
He wasn't quite able to replicate his performance against Little Rock every time he wore the headband, but it gave fans a fun new thing to be superstitious about.
In the beginning of January, however, that storyline was briefly pushed aside when Thompson went down with a leg injury early in Indiana's game against Iowa. He was ruled out indefinitely before it was determined he suffered an MCL sprain.
Thompson returned at the end of January, but only played for four minutes in his first game back against Michigan State. However, by February he was back to consistently playing over 20 minutes per game, and went on to be a driving force in Indiana's late-season success.
In April, Thompson was one of the 64 college basketball seniors invited to participate in the Portsmouth Invitational. Thompson scored a total of 17 points and grabbed 15 rebounds in two games during the tournament.
Bottom Line: Race Thompson encapsulated what it meant to fight through slumps and be a team player. He started 29 of Indiana's 35 games, and was a key contributor in a great deal of Indiana's important victories. His friendship with Trayce Jackson-Davis allowed the two to combine for some of the best highlights of the 2022-23 season. Thompson was a Hoosier for six years and gave Indiana fans everything he had.
Quotable: "It's huge, because he's a huge part of what we do. He says he's good and all this stuff but he's been really battling. He's been with Timmy G. doing stuff of that nature just to get his body right to be out here, and he's giving it his all every time he's out here, and I know he was down after the Iowa game. And he said he got me, and this game, he had me. He played really, really well down the stretch, and we needed every single basket that he got, every steal that he got to get that win. It was props to him, and we need that the rest of the way." – Trayce Jackson-Davis on Thompson's senior night performance.
Filed to: Race Thompson