That's A Wrap: Anthony Leal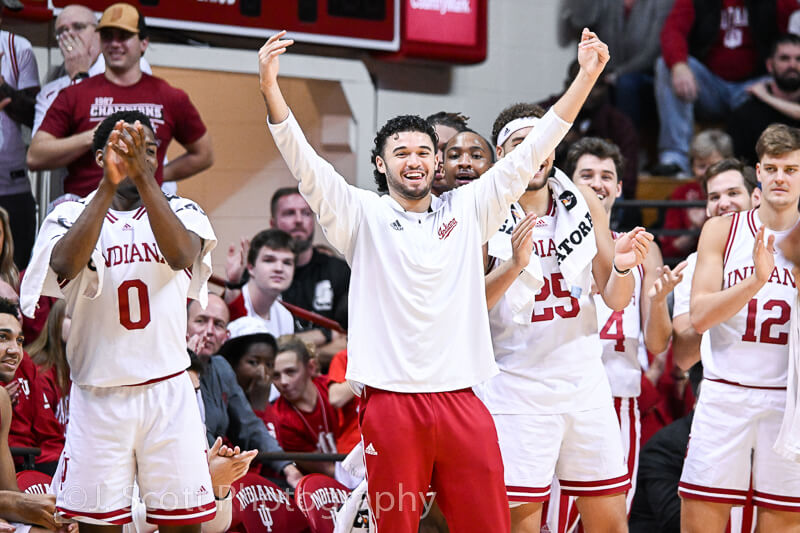 Welcome to "That's A Wrap," our player-by-player recap of the 2022-23 Indiana Hoosiers. Today: Anthony Leal. Previously: CJ Gunn, Kaleb Banks, Jalen Hood-Schifino, Malik Reneau, Trey Galloway, Jordan Geronimo, Logan Duncomb, Tamar Bates. 
Leal (11 games): 0.2 points, 0.2 rebounds in 2.2 minutes per game.
Indiana's 2020 Mr. Basketball, Anthony Leal was billed as a player who could eventually develop into a starter as his college career moved along.
Here's what 247Sports Analyst Jerry Meyer wrote about Leal coming out of Bloomington South:
"Solid size for a shooting guard. Not an explosive athlete, but plays with great strength. Hyper-competitive and will make plays on hustle and grit. Good basketball IQ. High-level shooter who can hit from deep and make tough shots off the dribble. Will draw fouls. More scorer than distributor. Average defender. Should develop into a starter during his college career."
Through three seasons at Indiana, Leal's on-the-floor impact has been minimal. His minutes have decreased each season. He played 11.6 minutes per game as a freshman under Archie Miller and 10.2 minutes per game as a sophomore in Mike Woodson's first season.
In Leal's third season, he logged a total 0f 24 minutes and didn't attempt a field goal all season.
As Woodson builds Indiana's roster for his third season in Bloomington, it's hard to forecast Leal's role changing much as he enters his fourth and presumably final college season.
The Hoosiers return Trey Galloway and CJ Gunn at Leal's position and will also welcome Jakai Newton. And IU's transfer portal efforts are still ongoing.
Off the court, Leal produced a feel-good moment last winter when he used NIL money to pay off his sister's student loans. And he's always active on the bench, cheering on his teammates and bringing energy and enthusiasm.
Bottom Line: Leal's opportunities to see the floor at Indiana have been limited, and it's hard to see that changing much next season. He's shooting just 30.8 percent for his career on 3s and only played in mop-up opportunities last season. He also battled injuries at times last season. Still, Leal brings value with his attitude and presence in the locker room. He's well-liked by his teammates and loves the program and the university.
Quotable: "You'll have your stats and all this stuff you earn on the court, but where you really impact people is what you do besides that. So I try to set a good example, be a great friend, be a great person and in terms of the way I am on the bench… I just imagine if I were out there playing I would want my bench to support me and cheer me on and support me no matter what happens. So I try to start that and kinda get a trend going where guys are all supporting each other and the energy's contagious. So I try to invoke some passion and I think it has helped and will continue to help." – Leal in the preseason talking about his role for the Hoosiers.
Filed to: Anthony Leal