That's A Wrap: Xavier Johnson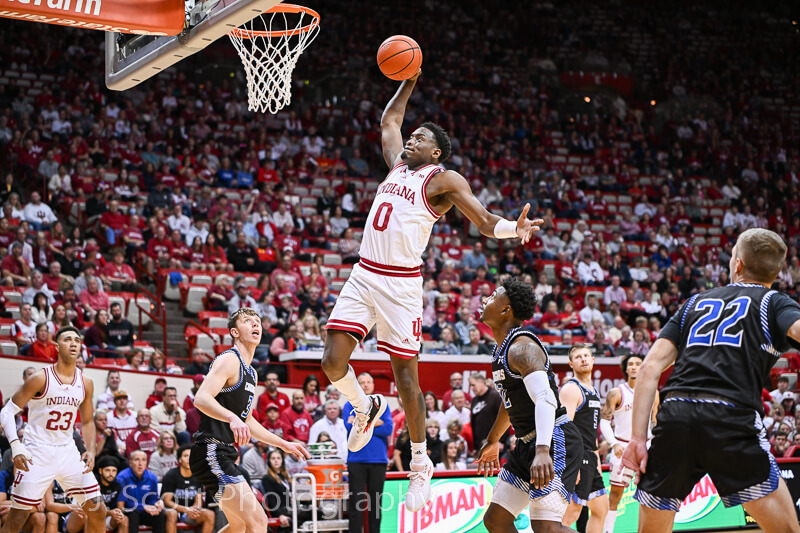 Welcome to "That's A Wrap," our player-by-player recap of the 2022-23 Indiana Hoosiers. Today: Miller Kopp. Previously: CJ Gunn, Kaleb Banks, Jalen Hood-Schifino, Malik Reneau, Trey Galloway, Jordan Geronimo, Logan Duncomb, Tamar Bates, Anthony Leal, Miller Kopp. 
Johnson (11 games): 9.9 points, 4.9 assists, 3.3 rebounds and 41.5 FG% in 25.2 minutes per game.
The 2022-23 season was supposed to be Xavier Johnson's last of his college career, and it would be a season where the Hoosiers needed him present in all aspects. They needed his athleticism, leadership and skill at the point guard position, as he was expected to be the running mate for incoming freshman Jalen Hood-Schifino.
The game plan going into the season was for both Johnson and Hood-Schifino to be Indiana's primary ball handlers. Johnson's first season in Bloomington had its ups and downs, but at preseason media day Mike Woodson said he saw how Johnson grew up and matured over the summer.
Johnson was ready to have a big, breakout season like others on his team.
And in the beginning, it seemed like that was the trajectory he was on. In Indiana's win against Xavier in November, Johnson scored 23 points and grabbed seven rebounds in 29 minutes. He was one of Indiana's top offensive contributors while also playing strong defense.
The game wasn't without flaws for Johnson, of course, as he was called for a technical foul and made other questionable and sporadic decisions on both ends of the floor. But on the whole, hopes were high for Johnson to have a good season.
Johnson continued to play solidly, sharing time with Hood-Schifino as expected, bringing leadership, energy and solid contributions to the floor. During Indiana's win over Jackson State, he scored 16 points with 4-for-8 shooting from beyond the arc, and followed that performance up by scoring 20 points against North Carolina.
Indiana's non-conference schedule showed Johnson could be the second or third leading scorer behind Trayce Jackson-Davis and/or Hood-Schifino. And despite not always making the most optimal decisions on the court, his presence was valued nonetheless.
But then, on December 17 against Kansas, Johnson went down with a foot injury. He returned to the bench with crutches and a walking boot, which looked bleak from the start. It was soon confirmed Johnson had broken his foot, but after surgery, the program was hopeful he could return before the season was over.
However, as more time went by with little to no updates of Johnson's status, the odds of the senior returning got slimmer and slimmer. In March, Indiana announced Johnson would not be returning, and instead would apply for a medical hardship waiver to return to play for one more year as a Hoosier.
Without Johnson, Hood-Schifino was left as Indiana's only real point guard, and Johnson's absence was glaring at times. When Indiana needed a spark or if Hood-Schifino was struggling, Johnson could, at one point, have been the person to step up. Johnson wasn't necessarily a "make or break" player, but the question of what Indiana's season could have looked like with him healthy and available still remains.
Now, that question has a chance to be answered. Indiana announced the NCAA approved Johnson's medical hardship waiver on April 26, and Johnson is expected to once again be placed in that starting point guard role.
The Hoosiers will be reworking their style — and starting lineup — as Jackson-Davis and Hood-Schifino both declared for the NBA draft, and Race Thompson and Miller Kopp graduated. Incoming freshman Gabe Cupps will likely be Johnson's backup at the point guard spot, and with transfers like Kel'el Ware and Anthony Walker are expected to contribute to Indiana's frontcourt and could therefore be prime beneficiaries of Johnson's play.
Bottom Line: If he can stay healthy, Johnson is perhaps even more ready for a big season than he was one year ago. He's been waiting on the sidelines, eager to get back into the game. While hurt, he still demonstrated strong leadership and was consistently contributing whatever he could from the bench. Johnson showed promise in the beginning of the 2022-23 season, and if he can bring that same attitude and approach back next season he will be a big factor in Indiana's success.
Quotable: "We are very happy for Xavier and his family and can't wait to have him be a key member of our program, next season. I know this year was challenging for him, but he brought a positive attitude every day and I believe he will bring a great deal to our team next season because of the adversity he has faced." – Mike Woodson after Johnson's medical hardship waiver was granted.
Filed to: Xavier Johnson