That's A Wrap: Miller Kopp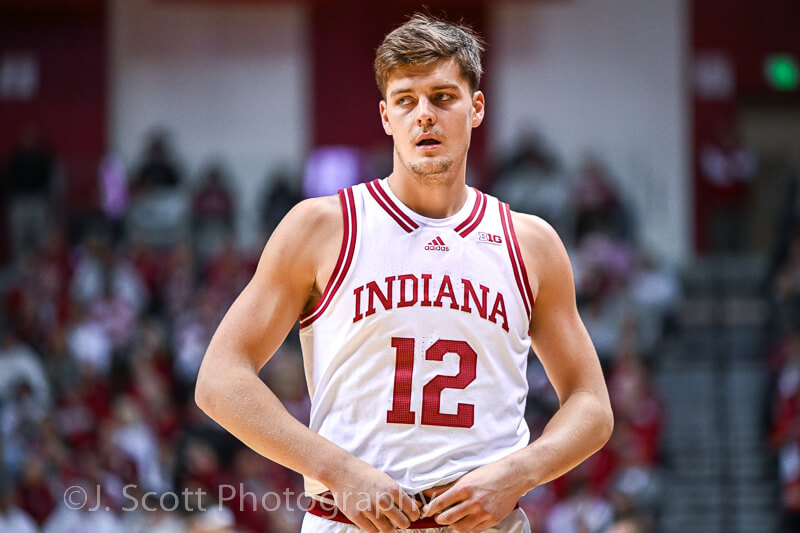 Welcome to "That's A Wrap," our player-by-player recap of the 2022-23 Indiana Hoosiers. Today: Miller Kopp. Previously: CJ Gunn, Kaleb Banks, Jalen Hood-Schifino, Malik Reneau, Trey Galloway, Jordan Geronimo, Logan Duncomb, Tamar Bates, Anthony Leal. 
Kopp (35 games): 8.1 points, 2.5 rebounds, 1.2 assists and 48.1 FG% in 30.3 minutes per game.
Miller Kopp's final season of college basketball felt like the ultimate culmination of his career. Everything seemed to come together.
When the 6-foot-7 forward transferred to Indiana from Northwestern, the expectation was for him to fill a massive void that Archie Miller's teams constantly had: lack of 3-point shooting.
Kopp's first season in Bloomington was one in which he struggled to find his role. There were moments when the Houston native looked uncomfortable and unsure of himself. He even admitted through his initial transition to Indiana, he struggled to find and embrace his role on the team and had trouble finding a place of comfort.
But sometime in the offseason, Kopp began feeling comfortable showing his confident and vibrant personality. It helped his play.
In 2021-22, Kopp made 39 3s, making 36.1 percent of his shots from beyond the arc. A season later, and with time to get his feet wet with Indiana basketball, Kopp made 63 3s and shot 44.4 percent from deep. Statistically, that was a big jump for the fifth-year senior.
Kopp's shotmaking wasn't the only area where he improved. At times, the sharpshooter made game-winning hustle plays. When the Hoosiers visited Minnesota, Kopp played all 40 minutes and scrapped for the loose ball after the Gophers missed a go-ahead 3-pointer with 20 seconds remaining. It sealed the victory.
Kopp made plays like that all year long. The forward faced adversity when he visited Evanston, Illinois, to play his former team Northwestern. It was the opposite of a warm welcome. As the Wildcats student section shouted obscenities at their former classmate, Kopp's play was affected. He was 1-for-4 from deep in the loss; one shot even hit the side of the backboard. In 2021-22, this may have caused a slump. This past season it did the opposite. The very next game against Illinois, the senior stuck his tongue out as he made four 3s.
There's a difference between responding and reacting to challenges. A reaction is forced, defensive and holds negative weight. A response is thought out, planned, collected and confident. Kopp's performance against Illinois three days after the Hoosiers' loss at Northwestern was a response.
Kopp's ability to find his role as a scrappy playmaker and sharpshooter was vital to Indiana's success this past season. His defensive improvements and decision-making were crucial for his growth and Indiana's. He played 177 more minutes this past season than his first year in the cream and crimson. There's a reason for that, as Kopp constantly found ways to make an impact – whether it was with hustle plays or shooting the roof off of the gym.
"He's gotten a lot better on the defensive end," Trey Galloway said after Indiana's NCAA tournament win against Kent State. "He can do a lot of things that don't show up in the stat sheet. Deflections, getting on the floor, being in the right spot on defense is huge for us… It's been great to just see him have a really good year."
For as much good that Kopp brought to Indiana, he was limited. Kopp struggled with his on-ball defense as he lacked the athleticism that most Big Ten players at his position had. He was also one-dimensional offensively, he didn't have the speed to get downhill effectively, and at his size, playmaking around the perimeter was limited. Towards the end of the season, there was a lot of chatter surrounding how Kopp should be more aggressive and take more shots.
But with the talent Indiana had this past season, Kopp fell into his role and played it just about as well as he could.
"My role is to not come off and shoot 20 times a game, my role is to help the team win," Kopp said on a media availability in January.
From viral TikTok videos and giving his teammates ridiculous words to fit into their media availabilities to holding blaring speakers over his head and wearing upside-down headbands, Kopp's personality was never denied by Indiana fans. It was embraced.
Bottom Line: Miller Kopp's personality will shine no matter what he does. For Indiana, it was an essential aspect in the locker room, just about as important as him making 3s. The forward's comfort and confidence in himself affected his play in every positive way it could. Kopp hit more 3s, played more minutes, played better defense and made more gritty plays than he did in his first year in Bloomington. Maybe for him, it was all about finding his role in Bloomington.
Quotable: "I've given so much of my life to this game and sacrificed so much to get here…but it's something you can't put all your chips into mentally and emotionally, because there's ups and there's downs. You can't control a lot of what happens in the game, but you can control your mindset and how you think of things when they happen and how you respond. So for me, this season I'm just playing free and I'm playing my role." – Kopp said in January regarding his role and mindset during the season.
Filed to: Miller Kopp