That's A Wrap: Team Offense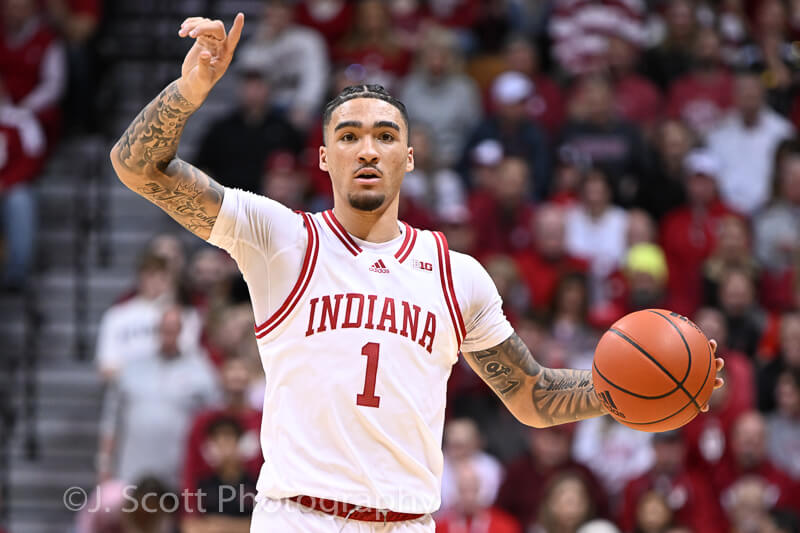 Welcome to "That's A Wrap," our recap of the 2022-23 Indiana Hoosiers. Previously: CJ Gunn, Kaleb Banks, Jalen Hood-Schifino, Malik Reneau, Trey Galloway, Jordan Geronimo, Logan Duncomb, Tamar Bates, Anthony Leal, Miller Kopp, Xavier Johnson, Race Thompson, Trayce Jackson-Davis, Team Defense
Offense (35 games): Adjusted efficiency: 107.0 (28th), eFG%: 53.5 (40th), TO%: 16.8 (78th), 3PFG%: 36.8 (39th), 2PFG%: 53.0 (65th), FT%: 71.2 (205th), FTA/FGA: 29.5% (239th), OR%: 28.1 (197th)
This much is true for all the gripes about Indiana's style on offense: The Hoosiers finished 28th in KenPom's adjusted offensive efficiency metric, up 67 spots (95th) from Mike Woodson's first season as Indiana's head coach. The Hoosiers also improved by 5.6 points per 100 possessions in conference play, landing them seventh among their Big Ten foes after a 10th-place finish a season ago.
With essentially the same cast of characters, Indiana took a sizable leap in efficiency this season. So how'd the Hoosiers get it done?
Perhaps a no-duh, but this team made a higher percentage of their shots. Indiana's effective field-goal percentage of 53.5 ranked 40th in the country. Indiana put the ball in the hole at the rim and beyond the arc at a better clip. Down low, Trayce Jackson-Davis (58.2 2PT%), Race Thompson (55.2 2PT%), Malik Reneau (56.9 2PT%) and even Jordan Geronimo on less attempts (63.1 2PT%) all helped Indiana to the 65th-best 2-point percentage nationally.
But it was beyond the arc where Indiana most noticeably improved. The Hoosiers had four players shoot 37 percent or better from distance in 2022-23, with Xavier Johnson (37 percent), Tamar Bates (37.4 percent), Miller Kopp (44.4 percent) and Trey Galloway (46.2 percent) all in the club. That hadn't happened since Tom Crean's last season at the helm (2016-2017) when five players accomplished the feat. As a team, Indiana shot 36.8 percent from 3-point range, good for 39th in the country. Their 38.0 percent mark in conference-only play ranked third. It was a welcomed change for a program that's been starved for reliable 3-point shooting over the last several seasons.
And yet, Indiana's offense did not feature it in a meaningful way. Only 26.6 percent of Indiana's field goal attempts were from beyond the arc, ranking the Hoosiers 354th out of the 363 Division I teams in that statistic. While Kopp had one of the best offensive ratings in the country (125.2, 43rd), he had the lowest usage percentage on the entire team among regulars, even falling under the "nearly invisible" title on KenPom.
When asked about the lack of shots for Miller in mid-January, Mike Woodson, in a longer answer about the defense not leaving Miller, also offered this: "I'm just not here to create a lot of shots for just Miller. I mean, I'm not here to do that."
What was Woodson here to do this season with his offense? Lean heavily on his two most talented players in Jackson-Davis and Jalen Hood-Schifino. Once Hood-Schifino was handed the car keys after Johnson's injury, he excelled in high ball-screen action. The freshman torched Zach Edey's drop coverage to the tune of 35 points and a win in West Lafayette. Against Michigan in Ann Arbor, the Wolverines continued to switch how they defended Hood-Schifino. But he continued to make adjustments, resulting in a hard-fought road victory for the Hoosiers.
Hood-Schifino's ability to effectively read pick-and-roll coverages and flash an ability to hit in the mid-range with ease is the biggest reason he looks like a surefire top-20 draft pick in June's NBA Draft.
When Hood-Schifino wasn't carving his way around the defense, Indiana turned to its highest-usage player in Jackson-Davis. It's no secret Indiana's offense has revolved around Jackson-Davis for the last several seasons. While he was mostly left-hand dominant and rarely took shots away from the basket, Jackson-Davis got better and played with more authority and confidence. He also improved as a ballhandler, leading the break for the Hoosiers after rebounds and showed better court vision and passing. His face-up game took a leap as well. He put up insane video game numbers on several occasions. Simply put: Jackson-Davis was one of the best players in college basketball this season and Indiana featured him heavily.
In past years, the over-reliance on Jackson-Davis made Indiana's offense too easy to scout and too one-dimensional. Teams dared other Indiana players to hit from the perimeter to beat them and it was a bet the opposition often won. This year, though, Indiana's supporting cast stepped up and hit more shots, keeping defenses a bit more honest even if a lot of focus still went to Jackson-Davis.
Bottom Line: With little dynamism on the wing and no guards that could consistently get to the rim, Indiana's offense heavily relied on a senior All-American big at the rim and a Big Ten freshman of the year in the mid-range. It was a strategy that got the Hoosiers a tie for second place in the conference, a four-seed in the NCAA Tournament and a round-of-32 appearance. Not bad. Still, on a team with two starters shooting over 40 percent from the 3-point line (Kopp, Galloway), its utter lack of commitment to getting looks for them puzzled observers of the program.
Quotable: "I feel like I'm trying to do everything I can, because at the end of the day the offense revolves around Trayce and (Hood-Schifino) now with the ball screens and stuff, too. For me, there's nothing more I can do. I watch film with the coaches all the time about where hopefully I can get more shots in terms of my spacing or how I move without the ball … for me to get open looks. I'm trying to do everything I can to get open looks and shoot the ball, because that's what I do best." — Miller Kopp on Jan. 17
Filed to: Jalen Hood-Schifino, Trayce Jackson-Davis