That's A Wrap: Trayce Jackson-Davis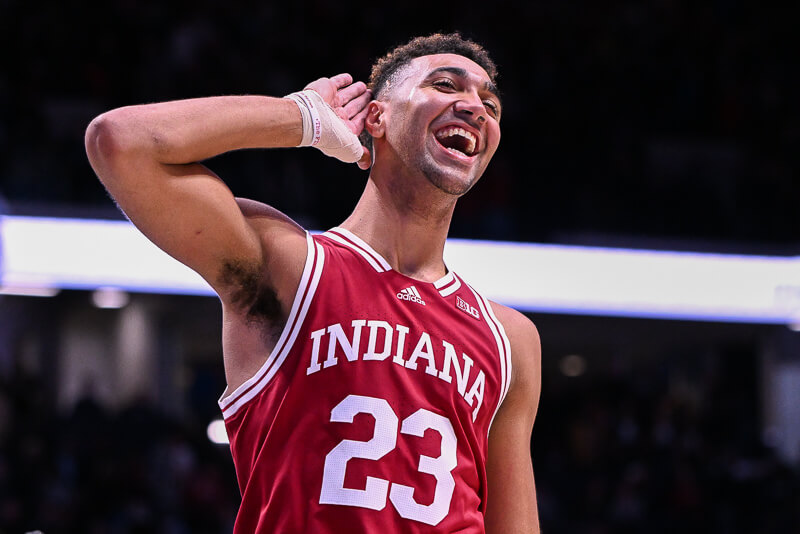 Welcome to "That's A Wrap," our player-by-player recap of the 2022-23 Indiana Hoosiers. Today, our player wrap ups conclude with Trayce Jackson-Davis. Previously: CJ Gunn, Kaleb Banks, Jalen Hood-Schifino, Malik Reneau, Trey Galloway, Jordan Geronimo, Logan Duncomb, Tamar Bates, Anthony Leal, Miller Kopp, Xavier Johnson, Race Thompson. 
Jackson-Davis (32 games): 20.9 points, 9.1 rebounds, four assists, 2.9 blocks and 58.1 FG% in 34.5 minutes per game.
Throughout his four-year career at Indiana, it was rare that Trayce Jackson-Davis showed any emotion other than happiness, passion and excitement on the floor.
But after the Hoosiers lost to Miami (FL) in his final collegiate game, he was moved to tears on the bench as the clock dwindled.
In the locker room postgame, there was a clear sense of frustration and sadness in Jackson-Davis' demeanor. That quickly changed when he saw freshman teammate Jalen Hood-Schifino in distress. The two hugged and his expression changed. He was comforting, grateful and under control.
"Just two years ago we were getting booed in our home city, Indianapolis, off the court in the Big Ten tournament. Just being in this moment two years later is really special to me. To have the Indiana fans on your back and just cheering for you and giving them hope. Which is something this program hasn't had in a while," Jackson-Davis said postgame. "It was really cool to be a part of that… and I know this guy right next to me (Mike Woodson) is gonna make sure that things stay in the right direction."
Jackson-Davis' career was individually extraordinary. He is IU's all-time career blocks and rebounds leader. The Greenwood, Indiana native is also third in career points. It's records like those that put him on the pedestal with other Indiana basketball legends. The difference? TJD was never able to win at the highest level.
The lack of Big Ten championship or NCAA Tournament run will always be missing from his resume. But, there's no question that this past season was the big man's most successful. Jackson-Davis led the Hoosiers to a four-seed in the NCAA tournament and the third-best record in the Big Ten. The season sweep over Purdue was perhaps Indiana's best accomplishment of the year.
But for Jackson-Davis, his importance through Indiana's transition from Archie Miller to Mike Woodson shouldn't be understated. TJD was the main piece to the puzzle that Woodson needed if he was going to turn the program around. He didn't have to come back. It took a conversation and some film-watching between the two to get the All-American to stay. It made all the difference. Jackson-Davis and Woodson led Indiana to back-to-back NCAA tournament appearances.
On top of winning in 2022-23, TJD's senior season propelled his draft stock. The 6-foot-9 forward improved his ball-handling and showed off elite vision as he led the Hoosiers in assists (129). Defensively, Jackson-Davis was a monster. He had 20 more blocks than any other player in the Big Ten. He never developed the jump shot that many claimed would make him an elite draft prospect.  Instead, he perfected the other aspects of his game.
On April, 4, he expectedly declared for the draft.
Jackson-Davis' senior season can be told through his performances. He recorded the third triple-double in program history with 12 points, 11 rebounds, 10 assists, three blocks and three steals in a win against Nebraska. At Illinois, he had 35 points, nine rebounds and five assists. At Northwestern, he grabbed 24 rebounds. The senior had 10 games with more than 20 points and 10 rebounds.
One of Jackson-Davis' best attributes as a Hoosier was his leadership. In early January, he hosted a players-only meeting after the Hoosiers had lost three consecutive Big Ten games. The next game, the Hoosiers blew out No. 18 Wisconsin, 63-45.
The all-conference big's leadership was shown after the loss to Miami. He comforted his teammate when it could have been all about him.
Jackson-Davis is an Indiana basketball legend. He should be remembered for being a catalyst in the program's rejuvenation.
Bottom Line: Trayce Jackson-Davis had one of the best individual seasons any Hoosier has had in recent years. Despite losing in the second round of the NCAA tournament, TJD's season can be deemed a success on a multitude of levels. He not only greatly improved his draft stock, but he sparked excitement and optimistic energy surrounding the program.
Quotable: "Indiana, I appreciate the life lessons and every experience this beautiful University has taught me. I have made relationships here that will last a lifetime. From the people, places and basketball it has truly been a pleasure to wear the cream and crimson. I will cherish this place and am happy to say I can call it my home." – Trayce Jackson-Davis in his decision to enter his name into the NBA Draft.
Filed to: Trayce Jackson-Davis