That's A Wrap: Team Defense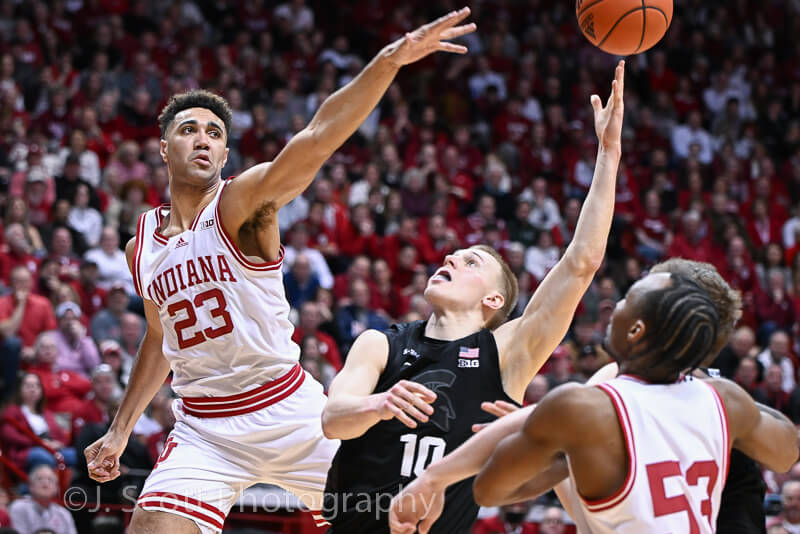 Welcome to "That's A Wrap," our recap of the 2022-23 Indiana Hoosiers. Previously: CJ Gunn, Kaleb Banks, Jalen Hood-Schifino, Malik Reneau, Trey Galloway, Jordan Geronimo, Logan Duncomb, Tamar Bates, Anthony Leal, Miller Kopp, Xavier Johnson, Race Thompson, Trayce Jackson-Davis
Defense (35 games): Adjusted efficiency: 97.2 (45th), eFG%: 47.2 (42nd), TO%: 16.3 (294th), Opponent Off. Reb%: 29.0 (205th), Opponent FTA/FGA: 29.8 (141st), Opponent 2PFG%: 45.4 (20th)
The defense was the calling card for Indiana under Mike Woodson in his first season in Bloomington. The Hoosiers finished Woodson's debut season as a college coach with the nation's 24th-best defense. It was a better performance than any of Archie Miller's four seasons at IU and the best defense for the program since the 2012-13 campaign that ended with a Big Ten championship.
With a good portion of the roster returning and aspirations to compete for a league title, the expectation was for the defense to get even better in Woodson's second season. But that didn't happen as Indiana moved back 21 spots nationally, according to KenPom's adjusted defensive efficiency rankings.
An examination of the Big Ten-only numbers paints a picture of regression.
Indiana fell from fourth in opponent turnover percentage (17.5) to 11th (14.3). Xavier Johnson's injury was a significant factor here as Indiana's ball pressure took a step back without its senior point guard on the floor.
Rebounding was also a problem that Indiana failed to solve all season. After finishing in the top half of the league in defensive rebounding percentage in Woodson's first season, the Hoosiers fell to 12th in year two. Indiana's Big Ten foes grabbed 29 percent of their missed shots, a number far too high. While Trayce Jackson-Davis produced herculean rebounding numbers all season, his teammates needed to be better at helping him clean up the defensive glass.
And sending opponents to the foul line, a deficiency in Woodson's first year, got even worse. The Hoosiers ranked 13th in the Big Ten (31.1 percent) in opponent free throw rate in year one of the Woodson era and fell to 14th (32.6 percent) last season.
When you add it all up, it's easy to see why Indiana went from having the Big Ten's best defense in the 2021-22 season to just the 9th best last winter.
There were times when Indiana's defense shined and lifted the Hoosiers to crucial victories. In a marquee home game against North Carolina in late November, Indiana held the Tar Heels to just 65 points and .93 points per possession. The Hoosiers also bottled up Wisconsin (.717 PPP), Michigan (.912) and Kent State (.931) throughout the season.
But when the Hoosiers were beaten soundly – which often happened in league play – it was usually defensive struggles to blame. Indiana gave up over 1.1 points per possession in 11 games and lost nine of them. Late in the season, Indiana gave up 90 points in a home loss to Iowa.
"How about playing some defense?" Woodson exclaimed postgame. "That will help, which was nonexistent tonight."
Woodson should undoubtedly be credited for unlocking the defensive potential of Jackson-Davis in his two seasons coaching him. In Jackson-Davis' fourth and final season in Bloomington, he became the program's all-time blocks leader and was named to the Big Ten's all-defensive team. Jackson-Davis was also a semifinalist for Naismith defensive player of the year.
Bottom line: Woodson wants his program's identity to be defense-first, but his second season didn't produce a team that was led by its defense. The Johnson injury didn't help the Hoosiers realize their potential, but Indiana's lack of athleticism was glaring in many of its losses, including its season-ending defeat against Miami (FL). Woodson himself said after an NCAA tournament loss to Saint Mary's in year one that the Hoosiers need to get better on the wings from a defensive standpoint. That still rings true. Building a program is a process, but Indiana will need to upgrade its athleticism in the backcourt and on the wings to compete at the highest level of college basketball.
Quotable:  "I don't teach team defense as one guy. We've got to all sacrifice for the sake of the team, and when there's a breakdown, you've got to trust that somebody's there to help you. That's kind of how we built our defensive system." – Woodson before Indiana's NCAA tournament matchup against Kent State in Albany, New York.
Filed to: