6-Banner Sunday: Indiana snaps losing streak with dominant win against Wisconsin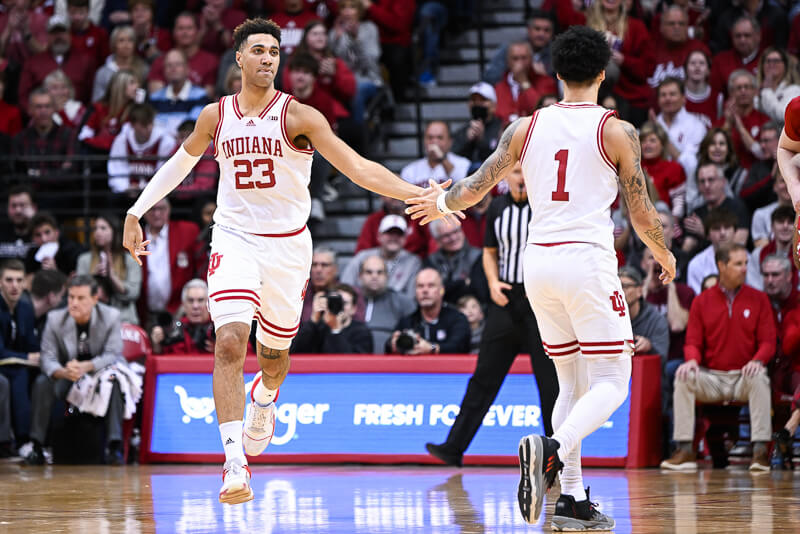 6-Banner Sunday is Inside the Hall's weekly newsletter in partnership with The Assembly Call. More than 9,000 Indiana fans receive the newsletter each week. In addition to appearing each week on the site, you can also opt to receive 6-Banner Sunday by email. A form to subscribe via email is available at the bottom of this week's 6-Banner Sunday.
Welcome to another edition of 6-Banner Sunday, a joint production between The Assembly Call and Inside the Hall, and presented by our friends at Trueblood Real Estate, where we highlight the five most essential IU basketball stories of the past week, plus take a look at how the other IU sports programs are doing.
After a rough start to the week with disappointing losses against Penn State and Northwestern, IU rebounded nicely with a dominant win over Wisconsin to get back on track. Also, women's basketball had a huge result over top-10 Maryland and saw star Grace Berger return to the court after an extended injury absence.
In non-game news, the Big Ten will need a new commissioner as the current one is leaving for the NFL. It was also a busy few days of shows and podcasts for Assembly Call and Inside the Hall. We will as usual conclude with a look at how other Indiana athletic teams are doing led by a few ranked showdowns where Indiana emerged victorious.
In a brief headline, head coach Mike Woodson had his weekly radio show.
• Hoosiers earn huge rebound win against Wisconsin
• IU dominated by Penn State and Northwestern earlier in the week
• Women's basketball beats Maryland as Grace Berger returns
• Kevin Warren departing as Big Ten commissioner
• Podcast on the Brink and Assembly Call
• Hoosier Roundup
Looking for tickets to upcoming Indiana games? Vivid Seats has you covered. The Hoosiers head to Illinois on Thursday in their only game this week. Vivid Seats is a full-service provider – with an industry-leading customer service team, reachable by phone or online during extended business hours. (These links are Inside The Hall affiliate links, so a commission will be paid to ITH if you click and make a ticket purchase.)
Banner #1 – Hoosiers earn huge rebound win against Wisconsin
Whether it was inspiration from his brother visiting as a prospective football transfer, or feeling healthier, Trayce Jackson-Davis finally looked like his dominant self again in an easy 63-45 bounce-back win over Wisconsin. The team's leading scorer had 18 points and 12 rebounds and was much more mobile with several thunderous dunks in the second half. IU improves to 11-6 overall and 2-4 in the league with the result.
While the Hoosiers are still missing starters Race Thompson and Xavier Johnson for an extended time, it hardly mattered Saturday. This was because reigning Big Ten freshman of the week Jalen Hood-Schifino continues to fill in admirably for Johnson by scoring 16 points with stellar mid-range shooting. Generally, the Badgers have been the Hoosiers' nemesis as this was just the fourth triumph over their conference rivals in 15 years. It was also the first easy victory over Wisconsin in 18 seasons as the few times IU had won recently went down to the wire.
Afterward, both Woodson and Badger coach Greg Gard spoke, Inside The Hall had a photo gallery, Ryan Corazza wrote his Minute After, William McDermott penned Five Takeaways, while Amanda Foster wrote a column on Jordan Geronimo who had a huge afternoon with a double-double.
Banner #2 – IU dominated by Penn State and Northwestern earlier in the week
As good as the demolition of the Badgers was on Saturday, it was equally bad last Wednesday and Sunday against Penn State and Northwestern, respectively. Despite having superior talent in both games, the Hoosiers were run off the floor by the Nittany Lions' three-point shooting and struggled mightily on defense against an anemic Wildcats' offense. The final in Happy Valley was anything but a result that would make the Hoosiers smile in an 85-66 setback. The margin of defeat to Northwestern was just 84-83, but the score did not reflect the flow of the first 39 minutes as IU made a late comeback despite being thoroughly controlled by their opponent.
For the Penn State contest, Woodson spoke, Corazza had his Minute After and Film Session, Alex Bozich penned Five Takeaways, and McDermott wrote a column.
In terms of the Wildcats' win, Woodson and Northwestern coach Chris Collins spoke, Inside The Hall had a photo gallery, Corazza wrote his Minute After and Film Session, Bozich penned Five Takeaways, while Foster and McDermott did columns.
Banner #3 – Women's basketball beats Maryland as Grace Berger returns
Before 2022, the Hoosiers had never beaten the Terps' historically elite program. However, IU got their third victory (in four games) over Maryland in 12 months in a heart-stopping 68-61 win in Assembly Hall Thursday night in front of an energetic crowd of nearly 6,000. It was one of the more physical and exciting basketball contests regardless of the level of competition. Indiana held a small lead for most of the night but their opponents from College Park came back to tie the score at 50 in the middle of the fourth quarter. However, the Hoosiers would not be denied as they punched right back with nine straight points and freshman Yarden Garzon hit two clutch three-pointers late as IU held on.
The team is now 5-1 in the league and 15-1 overall after beating Northwestern on the road earlier in the week 72-50 in the return of Grace Berger, who had been out since Thanksgiving night with a knee injury. Doing The Work had shows following both victories in the last few days.
In news away from the court, star center Mackenzie Holmes was named to another postseason watch list as she continues her terrific play.
Banner #4 – Kevin Warren departing as Big Ten commissioner
Big Ten commissioner Kevin Warren has had a somewhat up-and-down tenure as head of the league. It started with the controversial decision to cancel the football season in light of COVID in 2020, only to play a few weeks later in October when no other conferences followed his lead.
However, positive momentum has found him recently as he has added UCLA and USC to the league and negotiated a record-setting TV deal. Now Warren leaves his post to return to his roots in the NFL as president and CEO of the Chicago Bears. As a result, the Big Ten will need to find a new leader.
Banner #5 – Podcast on the Brink and Assembly Call
Podcast on the Brink returned with two new episodes this week.
Assembly Call was even busier with four shows in the last seven days. This included a postgame episode after each game as well as AC Radio.
Banner #6 – Hoosier Roundup
• Wrestling is on the brink of a remarkable turnaround this season and is ranked for the first time in several years. They showed they were worthy of the accolade by picking up victories over two squads in the top 16 by defeating Maryland and Rutgers.
• Swimming and Diving have the men's and women's teams ranked seventh and 13 respectively in the nation and both squads defeated a top 15 Michigan side.
• Track and Field competed at the Commodore Challenge and signed their future recruiting class.
• Football's Jaylin Lucas was named a Freshman All-American.
• Softball player Cora Bassett is ranked in the top 100 nationally in the preseason.
• Volleyball announced a roster addition for next year in Northeastern University transfer Natalia Hagopian.
• Water Polo obtained a ranking of 13 in advance of their competition starting next week.
Thanks for your continued support for The Assembly Call and Inside the Hall. We'll be back next weekend with a new roundup.
Now go enjoy yourself a 6-banner Sunday.
Aaron (Ari) Shifron
Assembly Call Contributor
Filed to: