The Minute After: Penn State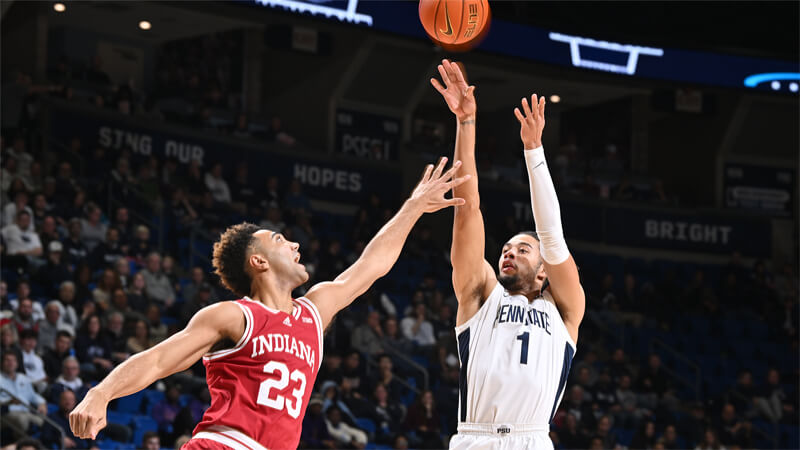 Thoughts on an 85-66 loss to the Nittany Lions:
The modern offensive style of basketball swallowed the Hoosiers whole tonight.
After spending time under Brad Stevens (Butler, Boston Celtics) and Matt Painter (Purdue), Micah Shrewsberry has implemented an offensive system in his second year at the helm that puts a premium on spacing the floor and shooting the 3-ball. It's a style that creates variance. If the shots aren't dropping and the other team is on, it can lead to a blowout loss — though the Nittany Lions can at least make up for that some with their low turnover rate.
But if the 3-pointers are dropping, your opponent is losing your shooters and isn't keeping pace from beyond the arc on their end?
It leads to a 19-point win, Penn State's largest-ever margin of victory against the Hoosiers.
Indiana did a solid job through the first eight minutes of action, allowing just two 3-point makes from the Nittany Lions. But Penn State's quickness and trickery on the perimeter, its dedication to getting the right matchups, shifted this one in a big way. Indiana was a step slow all over the place, its collapsing defense scrambling back to wide-open shooters pretty much the rest of the contest.
The numbers aren't pretty. The Nittany Lions hit a ridiculous 18-of-31 (58.1 percent) from 3-point range. Those 18 makes tie a program record, the second time this season Penn State has tied it after making 18 against Winthrop to start the season. It's also the most 3-pointers the Hoosiers have given up in the KenPom era, which dates back to the 2001-2002 season.
"If there was one rotation, we didn't make the next rotation," Woodson said post-game. "We looked lost. That's on me."
Seth Lundy and Andrew Funk led the charge tonight from deep, as each hit 7-of-12. Though it's on a low volume, Indiana has shot well from 3-point range so far this season, but that wasn't the case tonight. The Hoosiers made just 4-of-14 (28.6 percent). Yes, Penn State had two separate players make more 3-pointers individually than IU made as a team this evening.
On the other end, Miller Kopp, who's now shooting 44.9 percent on 3-pointers this season, took just one all game. And it didn't come until the 11:54 mark in the second half. Kopp has taken just six 3-pointers in his last 86 minutes of game action. In the first half alone, Lundy took seven, making four. Besides a pindown screen early in the game where Kopp connected on a 2-point jumper, Indiana continues to not run specific sets to free him. He remains an afterthought in the offense.
As each 3-pointer fell on Indiana's head, the Hoosiers looked dejected and zapped of energy. After a sensational last two games on offense, Jalen Hood-Schifino came back down to earth, shooting just 33.3 percent from the field (5-of-15). Indiana was poor from the line tonight, hitting only 10-of-18 (55.6 percent). The Hoosiers gave up 1.30 points per possession.
"Our two veterans are sitting there on the side. They're not coming through the door any time soon," Woodson said." Our guys are a little down and they should be. We got smacked in the face tonight. We're just not competing right now, and that's on me."
The Hoosiers have now lost three straight and six of nine. They're just 1-4 in conference play. Their defense has fallen to 71st on KenPom after being in the top 15 for the beginning stretch of the season.
For a season that started with much promise, it's hard to believe this is where Indiana finds itself. And at this point, it's fair to ask: just how low can this go?
(Photo credit: Penn State Athletics)
Filed to: Penn State Nittany Lions