Indiana women's basketball's first games in 2023 highlight Grace Berger's impact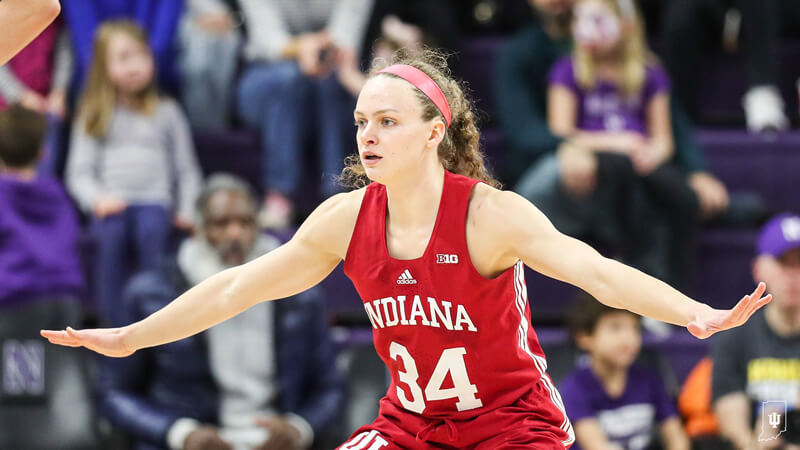 Sunday afternoon brought the news every Indiana women's basketball fan has longed to hear: Grace Berger is back.
Berger made her return to the court during Indiana's game against Northwestern for the first time since November 25 in her typical fashion: under the radar. No one knew she would return until the starting lineups were posted, and it was made to seem like it was no big deal.
But it was.
Berger finished the game with 16 points, five assists and two steals, playing for 27 minutes and looking like her old self. With her help, the Hoosiers handily took down the Wildcats by a final score of 72-50. Mackenzie Holmes, in what has become a common occurrence, led the way with 24 points and 13 rebounds, for her third straight double-double and sixth of the season.
After Indiana's game against Nebraska on January 1, the victory against Northwestern was a welcome one.
Indiana just barely pulled out a win over Nebraska, going to overtime to win 74-62. Up until those overtime minutes, the Hoosiers struggled in multiple aspects of the game; they couldn't consistently hit shots, couldn't find a good rhythm or energy and didn't have a solid point guard. It felt like one of the first games where one could fully feel the difference without Grace Berger.
Thanks to bursts of energy and shots from Yarden Garzon and Sydney Parrish, Indiana didn't allow Nebraska to score a single point in overtime. Sara Scalia, who has struggled in recent games to find baskets, was able to switch roles to contribute more defensively.
"I thought they were really good down the stretch of the fourth and in overtime," Teri Moren said postgame about Garzon and Scalia. "Just really proud of the way we gutted it out. As we say to them all the time, we're built for these moments."
One of the greatest takeaways from Indiana's first game of 2023 was the team's grit and determination. Parrish, who finished the game with 16 points, going 3-of-9 from beyond the arc, didn't stop shooting no matter how many shots fell short. Chloe Moore-McNeil stayed aggressive defensively throughout the game and recorded a new career-high with five steals.
It wasn't the prettiest performance, but it was a win. But one of the big questions after was if Indiana would be able to rebound and find a reliable, confident presence in the point guard role. No one knew when Berger would return.
Now, that point guard that Indiana needed is back. With Berger back in the lineup, the Hoosiers have an experienced leader, playmaker and shooter.
"It was a great blessing to have Grace Berger back and in the lineup," Moren said postgame. "She just makes everyone around her better."
It was evident that everyone seemed just a little bit more comfortable with Berger on the floor. However, despite the relatively easy win, Indiana struggled in certain areas.
Indiana shot 3-of-22 on 3s, good for just 13.6 percent. Garzon fouled out of the game and Parrish finished with four fouls. Luckily, Holmes and Berger were able to finish at the basket with ease, and Indiana found enough ways to put points on the board.
"Our defense I thought held us, and did what it needed to do," Moren said. "Proud of our group because we have been on the road in the Big Ten at Michigan State and didn't handle ourselves in the right kind of way, and I thought today we did that, on a day where we didn't shoot particularly right."
As Big Ten play continues, Indiana will continue to be challenged by everyone they play, no matter who is in the lineup. The team needs to be able to shoot proficiently from beyond the arc, and confidence will likely play a role in offensive success.
But the bottom line is this: Berger's return gives the Hoosiers a major boost. She won't solve every problem, and she can't do everything all the time. Others will still have to step up and contribute to Indiana's success. Luckily, Indiana has players who have shown they can do that.
(Photo credit: IU Athletics)
Filed to: