Heart and hustle lead Indiana women's basketball past Maryland in 68-61 victory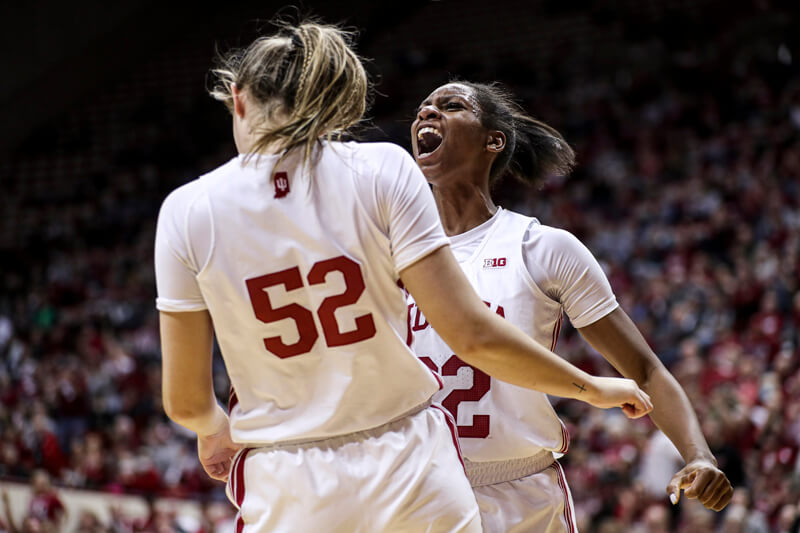 In a top-ten matchup, gritty, aggressive and intense play is the expectation. Players diving for balls, driving through defenders, giving every play their all.
No. 6 Indiana women's basketball brought that and more against Maryland on Thursday night.
In the 68-81 victory, there wasn't a single Hoosier who didn't leave it all on the court. Sydney Parrish took an elbow to the jaw. Chloe Moore-McNeil ran into the post of the basketball hoop. Mackenzie Holmes fought through triple-teams to get the ball up. All three ended up on the floor more times than you can count.
"That was a hard-played game by two really good teams," Teri Moren said postgame. "I'm really proud of our sticktoitiveness tonight, our resilience, our toughness."
No. 9 Maryland came into Simon Skjodt Assembly Hall on a six-game winning streak, with the team's last loss coming to Nebraska on Dec. 4. Despite a highly competitive effort from the Terrapins, the IU defense was near unbeatable for much of the game.
Moore-McNeil seemed to set the tone of the game early on, stealing the ball away from Maryland's Diamond Miller in the opening three minutes. Her peskiness didn't stop there, and she finished the game with four steals.
"She's such a great anticipator," Moren said about Moore-McNeil. "She understands scouting report defense, she understands rotations, where she needs to be. And that was really important tonight."
But she wasn't the only one putting up a fight defensively. Collectively, Indiana forced 16 turnovers and held Maryland to 37 percent shooting from the field. In the second quarter, the Terrapins only scored seven points, the fewest points they have scored in a quarter this season.
Grace Berger, in her return to Assembly Hall, also recorded four steals alongside 11 points and a season-high eight assists. She was a force to be reckoned with on both ends of the floor, playing 35 minutes of classic Berger basketball. Her mid-range shot came at key moments, and her ball-handling skills and passing were instrumental in creating opportunities for her teammates.
With six minutes left in the fourth quarter, Maryland tied the game at 50-50. On Indiana's following possession, the ball found itself in Berger's hands, and the rest was — or will be — history. She found Yarden Garzon on the outside, who sunk a 3-pointer. On the run down the court, Moore-McNeil got up for a block, giving the ball back to Indiana and allowing Parrish to make a 3-pointer of her own, assisted by Berger.
The nail in the coffin was a pullup jumper from Berger, forcing a Maryland timeout to try to halt the Hoosiers' 7-0 run. Moren said that represented exactly what Berger brings to the team.
"Grace makes everybody better, and I think we all feel good when the ball is in her hands, especially in those moments," Moren said. "You put the ball in Grace's hands because you know there's a really, really high probability that she's going to make the right decision."
Two of the key beneficiaries of Berger's presence were Holmes and Parrish, who both finished the night in double figures. Holmes posted her fourth consecutive double-double with 15 points and 10 rebounds, and Parrish put up 18 points along with seven rebounds.
Nine of Parrish's points came from 3-pointers, as she shot 3-for-7 from deep. She has emerged as one of Indiana's go-to shooters from beyond the arc, shooting at a 35 percent clip. The only Hoosier to have a higher 3-point shooting percentage than Parrish is Garzon, who is making 47.4 percent. Garzon also made three 3-pointers Thursday night.
It's safe to say Thursday's game was one of the most important of the season for Indiana. As Big Ten play continues, big wins against top-tier opponents provide the momentum and confidence necessary for this group to grow its cohesiveness.
The Hoosiers showed their ability to hustle for 40 minutes and demonstrated how much passion they have for the game, not to mention their talent. They have proven time and time again that the group is special, and it just keeps getting clearer.
Their 15-1 record marks the best start to the season since the 1974-75 season at 16-1. Thursday's win was the second top-ten victory for Indiana this season, which hasn't happened since the 2001-02 season.
At this point, there may not be a ceiling on what this team can do.
"I think we're a team that doesn't have any quit in us," Holmes said. "This [win] was one that we knew we needed, and we did a great job sticking to the game plan tonight."
(Photo credit: IU Athletics)
Filed to: