Five takeaways from Indiana's win against Wisconsin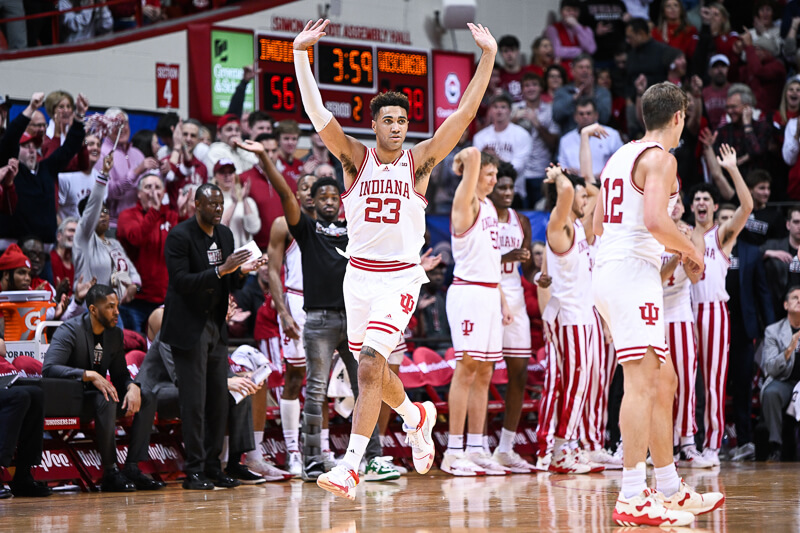 Indiana earned a much-needed win on Saturday afternoon, beating Wisconsin 63-45 at Assembly Hall.
Here are five takeaways from the victory against the Badgers:
Hoosiers respond and show grit after a tough week
The most important aspect of Saturday's performance was the Hoosiers' effort. In Indiana's three-game losing streak, an ability to respond to adversity was missing. The Iowa, Northwestern and Penn State games felt uninspiring and lethargic.
Those were all games that Indiana should've and could've won on paper. But, at times it looked like the Hoosiers didn't belong on the same floor as their opponent. Indiana was just the better team on Saturday.
Against the Badgers, Indiana competed for 40 minutes and showed energy.
It was enough for the Hoosiers to pick up their first win over the Badgers since 2019 and their first by double digits since 2005.
Trayce Jackson-Davis dominates Steven Crowl
Coming into Saturday, Crowl had been playing the best basketball of his three-year career at Wisconsin. But, in Assembly Hall, it was clear who the better player was: Trayce Jackson-Davis.
Defensively, the 7-foot Crowl had no answer for TJD's quickness and baseline moves. It was a game where the All-American just wore Crowl down. In the last 10 minutes, Jackson-Davis was getting anything he wanted.
Offensively, Crowl struggled, shooting just 2-for-8 from the field. You can credit Jackson-Davis for that. He picked up five blocks and added a steal.
Crowl finished with five points, six rebounds and three turnovers compared to 18 points, 12 rebounds, five blocked shots and four assists for Jackson-Davis.
There's no question that Indiana is at its best when their All-American is playing complete basketball. That's what we saw from Jackson-Davis on Saturday as made plays utilizing his quickness.
Indiana can survive – but won't thrive – on limited 3-point attempts
Miller Kopp hit Indiana's first 3-pointer with 4:35 remaining in the second half. It was Indiana's only make from beyond the arc in just eight attempts.
Since the injuries to Xavier Johnson and Race Thompson, Indiana has struggled to find or create space for open shooters on the perimeter. Over the past two games, Indiana is shooting just 5-for-22 from deep.
While the limited attempts weren't a problem against the Badgers, that kind of play isn't sustainable in modern-day basketball. Miller Kopp, who is shooting 45.1 percent on 3s this season, only shot two 3-pointers against Wisconsin.
Running set pieces and finding Kopp open on the perimeter should be a priority for Indiana's offense and it doesn't seem to be. Another question this begs is, what is Kopp's role if the Hoosiers aren't making an effort to get him looks from three? His strengths aren't being utilized by a team that doesn't have great shooters outside of him.
Jordan Geronimo flashes potential in a steady performance
The junior forward easily had his best game of the season against Wisconsin. Geronimo finished the contest with 12 points and 11 rebounds, five of which were offensive. Notably, the Newark native only committed one foul and only turned the ball over once.
Playing clean and smart basketball has been a challenge for Geronimo this season. Sometimes he'll make head-scratching decisions or commit silly and unnecessary fouls. But against Wisconsin, Geronimo filled his role. Crashing the glass and making the high-energy plays is what Geronimo gets applauded for. Now, he needs to do it consistently.
Saturday was also the first game that Race Thompson's absence wasn't vastly notable. Geronimo was a huge factor in that.
"It made me realize I have to put more into preparation, watching more film with coaches and being more focused on what's happening on the court," Geronimo said postgame. "Just playing hard and not worrying about other intangibles, I was able to play like myself."
Geronimo can be a difference-maker when maintaining this focus. He just has to do it consistently.
Indiana had its best defensive performance of the season
In its three-game losing streak, Indiana had given up 80+ points to three straight Big Ten opponents. For a defense that finished at the top of the conference in almost every category, the regression was stunning.
From giving up 18 3-pointers to Penn State to holding the Badgers to 32 percent shooting from the field, the performances were drastically different.
There were times at Penn State when the Hoosiers looked completely lost and out of touch with the game plan. Players weren't communicating and struggled on rotations. On Saturday, it was the opposite. The Hoosiers were contesting almost every jumper and were in the mix for every loose ball.
It was the dominating defensive performance that most expected to see a lot of this season.
The Hoosiers will have to rely on their defense to be successful without Xavier Johnson and Thompson, who remain sidelined indefinitely.
Filed to: Jordan Geronimo, Trayce Jackson-Davis, Wisconsin Badgers