Dismal defense dooms Indiana in 84-83 loss to Northwestern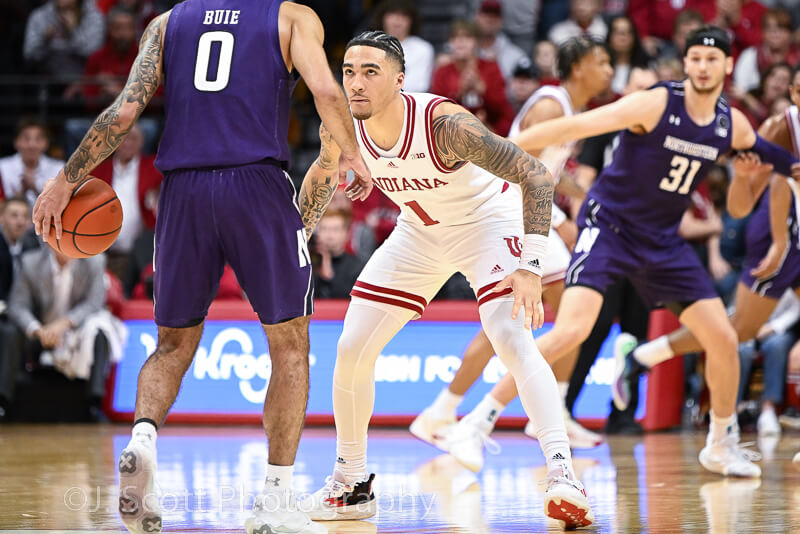 For almost 40 minutes Sunday afternoon, chants of "defense" rang out throughout Simon Skjodt Assembly Hall, attempting to bring life into the Hoosiers and propel them to victory.
But the chants remained just that. Not sources of inspiration, not motivation, just noises echoing around an altogether dull arena as the home crowd watched their team struggle repeatedly with bad passes, turnovers and barely-there defense.
Defense was the name of the game for both teams in Indiana's 84-83 loss to Northwestern on Sunday. Northwestern entered the game with a standout defense, forcing 15.7 turnovers and averaging nine steals per game.
Against Indiana, the Wildcats surpassed both statistics. The Hoosiers finished the game with 16 turnovers, and the Wildcats walked away with 14 steals. They put up 25 points alone off of turnovers, while the Hoosiers only scored six points off of the seven turnovers they forced.
"When you're dealing with young players, things like that happen," Mike Woodson said postgame. "We've got to be better in that area."
Jalen Hood-Schifino, who finished the game with 33 points for the most by a freshman since Eric Gordon in 2007, was culpable for six of Indiana's turnovers.
But despite career efforts from Hood-Schifino and Trayce Jackson-Davis — whose final stat line was 18 points, 24 rebounds and eight assists — Indiana's defense simply wasn't good enough.
From the jump, the Hoosiers were disjointed and slow on the ball. Northwestern seized the opportunities off wide open looks from beyond the arc and slow-moving defenders in the paint to take a 19-9 lead in the first six minutes and was able to stay comfortable for the majority of the game.
Indiana, on the other hand, just got more uncomfortable as the game went on.
"I just think sometimes we get discombobulated almost, when we're not playing our style of defense," Jackson-Davis said. "Coach had a great game plan and I don't think we followed it at all, honestly. We didn't switch when we needed to, and it's mental errors."
Those mental errors were clear when Northwestern barely had to compete under the basket, Indiana got crossed up or when it seemed like every Indiana defender was over-helping and not in the spot they needed to be in.
As a whole, the Hoosiers appeared taken aback by the aggressiveness of the Wildcat offense. Drives that seemingly could have been stopped or at least met with more ball pressure weren't, either due to lack of communication or no one stepping up to be more assertive.
With that miscommunication and lack of attention, Indiana was also foul-prone throughout the game, in last-ditch attempts to stop a shot, only giving Northwestern more opportunities for easy points. The Wildcats went 19-for-28 from the free throw line as the Hoosiers finished with 21 total fouls.
"I think obviously we need to quit fouling," Jackson-Davis said. "I also think that we're getting straight-line drived a lot, and it's requiring guys to get out of position and help, and it gives up open threes, and they're getting wide open looks and they're knocking them down."
Indiana was clearly missing the presence of Xavier Johnson and Race Thompson alike, as both have been important to Indiana's defense and overall energy in recent games. With two starters injured, any team would have to adjust and figure out how to play without them. While that isn't the only reason Indiana's defense struggled against Northwestern, it also can't be overlooked.
"X has been out for a while now, who anchors in guarding the ball coming up the floor," Woodson said. "That's why we're struggling a little bit defensively. We've got two starters that are sitting on the sideline, and I'm reaching trying to figure out who's going to replace that."
Thompson was especially missed by the defense in terms of rebounding, as he averages 5.3 per game for second-best behind Jackson-Davis. The final rebounding numbers finished in IU's favor, but the story goes deeper than that. Jackson-Davis was the only Hoosier who seemed to really make an effort to rebound, finishing with a career-high 24. No other Hoosier had more than three.
Clearly, there are a plethora of factors that contribute to a team that is struggling like Indiana is. It's difficult, if not impossible, to pinpoint what exactly needs to happen to avoid another defensive performance like Sunday's. But one thing that continues to be a trend for the Hoosiers is their apparent lack of effort and drive for a full 40 minutes.
It's difficult to think that fixing that wouldn't fix many other problems.
"It ain't rocket science; you've got to work harder," Woodson said. "Nobody is just going to hand-deliver you wins. We've got to go earn a win."
Filed to: Northwestern Wildcats