The Minute After: Wisconsin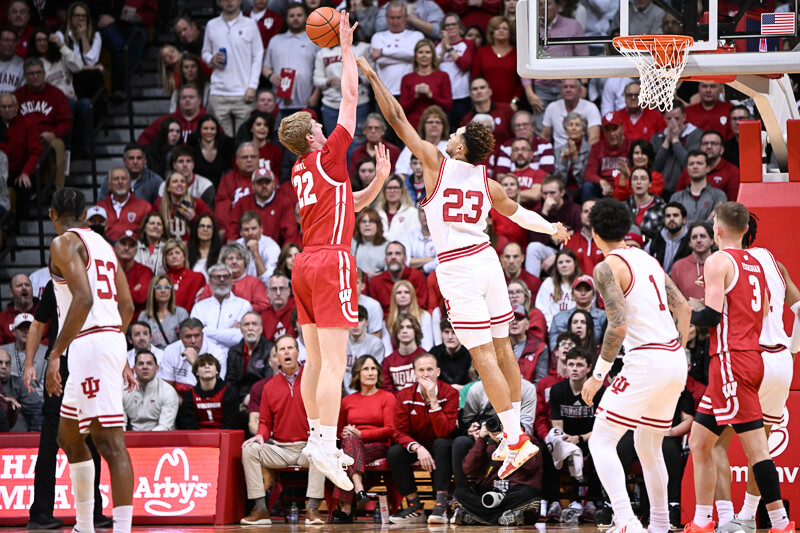 Thoughts on a 63-45 win against the Badgers:
Northwestern and Penn State's 5-out offense and 3-point shooting pummeled Indiana's defense. For a team hanging its hat on a defensive identity, things seemed hopeless with no relief in sight.
But after Mike Woodson ran the Hoosiers through a three-hour practice yesterday with an emphasis on defense and challenging his players (per the CBS broadcast), Indiana returned to form today in a big way.
"We played Indiana defense, the way I think we should be playing," Mike Woodson said post-game.
Sure, Wisconsin is not the most dynamic offensive team. But Indiana absolutely stymied the Badgers' initial action in their swing offense, as they had to resort to iso plays for Chucky Hepburn to get anything going in the first half. Despite holding Wisconsin to 20 points and .66 points per possession over the first 20 minutes of action, the Hoosiers clung to just a one-point lead because its offense wasn't much better. Indiana settled for too many long 2s and mid-range jumpers that didn't fall.
But as he's known to do, Woodson made adjustments at halftime. This time around, they impacted the game immediately. Indiana brought Trayce Jackson-Davis to the top of the key and worked him in both dribble handoff and ball-screen action with Jalen Hood-Schifino and Trey Galloway. It led to driving lanes for both and they converted. Hood-Schifino also hit mid-range jumpers over Wisconsin's drop coverage, while Jackson-Davis got a bucket when he posted up and found Jordan Geronimo for a score out of a double-team. When the dust settled, Indiana had popped off a 12-0 run to start the half.
In an offensively-challenged game, it proved to be the difference. Indiana mostly kept up its defensive intensity and effort the rest of the contest, as Wisconsin never got it within single digits before the final buzzer sounded. As the second half wore on, Jackson-Davis looked about as healthy and athletic as he's been since his back issues. Indiana's All-American used his quickness in the post for some tremendous scores and looked more comfortable spinning and driving to the rim off the elbow. His efficient 9-of-13 performance (18 points, 11 rebounds) led the way for Indiana. Jackson-Davis also blocked five shots today as he anchored Indiana's defense at the basket.
Hood-Schifino missed his first four shots of the game, but settled in and was key for Indiana in the second half. Whenever it seemed like Wisconsin might grab the momentum and make a run, IU's freshman point guard made a shot on the other end to settle the Hoosiers. He finished with 16 points on 8-of-15 shooting, turning it over just twice in 36 minutes of action.
Jordan Geronimo's time in the starting lineup has been shaky so far with Race Thompson sidelined. Despite a few miscues, his impact was positive for the Hoosiers this afternoon. Geronimo's energy, effort and hustle sometimes spills out of control. But he was able to play more within himself against the Badgers. He posted a double-double (12 points on 5-of-10 shooting, 11 rebounds) snagging five critical offensive rebounds to give his team and himself extra chances. Geronimo also made himself available in the lane when Jackson-Davis was double-teamed and made Wisconsin pay with scores.
Indiana made just one 3-pointer in this game (1-of-8). It came from Miller Kopp late to help seal the deal. But when you defend as well as Indiana did this afternoon against a Wisconsin team (.72 points per possession) that doesn't fire them at a high rate, you can survive. In fact, you can win by 18 against a team that's run up a 24-3 record against you in the last 27 matchups.
"Our guys answered the bell tonight," Woodson said. "Our backs were somewhat against the wall. Losing three in a row is not fun for anybody."
Can Indiana keep up its rediscovered defensive habits until Xavier Johnson and Race Thompson return? If they do, the Hoosiers will at least give themselves a shot at holding serve in conference play until they return.
Filed to: Wisconsin Badgers