"I was able to play like myself": Jordan Geronimo's second career double-double helps lead Indiana past Wisconsin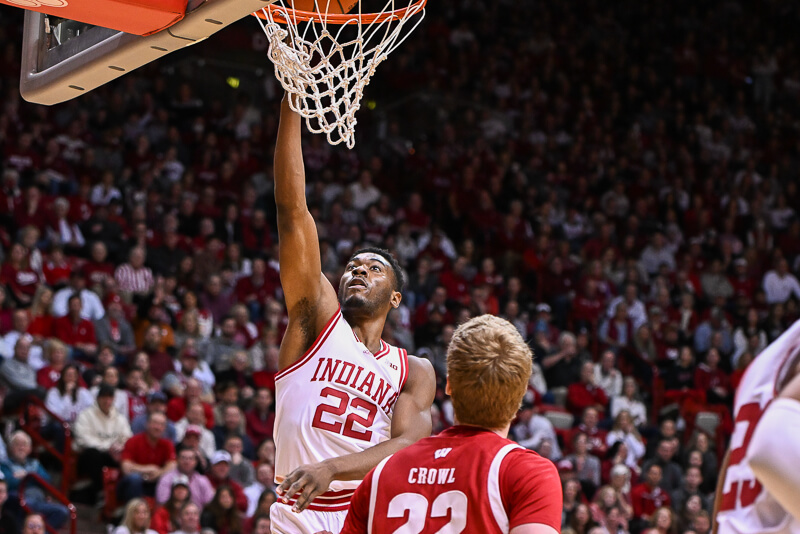 Jordan Geronimo came into Saturday's game against Wisconsin with something to prove.
In Indiana's last three games, the forward struggled to find consistency or rhythm on the court. His athleticism sometimes got in his way, as he made silly mistakes jumping in for rebounds or fighting too hard for the ball. He started against both Northwestern and Penn State, a decision from Mike Woodson that left many perplexed.
In each game, Geronimo failed to deliver as an adequate replacement for the injured Race Thompson.
After Indiana's 63-45 win over Wisconsin, in which he started once again, Geronimo finally looked the part of a capable replacement for Thompson.
"I thought he played so within himself tonight, it wasn't even funny," Mike Woodson said about Geronimo postgame.
Geronimo once again looked like the player he was in the beginning of the season, playing with poise and confidence. He was a contributor on both ends of the floor, and brought energy when Indiana sorely needed it. His athleticism worked completely in his favor and was often the difference-maker in key moments.
"Going through those games, just where I didn't produce as much, has made me realize I have to put more into preparation," Geronimo said. "Just playing hard and not worrying about all the other intangibles, I was able to play like myself."
The preparation worked, and in "playing like himself", Geronimo produced a career game, recording his second career double-double with 12 points and 11 rebounds. Both numbers also marked career highs in conference play. His 29 minutes were the most in his time as a Hoosier.
As a team, the Hoosiers had to work to put their recent losses behind them. They all felt like their backs were against the wall, and in a defensive fight like Saturday's game, a short memory can be the most important thing. At least, it was for Geronimo.
"I just play without worrying about being subbed out or [thinking] 'I missed a shot'," Geronimo said. "I just have a short memory. Play hard, play physical and make the right play."
Geronimo's ability to forget mistakes and keep pushing was key throughout the game, especially in the first half. Heading into halftime, the Hoosiers led the Badgers just 21-20, as neither team could muster much of anything on the offensive end.
Poor shot attempts and offensive miscues abounded for both teams, so it didn't take much for Geronimo to jump in — literally — as a big influence. He led Indiana with six points on 3-for-6 shooting in the first half, and was instrumental in getting Indiana second-chance opportunities with three offensive rebounds.
His athleticism in the paint was undeniable, and he was able to control himself to be aggressive and dominant without fouling.
The Hoosiers found their groove very quickly in the second half, going on a 12-0 run and outscoring the Badgers 42-25 in the final 20 minutes.
Geronimo stayed consistent throughout the second half, and while he may have been outshined by Trayce Jackson-Davis' three dunks and Jalen Hood-Schifino's six mid-range jumpers, his contributions were no less important.
Four of Geronimo's six second-half points came in the first five minutes, when Indiana was working to establish a double-digit lead. His eight rebounds were scattered throughout the 20 minutes, keeping Wisconsin on its toes around the rim and providing even more stability to Indiana's defense.
Geronimo's performance could very well be one of his best in conference play, and even in his career as a Hoosier. He brought exactly what Indiana needed with two starters injured for the foreseeable future; confidence and motivation.
"He's not used to being in the position that he's in; he's got thrown into the fire a little bit," Jackson-Davis said about Geronimo. "So just props to him for keeping his head down and grinding. Things didn't go his way the last three games, he came out and played really well. I'm proud of him."
Going forward, Indiana will need similar showings from Geronimo as one of the "big men". If Indiana wants to keep winning, it's likely going to come down to defense. Geronimo showed Saturday afternoon that he has the ability to be an influential presence. Now, the question is whether or not he can stay consistent and help bring Indiana to more victories.
Filed to: Jordan Geronimo