Indiana "reaching" for answers without Xavier Johnson and Race Thompson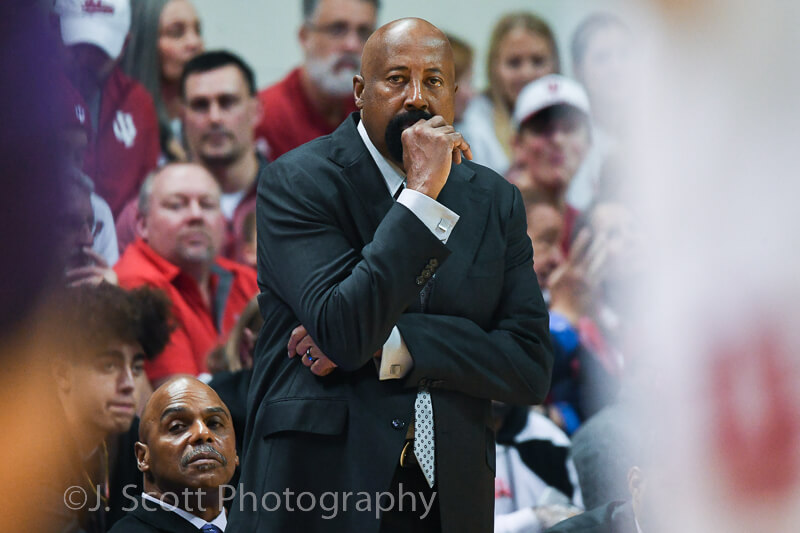 When Indiana beat North Carolina handily on Nov. 30, there weren't many faults to find in the performance. The Hoosiers were undefeated and had passed their first two tests in Xavier and the Tar Heels. Indiana looked like they were living up to the preseason hype of being the Big Ten favorites.
More than a month later, the injuries of starters Race Thompson and Xavier Johnson have forced Indiana into a tough spot.
Big Ten play has officially begun and Indiana doesn't have the firepower to compete with the conference as expected. Yes, the "next man up" attitude can be preached, but IU is without the experience, consistency or talent to do so.
There's no question who the better team was when Northwestern came into Assembly Hall and beat Indiana 84-83. It was the Wildcats. They had a more efficient offense, they didn't turn the ball over, got the 50-50 balls and simply outworked the Hoosiers.
The injuries are bad, unfortunate and unlucky. But despite this, Northwestern is a team that Indiana should beat on its home floor. The Wildcats came into Sunday with the second to the worst offense in the Big Ten and were picked by many to finish last in the conference.
The absence of Thompson in the front court was glaring against Northwestern. Coming in, the senior forward had started 76 games in a row. Thompson never was and never could be the flashy star, but he was the glue and did the little things. He defended at a high level, cleaned the glass, made the easy shots and opened the floor. Without him, Woodson turned to Jordan Geronimo.
In his first career start, the junior played 10 minutes, picked up three fouls, grabbed two boards and didn't score a point.
"Now, maybe I have to tinker with the lineup again," Woodson said postgame. "I thought starting Geronimo, I thought he would give us a lift being a junior and the fact that he's done it. By no means am I blaming it on Geronimo, but we got off to such a slow start."
Geronimo wasn't ever going to fill the void Thompson left, at least this season. But his struggles pinned Indiana back against Northwestern. Geronimo finished the game with a +/- of -16.
Malik Reneau, who had been struggling recently, looked solid in the minutes he got off the bench before picking up four fouls.
The Wildcats turned the Hoosiers over 16 times and scored 25 points off those turnovers. Freshman point guard Jalen Hood-Schfino, despite scoring 33 points, committed six of those. Since the injury to Johnson at Kansas, Hood-Schifino has been consistent at scoring the basketball but has struggled defensively.
"I mean, just got to stop turning the ball over. There's not really too much you can do. I think first half, that killed us, especially with me," Hood-Schifino said postgame. "I had some turnovers, and they had some lay-ups and everything and converted off it."
On top of this, the Montverde product allowed a team-high 18 points when on-ball defending and was bested by Northwestern point guard Boo Buie, who scored 26 points on 10-for-18 shooting.
Now the hole of what was Johnson's stellar defense — which has been taken for granted in his time in Bloomington — is obvious.
As for why Woodson's defense struggled and gave up 84 points to one of the worst offenses in the conference? He pinned it on the loss of his two seniors.
"Xavier Johnson and Race Thompson are sitting on the sideline, and X has been out a while now, who anchors in guarding the ball coming up the floor and does a lot of pretty good things defensively for us," Woodson said. "That's why we're struggling a little bit defensively. We've got two starters that are sitting on the sideline, and I'm reaching trying to figure out who's going to replace that."
There's a lot of reaching going on with this roster right now. Indiana needs to find what sticks fast. A 1-3 record in the Big Ten could get much worse quickly.
A loss will never be under the blame of two players, and this one shouldn't be. But Indiana is struggling to find consistent play in the areas they need to replace. Answers must come sooner or later. Someone will have to step up.
Filed to: Northwestern Wildcats