Five takeaways from Indiana's loss against Northwestern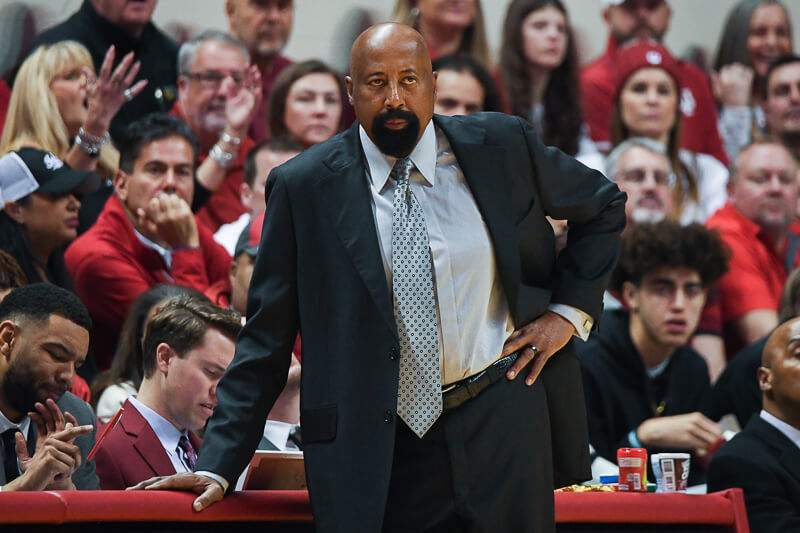 Indiana dropped to 1-3 in Big Ten play with an 84-83 loss against Northwestern on Sunday at Assembly Hall.
Here are five takeaways from the loss to the Wildcats:
Indiana's defense continues to crater
Indiana got back to the NCAA tournament last season for the first time since 2016 on the strength of its defense.
Through 15 games this season – a more than adequate sample size – it is clear this year's Hoosiers have regressed defensively. The Hoosiers were flat-footed to start Sunday's game against Northwestern and the Wildcats took advantage.
Rather than pressuring the ball on the perimeter, Indiana's guards allowed Northwestern's guards to initiate the offense seamlessly. The result was straight-line drives and open shooters on the perimeter. Less than 12 minutes into the game, Indiana trailed by 17 points. Mike Woodson even played some zone on Sunday to keep Indiana's guards from getting blown past on the perimeter.
Northwestern, which entered Sunday's game ranked 187th nationally in adjusted offensive efficiency on KenPom, scored 84 points and 1.135 points per possession.
Through four league games, Indiana is 10th in the conference at 1.052 points per possession allowed. With no reprieve coming in an ultra-competitive Big Ten schedule and injuries to two starters, Indiana must shore things up defensively soon or it will find itself near the bottom of the league standings.
Trayce Jackson-Davis posts one of his best games in an IU uniform
While Indiana came up short on Sunday afternoon, a monster effort from Trayce Jackson-Davis kept the Hoosiers in the game.
Jackson-Davis finished with 18 points, 24 rebounds, eight assists and four blocked shots in 40 minutes. Over Indiana's last two games, he's come off the floor for just two minutes total.
"I get treatment, and that's all I do. I get treatment and then I play," Jackson-Davis said postgame. "That's what I do. That's what I've got to do; if I've got to play 40 minutes, I've got to play 40 minutes.
"That's the biggest thing for me is I've got to be ready and get myself as good as I can to play in the next game, and that's what I'm going to keep doing because I know my team needs me."
The 24 rebounds for Jackson-Davis were the most for an IU player since Steve Downing grabbed 25 against Kentucky on Dec. 11, 1971.
Jalen Hood-Schifino scored 33 points, but has plenty of room for growth
Jalen Hood-Schifino poured in a career-high 33 points on Sunday afternoon, the most by an Indiana freshman in a game since Eric Gordon back in the 2007-08 season. Gordon scored the 33 points on Nov. 12, 2007 against Chattanooga.
Gordon, of course, went on to be a lottery pick and is still in the NBA almost 15 years after he was selected.
Hood-Schifino, Indiana's only point guard on the roster after Xavier Johnson's injury, is logging heavy minutes and has scored 54 points over the team's last two games.
While the scoring from Hood-Schifino was key on Sunday, his defense and turnovers were sometimes problematic. The freshman from Pittsburgh committed six turnovers compared to three assists. And defensively, he's a downgrade on the perimeter from Johnson at the point of attack. Boo Buie and Chase Audige, Northwestern's two best guards, combined for 45 points.
"As well as Jalen played today, he had six turnovers," Woodson said postgame. "The turnovers we had led to 25, 26 points, and that's tough to overcome."
Jordan Geronimo doesn't appear to be the answer in the starting lineup
In the preseason, there was talk of Jordan Geronimo potentially earning a spot in the starting lineup at the three. That never materialized as a possibility as it has become clear that Geronimo isn't comfortable handing the ball on the perimeter.
Geronimo started for the first time this season on Sunday in place of Race Thompson at the four.
He was on the floor for Indiana's rough start that saw Northwestern take command of the game from the opening tip. And he was again on the floor to start the second half as Northwestern scored the first four points of the half and pushed its lead back to double figures.
In 10 minutes, he went 0-for-2 from the field, grabbed only two rebounds and Indiana was -16 while he was on the floor.
This followed Thursday's performance at Iowa when Geronimo struggled to defend Kris Murray in the second half of IU's loss to the Hawkeyes in Iowa City.
"I thought tonight getting down early, we struggled early on," Woodson said. "Now, maybe I have to tinker with the lineup again. I thought starting Geronimo, I thought he would give us a lift being a junior and the fact that he's done it. By no means am I blaming it on Geronimo, but we got off to such a slow start, 17 down to a good team like that — they're playing well."
If Indiana does change the lineup, it will likely go small with Galloway at the three and Miller Kopp at the four or place Malik Reneau alongside Trayce Jackson-Davis rather than Geronimo. Whichever direction Woodson goes, it appears Geronimo's stint as a starter will be brief.
Indiana needs more from Tamar Bates and Miller Kopp
Sunday was a tough afternoon for two of Indiana's starters: Tamar Bates and Miller Kopp.
Kopp, who previously played at Northwestern, is now 0-2 against his former team. He played 26 minutes on Sunday, but scored only five points.
Bates, who appeared to be on the verge of breaking out, was just 3-for-8 from the field and finished with nine points on Sunday.
Without Kopp and Bates providing more consistent offense and Race Thompson and Johnson sidelined, the pressure to score is almost completely on Jackson-Davis and Hood-Schifino.
Indiana still played well enough offensively on Sunday to win – the Hoosiers scored 83 points – but getting more consistent production from Bates and Kopp moving forward would be a huge boost given the injury situation.
Filed to: Jalen Hood-Schifino, Jordan Geronimo, Miller Kopp, Northwestern Wildcats, Tamar Bates, Trayce Jackson-Davis