Five takeaways from Indiana's loss against Penn State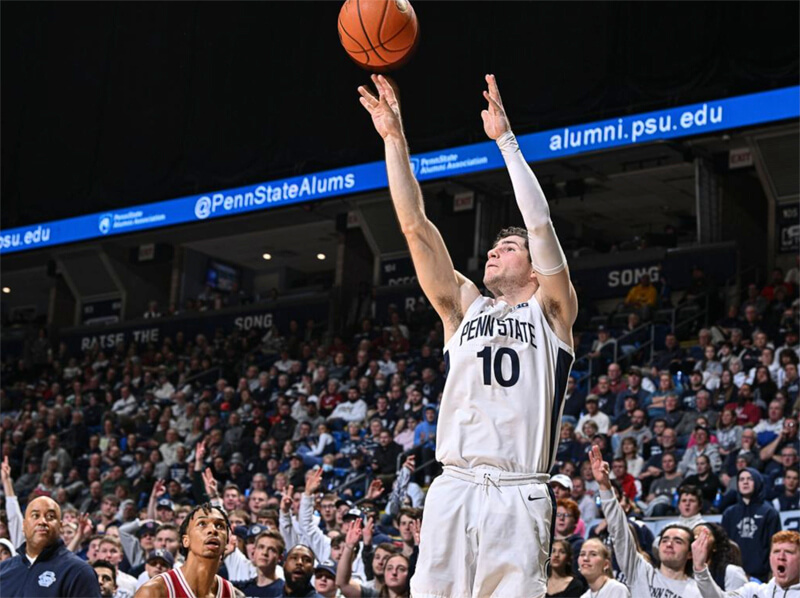 Indiana dropped its third straight game on Wednesday night. The Hoosiers fell 85-66 to Penn State at the Bryce Jordan Center and are now 1-4 in league play.
Here are five takeaways from the loss to the Nittany Lions:
Indiana's defense continues its freefall
Mike Woodson's first Indiana team finished with the Big Ten's best defense.
His second Indiana team is close to the Big Ten basement defensively. After surrendering more than 80 points for a third straight game, the Hoosiers are 13th in the conference in points per possession allowed. Only Minnesota, which is barely inside the top 200 nationally in KenPom, is worse.
Penn State, which spaces the floor and creates open 3-point looks with its movement and passing, took its offense to another level on Tuesday. The Nittany Lions splashed in 18 3-pointers on 31 attempts, good for 58.1 percent. Indiana looked unprepared for the perimeter onslaught, which continued for the entire game.
Most alarming was Indiana's lack of adjustments in-game to cover shooters. None were made. Two different Penn State players made seven 3s and many of the looks were wide-open.
Unless Indiana makes some major changes and adjustments defensively, its freefall down the league standings will continue.
Indiana's ability to handle adversity is lacking
When things have gone well for this Indiana team, the Hoosiers have proven capable of beating solid teams. Early season examples of this were an impressive win at Xavier and a dismantling of North Carolina in Assembly Hall.
But when things get tough, Indiana has typically folded.
In its first loss of the season at Rutgers, Indiana's roster was at full strength besides Jalen Hood-Schifino. But the Scarlet Knights brought grit and physical toughness and the Hoosiers didn't respond. The result was a 15-point loss.
In a neutral court loss to Arizona, the Hoosiers were knocked on their heels by the pace and aggressiveness of Tommy Lloyd's offense. Indiana fought back, but its unfocused start was too much to overcome.
At Kansas, Indiana was crushed in the paint by an undersized Jayhawk team that was far more aggressive.
Against Iowa, Indiana started quickly and built a 21-point lead, but once Iowa regained its composure, Indiana's focus and defense collapsed.
In Sunday's loss to Northwestern, Indiana had a lackadaisical start and spotted the Wildcats a 17-point lead before deciding to pick up the intensity.
And on Wednesday at Penn State, Indiana's defense folded soon after the Nittany Lions started to make 3-pointers in the final nine minutes of the first half.
All of these examples, in aggregate, are indicative of a team lacking leadership on the floor and a disconnect between game plan from the coaching staff and execution by the players.
Injuries are a factor, but can't be used as an excuse
Mike Woodson has consistently said "next man up" is the philosophy when a player is injured.
Indiana has two starters currently sidelined. Xavier Johnson and Race Thompson are both impactful players who bring plenty to the program on both ends of the floor. Their absences have no doubt left the Hoosiers shorthanded.
But even without Johnson and Thompson, Indiana should have the talent to be competitive with Penn State.
It wasn't competitive on Wednesday and suffered its worst loss in program history to the Nittany Lions.
Currently, the Hoosiers are down to 11 scholarship players, but in reality, only eight are in the mix for minutes as Anthony Leal, Kaleb Banks and Logan Duncomb are rarely used by the coaching staff.
"We're young," Woodson said postgame. "Two of our veteran guys are sitting on the sideline that we truly depend on. I mean, that plays a major role in it right there. But again, I'm not using it as an excuse."
The reality is that every player besides Jalen Hood-Schifino who played more than 11 minutes on Wednesday has significant Big Ten experience. Some of Indiana's depth on the end of the bench might be young, but most of the guys playing right now know what it takes to compete in the league. And right now, they simply aren't playing at a high enough level to produce winning results.
A tough night for Jalen Hood-Schifino
Jalen Hood-Schifino won Big Ten freshman of the week last week despite the Hoosiers losing two games.
Woodson said on his radio show Monday night that he let Hood-Schifino know that his performance against Northwestern, which included 33 points, wasn't good enough because of turnovers and defense.
Wednesday night was a step backward for Hood-Schifino.
He took a team-high 15 shots and connected on just five of those attempts. His defense was once again below average.
From a stats perspective, the overall numbers for Hood-Schifino are solid. But Indiana needs him to make far more winning plays as Johnson's fill-in at point guard if the Hoosiers have any shot to get back to winning ways.
It's on Mike Woodson to turn the season around
There might not be a more scrutinized position in the state than head basketball coach at Indiana.
Hoosier fans are as passionate as any fanbase in the country. When things are going well, adoration is poured on the coach.
The opposite, however, happens when things go poorly. Scrutiny happened with every move Tom Crean made. And the same happened with Archie Miller.
In a season where the Hoosiers were once ranked in the top 10, it's only natural to point at the coach when things go sideways. And that's how it should be.
Woodson is the leader of the program and is responsible for the current results. Right now, the results aren't good enough despite the injuries. And it's on Woodson to turn it around.
(Photo credit: Penn State Athletics)
Filed to: Mike Woodson, Penn State Nittany Lions