That's A Wrap: Team Offense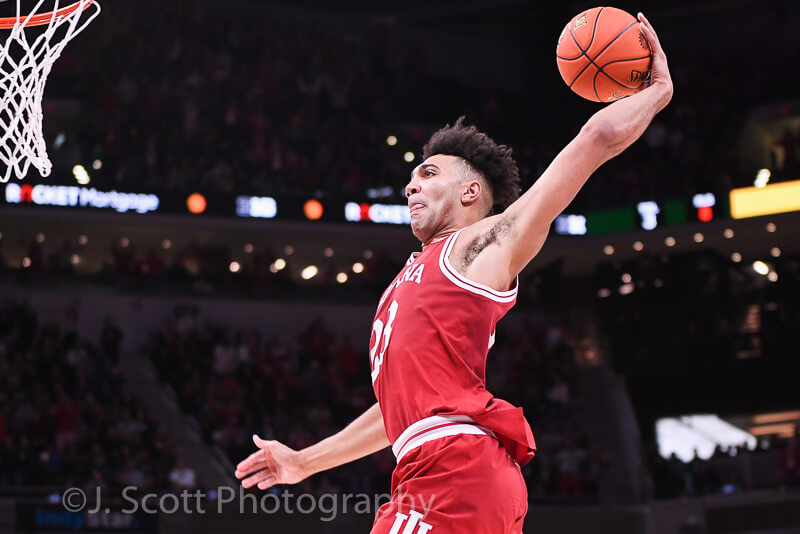 Welcome to "That's A Wrap," our recap of the 2021-2022 Indiana Hoosiers. Today: team offense.
Offense (35 games): Adjusted efficiency: 107.0 (95th), eFG%: 50.6 (148th), TO%: 17.2 (101st), 3PFG%: 33.3 (200th), 2PFG%: 50.9 (125th), FT%: 70.0 (233rd), FTA/FGA: 33.5% (83rd), OR%: 27.1 (205th)
Previously: Logan Duncomb, Tamar Bates, Anthony Leal, Trey Galloway, Jordan Geronimo, Khristian Lander, Trayce Jackson-Davis, Parker Stewart, Xavier Johnson, Michael Durr, Miller Kopp, Rob Phinisee, Race Thompson
Thanks to a late-season surge, Indiana's offense peaked at the right time, helping the Hoosiers do just enough to squeak into the NCAA tournament's first four.
But taken as a whole, this season's offense has some rough company in the KenPom era, which dates back to the 2001-2002 season. Not including Tom Crean's talent-deprived first two seasons in Bloomington, only a Mike Davis 2003-2004 squad (105.3, 120th) and Crean's 2013-2014 team (107.8, 126th) ranked lower nationally than this season's squad (107.0, 95th) in adjusted offensive efficiency. Archie Miller's worst season was the 2017-18 campaign (109.4, 92nd), a performance only slightly better than this year.
So what was the problem?
As it did during the middling offensive years under Miller, Indiana relied too heavily on Trayce Jackson-Davis. It also lacked 3-point shooting, multiple drivers, variety and dynamic, multi-dimensional players. Too often the Hoosiers found themselves in a familiar position down the stretch: Jackson-Davis receiving the ball on the right low block, the clock ticking as his teammates stood frozen around the perimeter, a left-handed hook in the middle of the paint not falling. And if Jackson-Davis was doubled or drew an extra defender, Indiana's perimeter players failed to knock down outside shots.
The final five minutes of Indiana's loss against Wisconsin at home on Feb. 17 are a microcosm of its offense woes. The Hoosiers went to Jackson-Davis time and again down the stretch, but neither he or his teammates made the timely baskets necessary to win the game. Simply put, the Hoosiers' stasis and predictability on offense when it mattered most kept them from getting over the hump in a number of close games this year.
As the season appeared to be getting away from IU in February, the Hoosiers scored under a point per possession in six straight contests. They went just 1-5 in this stretch, hitting only 26.4 percent from 3-point range. And yet, the final game of that six-game period, a loss to Ohio State in Columbus, showed some signs of promise. Indiana displayed more off-ball movement when Jackson-Davis received the ball as well as some more variety in its sets. The same could be said in its win against Minnesota six days later, which also happened to be Indiana's best offensive outing of the Big Ten season (1.23 points per possession).
But things really changed for the offense on March 5 at Purdue. Indiana lost a close one at Mackey Arena that day, but point guard Xavier Johnson's ability to make the right reads in ball-screen action and continually break down the defense added a new dimension to Indiana's attack. Johnson dished out a season-high 12 assists, a number to Jackson-Davis for lobs on the roll.
This new dynamic unlocked Jackson-Davis' game in the final stretch of the season. Freed from playing slower and back to basket, he showed more confidence, outplaying Hunter Dickinson and Kofi Cockburn in consecutive games in the Big Ten tournament. He even flashed a right hand and mid-range jumper. Over the final nine games of the year, the junior shot 63.7 percent from the floor and averaged 19.4 points, while knocking down his free throws at a 72 percent clip.
Johnson also put up numbers to close out the year. Over that same nine-game stretch, IU's point guard averaged 16.6 points, 6.8 assists against 2.7 turnovers while hitting 43.5 percent from distance and 83.6 percent from the line.
Between Johnson and Jackson-Davis, Indiana had a dynamic duo to fear in March. It helped the Hoosiers' adjusted offensive efficiency crawl out of 100s on KenPom and keep the defense more on its heels.
Bottom line: While Indiana did have 3-point shooters in Miller Kopp and Parker Stewart in its starting lineup, it took just 31.1 of its shots from distance, which ranked 321st in the country. And the low attempts from deep meant only 24.9 percent of its points came on 3-pointers, ranking 324th in the country. Devoid of the deep threat and lacking multi-dimensional perimeter players, Indiana's offense was simply not equipped to be elite this season. It finished just 10th in the conference in offensive efficiency. Still, as Johnson unlocked his pick-and-roll play with Jackson-Davis late in the season, the offense proved it could be dangerous in stretches despite overall limitations and struggles to get easy buckets.
Quotable: "If you go back and look at the beginning of our season and probably midway through our season, we try to run a lot of pick-and-rolls, but X wasn't there yet at the time. And X has grown so much that it's allowed me to play what I came here as a coach to play offense is play some good pick-and-roll along with post-up. It's got to be a balance in the mixture. And we struggled in the pick-and-roll early on in the season. And I just kept piecing it in here and there, here and there. And now X, he's grown. He's figured it out. And when I say figure it out, he's figured it out to a point where he knows when he's got it. He knows when he doesn't have it. He knows when the lob or the pocket pass is there, the throwback, all of that takes time. And he's starting to figure it out. That's why you're starting to see more pick-and-roll play." – Woodson at the NCAA tournament first four media availability
Filed to: