That's A Wrap: Rob Phinisee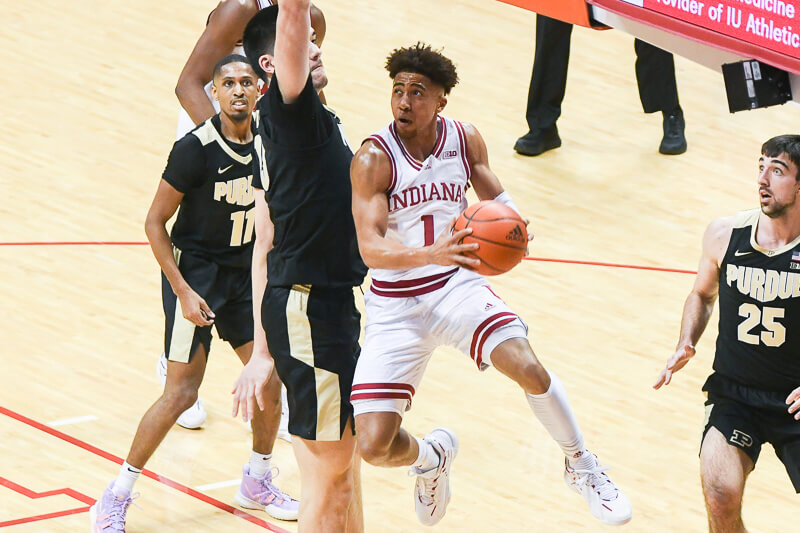 Welcome to "That's A Wrap," our player-by-player recap of the 2021-2022 Indiana Hoosiers. Today: Rob Phinisee.
Phinisee (25 games): 4.5 points, 2.1 rebounds, 1.7 assists, .8 steals, 37.4 FG%, 31.2 3PFG%, 41.2 FT% in 24.4 minutes per game.
Previously: Logan Duncomb, Tamar Bates, Anthony Leal, Trey Galloway, Jordan Geronimo, Khristian Lander, Trayce Jackson-Davis, Parker Stewart, Xavier Johnson, Michael Durr, Miller Kopp
Rob Phinisee entered this season as the lone remaining member of Archie Miller's 2018 recruiting class. The prevailing theme entering his fourth season with the Hoosiers was getting him to shoot more — and with confidence.
"I don't know if he's had coaches tell him that in the past," Mike Woodson said at Media Day on Oct. 8.
So, Woodson told him.
He didn't get off to the hottest start to the season, searching for his confidence and how he would contribute in his new role off the bench.
None of his early performances stood out on the stat sheet, but his game against Notre Dame on Dec. 18 showed everyone what Woodson saw in him.
He had still yet to crack into double-digit scoring. But his performance against the Fighting Irish was about more than his six points, five rebounds and five assists. It was how he displayed his newfound belief in his abilities.
Clinging to a two-point lead down the stretch, Phinisee got the ball from Anthony Leal and swung into his 3-point shot without hesitation. The shot went in.
"I need Rob in the worst way," Woodson said after that win. "I think he knows how I feel about him in terms of what I think he can do. I just got to get Rob to believe more that he can do things like he did tonight."
And Woodson wasn't the only one who saw it. Trayce Jackson-Davis knew what Phinisee was capable of and continued to remind him.
"I've played with Rob for three years now. I know he has had games where he has been unbelievable," Jackson-Davis said after the Notre Dame game. "We've just got to keep telling him, 'Even if you miss a shot, shoot the next one.'"
It was all of that building up Phinisee that foreshadowed his career breakout performance against Purdue on Jan. 20.
The games in between Notre Dame and Purdue showed the encouragement was working. Whether it was a 13-point game at Minnesota or a two-point performance at Iowa — Phinisee was taking the shots.
It got to the point where Phinisee wanted the ball in his hands. With the Purdue game on the line Jan. 20, Mike Woodson drew up the game-winner for Trayce Jackson-Davis, but Phinisee said he wanted the ball.
He wasn't afraid to take the shot. So, it was the Lafayette kid who secured Indiana's first win against Purdue since 2016. His final three points served as the biggest of his season-high 20.
"I thought tonight he was on a mission, boy, and it was nice to see," Woodson said after the game.
But all of the work to build up Phinisee's confidence came to a screeching halt six days later against Penn State when he had to be helped off the court. He sat out 10 games with plantar fasciitis — missing a crucial month of the season.
His level of play following the injury never got back to the level Woodson helped him build it up to. The fourth-year player didn't go through Senior Day festivities, but he entered the transfer portal the week after the season ended.
Phinisee announced he'll use his final year of eligibility at either Butler or Cincinnati.
Bottom line: All of the signs of Phinisee's full potential finally came to fruition, but a midseason injury derailed his progress. But that won't define his career at Indiana. Despite four years of fairly average numbers, Phinisee will always be remembered in Bloomington for his performance against Purdue — captured in Gracie Farrall's iconic photo of Phinisee hoisted in the air amid a sea of fans. Phinisee will provide a solid and mature option at point guard at either Butler or Cincinnati.
Quotable: "Coach Woodson, from the jump he knew I struggled last year. He has been saying all the time that he's going to keep believing in me and keep instilling confidence in me. I played my heart out today, played with the heart on my sleeve tonight." — Rob Phinisee after the Purdue game on Jan. 20.
Filed to: Robert Phinisee