That's A Wrap: Parker Stewart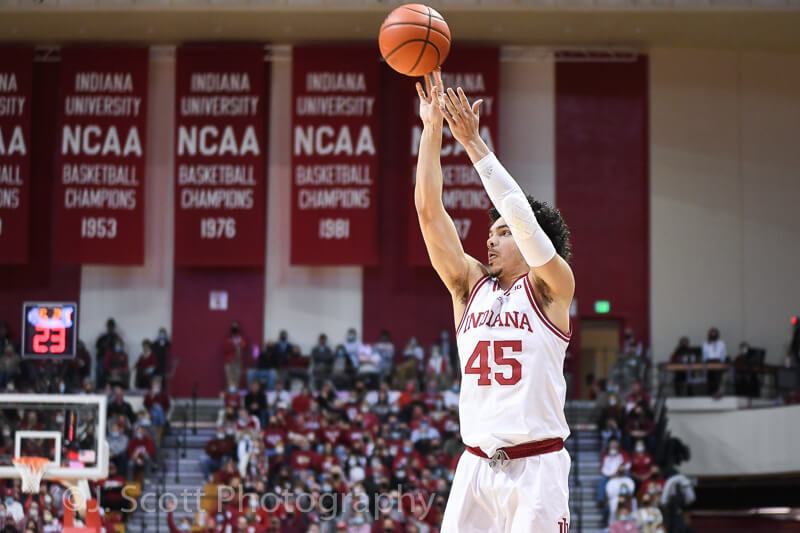 Welcome to "That's A Wrap," our player-by-player recap of the 2021-2022 Indiana Hoosiers. Today: Parker Stewart.
Stewart (34 games): 6.2 points, 2.1 rebounds, one assist, 37.4 FG%, 39.3 3PFG%, 64.3 FT% in 24.4 minutes per game
Previously: Logan Duncomb, Tamar Bates, Anthony Leal, Trey Galloway, Jordan Geronimo, Khristian Lander, Trayce Jackson-Davis
Indiana was Parker Stewart's third school. He started out at Pittsburgh before transferring home to UT Martin to play for his father. He planned on finishing his college career there until his father passed away unexpectedly in November 2020.
That's what led him to transfer again. This time, he found his home in Bloomington.
"I chose IU because it felt right," Stewart said in his senior day video on March 2. "Coach (Kenya) Hunter was recruiting me. He had just lost his father and I'd lost mine, too. So we related well."
Stewart arrived midway through the 2020-21 season and watched from the sidelines until he was eligible to play the following year. He wore No. 45 at IU — the same number his father Anthony Stewart wore in college.
Stewart came into the 2021-22 season with high expectations in his role as a 3-point sniper. It's an area the Hoosiers have been deficient in for years.
At Hoosier Hysteria in October, Stewart took home first place with Grace Berger in the 3-point shooting contest. But those high hopes waned over the course of the season.
The duo of Stewart and Miller Kopp behind the arc had performances that exceeded the expectations people had for the two transfers.
Stewart posted a season-high 20 points and six made 3-pointers against Syracuse on Nov. 30, alongside 28 points from Kopp.
But after that game, Stewart didn't come close to eclipsing 20 points again. The most 3-pointers he made in a game after that point was three.
Mike Woodson kept his trust in Stewart during his scoring droughts — keeping him in the starting lineup and encouraging him to keep shooting.
"Trusting the offense and staying patient has allowed my shots to come," Stewart said after Indiana's win against Notre Dame on Dec. 18.
That was until the game against Northern Kentucky on Dec. 22, 2021. Woodson suspended the grad transfer from playing in the first half and gave him just eight second-half minutes. Woodson didn't elaborate on his decision.
"I'm not addressing that. That's an in-house matter," Woodson said after the game.
The disciplinary issues with Stewart continued into February when he was one of five players suspended for missing curfew prior to Indiana's loss at Northwestern.
"It's important that all team rules are followed and a curfew applies to everyone in our program for a reason," Woodson said in a statement. "It will be my decision to determine what role each one will have moving forward."
Woodson moved Trey Galloway into the starting lineup over Stewart for the two games following the suspension until Galloway got hurt during the Wisconsin game on Feb. 15.
When Stewart resumed his role as a starter, he had just one more double-digit scoring game the rest of the season. Despite low-scoring outputs, he had a chance at solidifying his reputation as a sharpshooter in Indiana's final home game against Rutgers.
The game featured two bubble teams fighting for a spot in the NCAA tournament. Down three points with 15 seconds left, Woodson drew up a play for Stewart to tie it out of the timeout. He missed. Kopp got a steal on the other end and gave it right back to Stewart for another shot. That time, he made it. Assembly Hall exploded in cheers.
But those cheers were silenced and the magnitude of Stewart's shot was erased when Ron Harper Jr. pulled up with the answer to win the game eight seconds later.
Stewart had an underwhelming postseason, scoring 16 points across five games. He announced he wouldn't return to Indiana a week after the team's loss to St. Mary's in the NCAA tournament. Four days later, he entered the transfer portal.
Bottom line: After he went through with Senior Day following the Rutgers game, the possibility of Stewart returning to Indiana was slim. But now with his name in the transfer portal, the 23-year-old can either add a fourth school to his resume or call it a career on his college basketball career. His shooting ability could make him an intriguing add for a power five team in a bench role. His success shown at schools such as UT Martin could help him draw attention to a bigger role at a mid-major.
Quotable: "The time I had off last year I was focusing on recovering from injuries and getting myself back together mentally and my dad passed. But my Dad always taught me to prepare myself the right way so I think getting extra shots up every day and continuing to lock in on defense has helped this season. Along with having great teammates that I know are with me through the ups and downs." — Parker Stewart said via IU media relations after Indiana's win over Notre Dame on Dec. 18, 2021
Filed to: Parker Stewart