That's A Wrap: Khristian Lander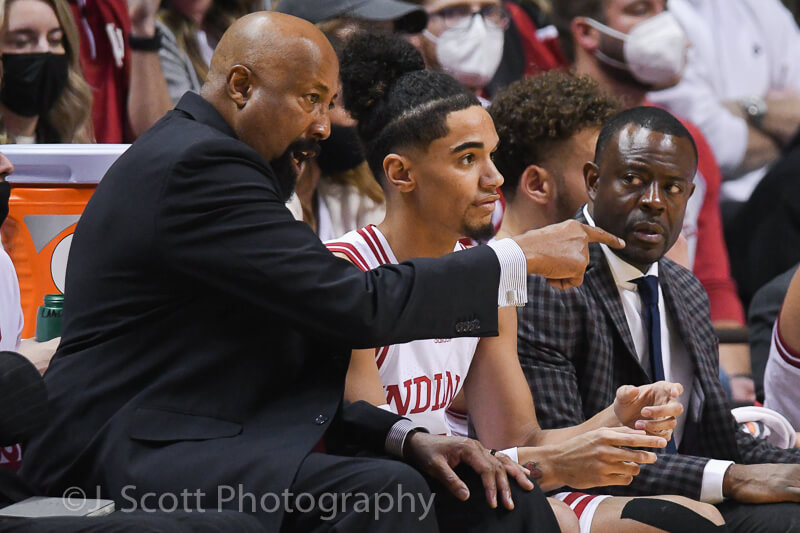 Welcome to "That's A Wrap," our player-by-player recap of the 2021-2022 Indiana Hoosiers. Today: Khristian Lander.
Lander (13 games): 2.9 points, .9 assists, .8 rebounds, 45.2 FG% in 8.8 minutes per game.
Previously: Logan Duncomb, Tamar Bates, Anthony Leal, Trey Galloway, Jordan Geronimo
When Khristian Lander committed to Indiana in late February of 2020, the news was considered a major coup for then-IU coach Archie Miller.
At the time, Lander was rated the top point guard in the class of 2021 and he was the second five-star guard Miller had reeled in, joining Romeo Langford.
Shortly after his commitment, Lander was already mentioning the possibility of reclassifying and moving up to the 2020 class with Indiana Elite teammates Anthony Leal and Trey Galloway.
"I want to go 2020, but either way is good for me," Lander told Inside the Hall's Cameron Drummond just days after announcing his commitment. "I want to go 2020 because I feel like Trayce is not going to stay another year, like in 2021. And I feel like if I get a hold of Trayce, I feel like we can dominate the Big Ten."
Lander did indeed move to the class of 2020 and enrolled in Bloomington for the fall semester as expectations for his first season were sky-high.
In our annual preseason rankings of the top 25 players in the conference with UMHoops, Lander cracked the top 25 because of his lofty ranking and what was perceived as a huge opportunity for early minutes:
Archie Miller has made a habit out of signing the top players from Indiana since taking over in Bloomington in the spring of 2017. The latest five-star prospect to land in Bloomington is Khristian Lander, who moved up a class to join the Hoosiers for the 2020-21 season. A speedy lefty, Lander averaged 21 points as a senior at Evansville Reitz. His addition is a big deal for Indiana, which has lacked playmakers on the perimeter for most of Miller's tenure.
Unfortunately for Lander and Indiana, expectations never met reality.
As a freshman, it was clear Lander was not physically ready for the rigors of the Big Ten. After turning 18 in August of 2020, he was a half-step slow defensively, not strong enough to guard upperclassmen and struggled offensively.
At the conclusion of the 2020-21 season, Miller was fired and Lander entered the NCAA transfer portal. A few weeks later, Lander announced his return after speaking with new IU coach Mike Woodson.
Entering his second season, Lander was behind Pittsburgh transfer Xavier Johnson and fourth-year guard Rob Phinisee on the depth chart. He stayed there all season.
Statistically speaking, Lander's impact over two seasons in Bloomington was minimal. Over 39 games in the cream and crimson, he averaged only 2.4 points and shot 31.7 percent from the field. He had more turnovers (44) than assists (42).
Following his second season at IU, Lander unsurprisingly entered his name in the transfer portal again. This time, there will be no return as Indiana is clearly ready to move on with the arrival of Jalen Hood-Schifino in the 2022 recruiting class and Gabe Cupps and Jakai Newton in the 2023 class.
Bottom line: Lander's move to the transfer portal was not surprising and given the lack of confidence that two different coaching staffs showed him, getting a fresh start is in his best interest. Lander is only 19 and could have a bright future ahead if he can improve his strength and make strides defensively. The most important thing will be finding a spot where he can earn consistent minutes and play through mistakes. He's only logged 377 minutes at the Divison I level and he needs the experience to continue his development.
Quotable: "I think it was just my confidence level was kind of down. It's back up now and that's all I really need is my confidence. My work ethic and all of that will take care of itself. My mentality has just gotten a lot better. I think the positive energy around me this year is a whole lot better." – Lander at Indiana's media day last September.
Filed to: Khristian Lander