That's A Wrap: Anthony Leal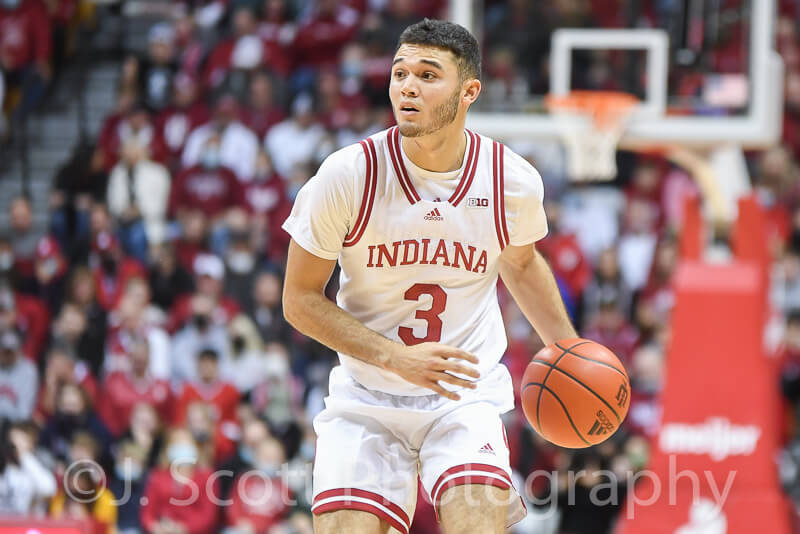 Welcome to "That's A Wrap," our player-by-player recap of the 2021-2022 Indiana Hoosiers. Today: Anthony Leal.
Leal (17 games): 1.9 points, 1.1 assists, .9 rebounds, 40.7 FG%, 53.7 eFG% in 10.2 minutes per game.
Previously: Logan Duncomb, Tamar Bates
Anthony Leal, Indiana's 2020 Mr. Basketball, has had a minimal on-court impact throughout his first two seasons in Bloomington.
The Bloomington South product saw his minutes decrease in his second season at Indiana following the coaching change from Archie Miller to Mike Woodson.
After not playing in four of the team's first seven games, a five-game stretch in December offered hope that Leal would earn an increased role.
In games against Nebraska, Wisconsin, Merrimack, Notre Dame and Northern Kentucky, Leal logged 15.2 minutes per game, but his offensive production in those contests didn't amount to much. Leal took only 10 shots over those five games, making three of his attempts.
After playing five minutes in a 61-58 loss at Penn State on Jan. 2, Leal didn't play in Indiana's next five games. He did start and play 34 minutes in Indiana's 59-51 loss at Northwestern on Feb. 8, but played just a total of 29 minutes over the final 12 games of the 2021-22 campaign. In eight of those 12 games, he didn't play at all.
Shortly after the conclusion of the season, Leal shared the following message on Twitter:
Look up, not out

Beyond blessed that God allows me to wear INDIANA across my chest. Back to work for next season?? pic.twitter.com/55lmxQ6qE7

— Anthony Leal (@anthonyl3al) March 18, 2022
So what does the future for Leal look like in Bloomington?
When he's been on the floor, Leal has defended well, but his offensive game has not gotten off the ground. In a program in desperate need of perimeter shooting, Leal's shooting has not yet translated from the high school level.
In 37 career games for the Hoosiers, Leal is 16-of-52 on 3s (30.8 percent). In Big Ten games, he's 11-of-34 from distance (32.3 percent).
What's not known at this point is how Leal will fit into Indiana's backcourt players next season and beyond. The Hoosiers lost Parker Stewart, Rob Phinisee and Khristian Lander to the transfer portal, but look to be returning key pieces in Tamar Bates, Miller Kopp, Xavier Johnson and Trey Galloway. In the 2022 recruiting class, Indiana is bringing in combo guard Jalen Hood-Schifino and shooting guard CJ Gunn. In the 2023 recruiting class, the Hoosiers have Gabe Cupps and Jakai Newton already committed. There's also the possibility of additions from the transfer portal.
How can Leal carve out a consistent role for himself moving forward?
Knocking down perimeter shots with more consistency and showing more aggressiveness in looking for his shot when he's on the floor. In many of his appearances over his first two seasons, Leal has not looked for his shot and has passed up good looks in favor of moving the ball to his teammates. Defensively, he looks more than capable of holding his own and defending at the level Mike Woodson expects and demands.
Bottom Line: Leal is a great teammate, an excellent representative of the program and a Bloomington native who grew up dreaming about playing for the Hoosiers. It's an important offseason for him to improve his game if his role is going to increase moving forward. Woodson and the coaching staff will continue to bring in more talent and the competition for minutes will only become stiffer. For Leal to earn more of an opportunity to play, his outside shooting must become more consistent.
Quotable: "When they first told me (I was starting), I was in shock. But I just tried to focus on making the most of it and following the scout and making sure that we got off to a good start, that kind of stuff. Staying true to what I do and trusting myself." – Leal after earning his first career start against Northern Kentucky on Dec. 22.
Filed to: Anthony Leal