That's A Wrap: Logan Duncomb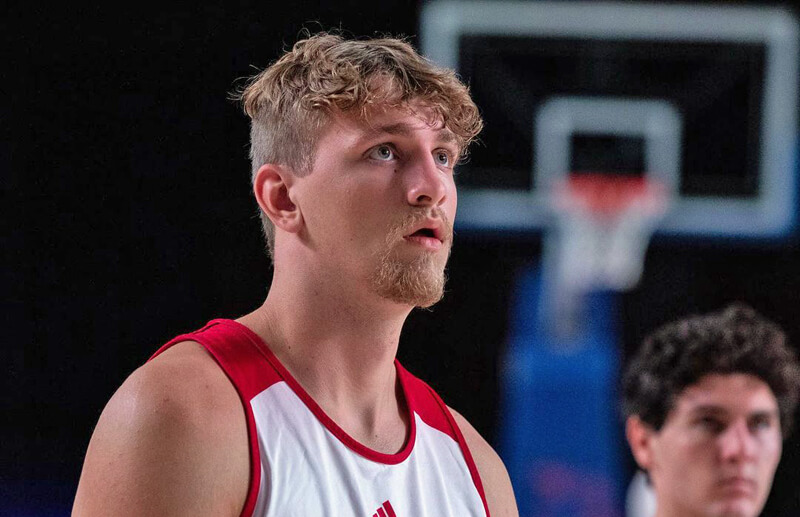 Welcome to "That's A Wrap," our player-by-player recap of the 2021-2022 Indiana Hoosiers. First up: Logan Duncomb.
Duncomb (9 games): .7 points, .7 rebounds in 2.2 minutes per game.
A top 75 recruit in the RSCI rankings for the class of 2021, Logan Duncomb's freshman season in Bloomington is tough to evaluate.
The 6-foot-9 center committed to Indiana in April of 2020 under then-coach Archie Miller. Duncomb averaged 13.5 points, 9.1 rebounds and 1.3 blocked shots as a senior at Cincinnati Moeller and was a first team All-Ohio selection.
When Miller was fired in March of 2021, Duncomb was steadfast in his commitment to the Hoosiers. He kept in regular contact with athletic director Scott Dolson during the coaching search and quickly reaffirmed his commitment after the hiring of Mike Woodson.
"I think that it's an awesome hire," Duncomb told Inside the Hall in late March of 2021. "He seems like a really good coach with an NBA background. And they bring on That Matta who has college experience. It seems like a deadly duo."
Duncomb arrived in Bloomington in early June of 2021 and appeared to be a candidate for backup minutes behind Trayce Jackson-Davis and Race Thompson in IU's frontcourt.
But an injury kept Duncomb sidelined for Indiana's two exhibition games against BC Mega in the Bahamas in August. Once the season began, it quickly became clear that Duncomb wouldn't figure into the rotation for the 2021-22 season.
At IU's media day, Duncomb revealed that his injury was to his shoulder, but said he was ready to go for the start of the regular season.
"I'm good now (injury wise)," Duncomb said. "I had a strain in my shoulder so that put me out for a couple of weeks. I had a couple of more injuries at the very beginning when we started practicing together. I've recovered from all of that, I'm getting better. I'm practicing now full-go. For me to get on the court, I have to use what I have which is hustle, being able to play as hard as I can and doing the little things."
Early in the season, Duncomb was suspended for three games for a violation of team rules and he never logged more than four minutes in a game the entire season. Statistically, the high point for Duncomb was four points and a rebound in four minutes in an 81-49 win against Merrimack on Dec. 12.
In hindsight, it would have made more sense for Duncomb to redshirt and not burn a season of eligibility given the lack of minutes and opportunity he received as a freshman.
As Duncomb wraps up his freshman season in Bloomington, he will begin what appears to be an important offseason for his development. Indiana's frontcourt for next season remains unsettled, but one domino that has already fallen is Michael Durr leaving via the transfer portal. Durr played 7.1 minutes per game last season and those minutes could be available for Duncomb next season depending on what happens with the transfer portal.
Bottom Line: In high school, Duncomb made his mark as a gritty frontcourt player with a nice touch around the rim and a knack for rebounding. Those traits should serve him well if he earns a rotation spot in the future, but it's clear the coaching staff believes he has work to do to warrant minutes. Physically, he's going to need to become much stronger to deal with opposing frontcourt players in the Big Ten.
Quotable: "I mean, just everything that comes with being a Hoosier, really. Just the background that comes with playing basketball at Indiana and the ability to just play at that level." – Duncomb as a high school player when asked about what excited him most about his future at Indiana.
Filed to: Logan Duncomb