That's A Wrap: Jordan Geronimo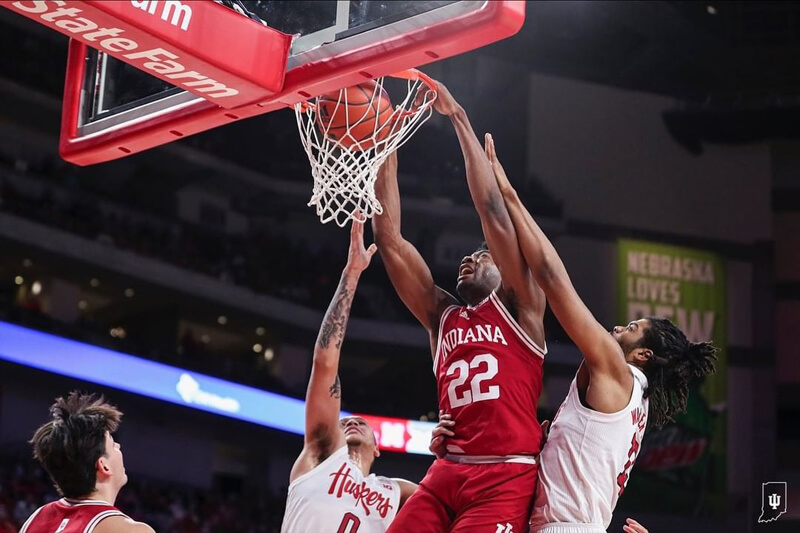 Welcome to "That's A Wrap," our player-by-player recap of the 2021-2022 Indiana Hoosiers. Today: Jordan Geronimo.
Geronimo (34 games): 4.4 points, 3.6 rebounds, 51.8 FG%, 31 3PT%, 56.8% FT in 12.6 minutes per game.
Previously: Logan Duncomb, Tamar Bates, Anthony Leal, Trey Galloway
Jordan Geronimo played in all but one game this season — Indiana's Big Ten tournament semifinals matchup against Iowa.
After going down with a knee injury against Illinois the previous day, Mike Woodson mentioned Geronimo getting an MRI and couldn't provide much more on his status. That left Geronimo's role uncertain heading into the NCAA tournament he'd just helped his team reach.
But just four days later, he was ready to go in Indiana's First Four game against Wyoming. The sophomore slammed home three put-back dunks to account for a career-high 15 points — leaving little doubt about his health.
Geronimo couldn't hide his smile as Woodson praised his performance in the team's first NCAA tournament win since 2016.
"I found another player tonight off the bench and that was Geronimo who gave us a major, major lift," Woodson said.
In the 34 games he played all season that's what he did — gave the Hoosiers a lift.
He did that by providing a spark off the bench. Geronimo first found his minutes in relieving Trayce Jackson-Davis and Race Thompson, the older and more experienced starters.
But by the end of the season, it was clear he was more than a minutes-eater. He averaged 17 minutes per game in the postseason — which includes the nine minutes he played against Illinois before going down with an injury.
Indiana fans saw flashes of Geronimo's potential in his first season at Indiana in 2020-21. This season, those signs came to fruition. That's thanks to a mix of maturation, physical growth and extra time in the gym.
His offseason was marked by one word — consistency.
"If it was free throws that day or getting shots up or working on my dribbling — whatever it is, just trying to be consistent because it goes a long way," Geronimo said.
That translated into his play on the court throughout the season. When Woodson put Geronimo on the court, he knew exactly what he was going to get out of him.
He got a player who hounded the glass. He got someone who would use his raw athleticism to get to any 50/50 ball. And he got someone who cared.
Geronimo's performances weren't without their mistakes. In Indiana's win against Maryland on Feb. 24, the sophomore turned the ball over shortly after entering the contest. His frustration was clearly written on his face. The promising part about Geronimo, though, is he is the first to admit fault and work to make up for it. That's why right after he committed that turnover, he redeemed himself by forcing one on the other end.
In his successes, Geronimo put his athleticism on display. Jackson-Davis — who averaged eight rebounds this season — said he'd find Geronimo already above him when he went to get rebounds. That's why he calls Geronimo a freak.
"Some of the things he does are just out of this world," Jackson-Davis said.
Geronimo grabbed 121 boards this season — 42 on the offensive glass. The most memorable offensive rebound by Geronimo came in the aforementioned win against Maryland.
Thompson missed a free throw and when Geronimo couldn't grab the ball, he slapped it. The slap sent the ball off the court, up in the air, over the rim and through the hoop. It was an unintentional bucket, but he was credited with both a rebound and two points.
While he was surprised it went in, the rest of his team wasn't shocked to see him make a play like that. It's what they call a "Geronimo play".
After his best game of the season against Wyoming, Cowboys head coach Jeff Linder told Geronimo he hoped he wasn't going to play. In his postgame press conference, he noted it was hard to stop Jackson-Davis and that's why he has the accolades. But he noted Geronimo's ability to be a factor in Indiana's future.
"He just provides just a level of toughness and grit," Linder said. "What he made was a bunch of winning plays. He's an unbelievable athlete."
Bottom line: Geronimo showed growth in the Bahamas before the start of the season — both physically and in terms of basketball skills. But he didn't stop growing throughout the season as a player. His numbers grew consistently, capped off by his standout performances in the postseason. Geronimo has shown he can make crazy athletic plays and lift the team in his role coming off the bench. But what this season showed — especially in the last few games — was that he can sustain that energy over the course of 20 minutes. His commitment to consistency ensures that growth won't stop next season.
Quotable: "Every time I work out, I work out with Isaac Green, one of our trainers, he tells me to go hard every single time. I just kept at it. All the other trainers, the rebounders helping me out. I just had a whole support program with me. This program is really good at building their players up. So I just used what I had." — Geronimo after Indiana's win over Wyoming.
Filed to: Jordan Geronimo