That's A Wrap: Trey Galloway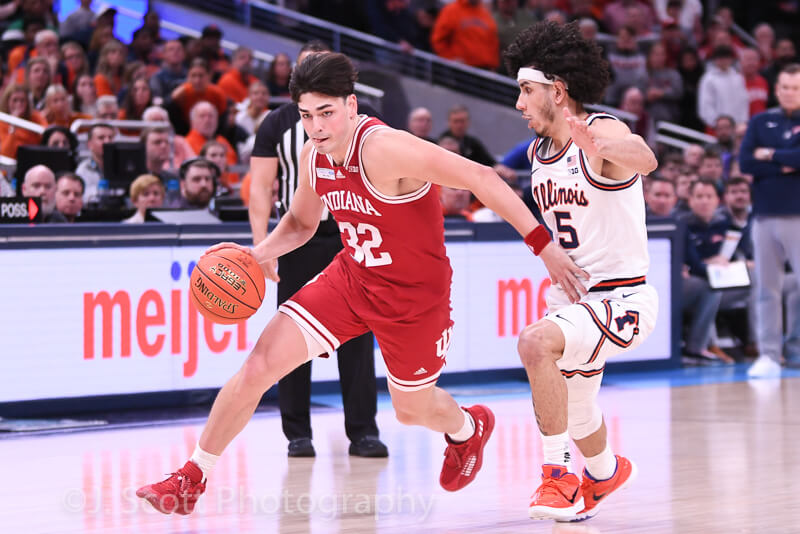 Welcome to "That's A Wrap," our player-by-player recap of the 2021-2022 Indiana Hoosiers. Today: Trey Galloway.
Galloway (20 games): 5.5 points, 1.8 assists, 1.7 rebounds, 46.4 FG%, 49.5 eFG% in 20.8 minutes per game.
Previously: Logan Duncomb, Tamar Bates, Anthony Leal
Sophomore Trey Galloway missed a total of 15 games this season, as two separate injuries (fractured wrist, high groin pull) sidelined him for games across November, December, January, February and March.
Despite missing games in every month of the season, Galloway's relentless motor on both ends and ability to add variance to a predictable offense made his court presence essential to the Hoosiers this season. The Culver Academies grad's steal percentage of 2.6 led the team, his knack for poking the ball away sometimes leading to breakaway scores for himself or others in transition. Defensively, Galloway picked up Mike Woodson's positioning and principles. It earned him playing time and trust off the bench, though he could be susceptible in matchups against stronger and more athletic players.
Galloway scored a season-high 13 points against Northwestern in Evanston on Feb. 8. The performance came in an unusual way: Woodson suspended five of his players due to a curfew violation, leaving the Hoosiers short-handed, especially at point guard.
Xavier Johnson and Khristian Lander were among those suspended. Rob Phinisee was unable to play due to plantar fasciitis. So Galloway was thrust into the starting point guard spot. It wasn't a natural fit for the sophomore, but he hit some tough floaters on his way to an efficient 6-of-10 shooting performance from the floor. Galloway ran the show as best he could, playing 37 straight minutes before fouling out late. He was clearly gassed as the second half wore on, but in true Galloway fashion, he continued to bring an all-out effort, even if it didn't always result in success for Indiana.
"I thought Trey Galloway played his butt off," Woodson said after the game.
Galloway was also key in Indiana's Big Ten Tournament run. Against Michigan, he had two second-half steals that led to Trayce Jackson-Davis buckets, which helped kickstart IU's huge comeback. The next day against Illinois, Galloway posted eight points, two rebounds, two assists and a steal in 23 minutes.
On a team lacking threats off the bounce beyond Johnson, Galloway showed some promise there. But as we saw in his freshman season, it sometimes came at a cost. The sophomore could get into trouble once he got moving, either having nowhere to go or throwing an errant pass. His turnover percentage of 22.8 was identical to his freshman season and only Michael Durr (25.7) and Lander (37.8) were worse on this year's squad.
Then there's the matter of Galloway's shooting. Simply put: He's yet to develop an outside shot. He made just 6-of-28 (21.4 percent) from 3-point range this season and was one of a number of perimeter players opponents were fine to leave open from deep as they brought more attention to the likes of Jackson-Davis and Johnson. For as aggressive as he could be on offense at times, Galloway also didn't draw many fouls either. He averaged just one per contest over the 20 games he played this season.
Bottom Line: While Galloway's game has flaws, his intangibles make it hard to keep him off the court. So despite two injury setbacks, the sophomore was a key part of the rotation all season long. For Galloway to take the next step, however, an improved jumper to keep the defense more honest will be important. A better ability to draw contact and get to the line more on his drives will help as well.
Quotable: "We knew that we were still in the game no matter what. We wanted to find ways to get stops and really just lock in defensively. That was really big for us. We're down. We're facing adversity. Coach just said keep believing, keep chipping away and that's what we did." – Galloway after Indiana's comeback win against Michigan on March 10
Filed to: Trey Galloway