That's A Wrap: Trayce Jackson-Davis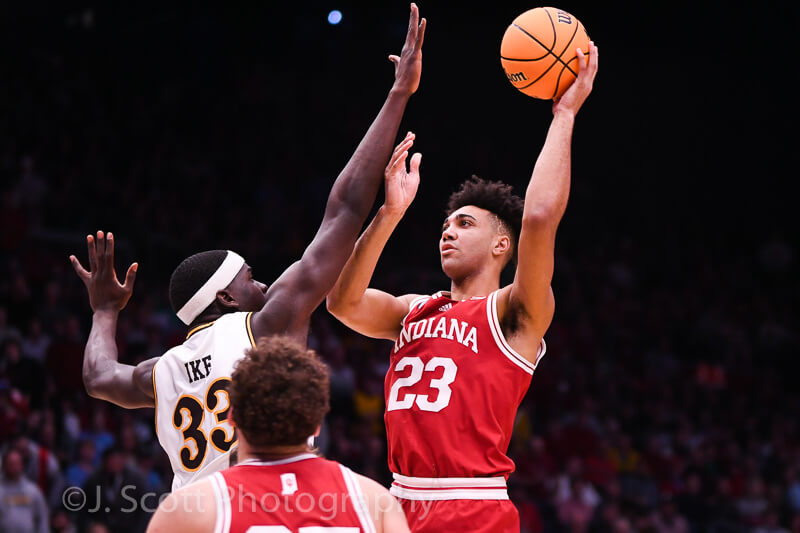 Welcome to "That's A Wrap," our player-by-player recap of the 2021-2022 Indiana Hoosiers. Today: Trayce Jackson-Davis.
Jackson-Davis (35 games): 18.3 points, 8.1 rebounds, 1.8 blocks, 1.2 assists, 58.9 FG%, 67.4 FT% in 32.3 minutes per game
Previously: Logan Duncomb, Tamar Bates, Anthony Leal, Trey Galloway, Jordan Geronimo, Khristian Lander
In his third season as a Hoosier, Trayce Jackson-Davis delivered the most productive season of his college career.
After Archie Miller was fired in March of 2021, it looked like a foregone conclusion that Jackson-Davis would move on from Bloomington and pursue a professional career.
A meeting with new coach Mike Woodson, however, changed things.
"The things that he really told me were the things that I didn't want to hear," Jackson-Davis said last spring. "That right there was already showing me that he already wants what's best for me… I think that's when my parents were sold on it as well."
That meeting, which lasted two hours, kept Jackson-Davis in the fold and built the foundation for Woodson's first Indiana team.
Jackson-Davis was the focal point offensively for the Hoosiers all season for Indiana as he led the team in scoring, field goal and free throw attempts. In a Nov. 27 win over Marshall, Jackson-Davis poured in a career-high 43 points, breaking the single-game scoring record in Assembly Hall previously held by Steve Alford.
His usage rate dipped from 29.7 percent in his second season to 26.2 percent, but his efficiency rose. The 6-foot-9 forward shot 59.3 percent on 2s, up from 51.7 percent in Miller's last season. In Big Ten play, Jackson-Davis had the highest free throw rate in the conference (FTA/FGA) at 55.5 percent.
Defensively, Jackson-Davis got the freedom to roam the paint to challenge shots and his block percentage of 8.4 ranked 47th in the country. In Big Ten play, he had the third-highest block percentage behind Michigan State's Marcus Bingham and Ohio State's EJ Liddell. His impact as a shot blocker earned him a spot on the conference's all-defensive team.
One thing that didn't materialize for Jackson-Davis, however, was an improved shooting touch. His free throw percentage rose only modestly from 65.5 percent to 67.4 percent. He attempted three 3-pointers, but didn't connect on any of them. And despite preseason chatter from Jackson-Davis and Woodson that expanding his game to the perimeter would be a priority, the Center Grove product rarely looked at the basket from outside of the paint.
Late in the season, it appeared the Jackson-Davis-led Hoosiers were once again going to squander a chance to make the NCAA tournament. After starting the season 16-5 and appearing to be a lock for March Madness, Indiana fell to 18-12 entering the Big Ten tournament after losses to Rutgers and Purdue.
But over three days in Indianapolis at the 2022 conference tournament, Jackson-Davis changed the narrative of his IU career.
On March 10, his 24 points helped the Hoosiers overcome a 17-point second half deficit in a 74-69 win over Michigan. And the next day, Jackson-Davis went for 21 points in a 65-63 win over top-seeded Illinois. In those games, Jackson-Davis outplayed Hunter Dickinson and Kofi Cockburn, who players who had repeatedly outplayed him in previous matchups.
Those wins in Indianapolis lifted Indiana to its first NCAA tournament berth since 2016. The Hoosiers went on to beat Wyoming 66-58 in the First Four behind 29 points from Jackson-Davis before falling to Saint Mary's in the round of 64.
Last weekend, Jackson-Davis declared for the 2022 NBA draft, but will maintain his eligibility for next season while going through the process. His decision will go a long way in determining how competitive Indiana will be in Woodson's second season next winter.
Bottom line: Jackson-Davis was Indiana's leader, most productive player and was a primary reason the program reached the NCAA tournament for the first time in six seasons. By leading Indiana to the NCAA tournament with a late season run in the Big Ten tournament, he proved himself capable of outplaying the league's top frontcourt players. Moving forward, Jackson-Davis will have to decide whether he wants to return to Bloomington and possibly cash in on some lucrative NIL deals or move on to the professional stage of his career.
Quotable: "I just think overall just being with my guys and backs against the wall, going into the Big Ten tournament. Even being seeded lower than what we thought we were, and then beating Michigan and going and beating Illinois. I think, if we wouldn't have gotten the Illinois game, we probably wouldn't have been here at all. Seeing the Hoosier hysteria around the state, it was a blessing to be a part of it. Just seeing the guys rally when adversity struck and being able to compete and clawing our way back in and making the Big Dance. I know it's not how we wanted to go out, but it's an honor and blessing to be here. I'm proud of my guys for always fighting, and that's probably my favorite part." – Jackson-Davis following Indiana's loss to Saint Mary's in the NCAA tournament.
Filed to: Trayce Jackson-Davis