That's A Wrap: Xavier Johnson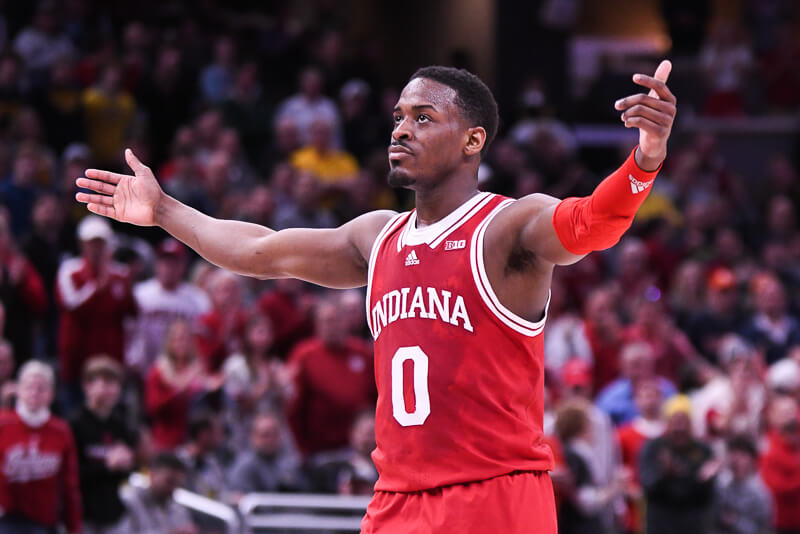 Welcome to "That's A Wrap," our player-by-player recap of the 2021-2022 Indiana Hoosiers. Today: Xavier Johnson.
Johnson (34 games): 12.1 points, 5.1 assists, 3.8 rebounds, 1.2 steals, 40.6 FG%, 38.3 3PFG%, 78.2 FT% in 27.7 minutes per game.
Previously: Logan Duncomb, Tamar Bates, Anthony Leal, Trey Galloway, Jordan Geronimo, Khristian Lander, Trayce Jackson-Davis, Parker Stewart
Xavier Johnson put his name in the transfer portal last spring after three seasons at Pittsburgh. Not long after, he picked Indiana over Baylor, Houston and St. Joseph's.
He walked into a program which already had two point guards, but new head coach Mike Woodson chose Johnson for the starting role. While it took some time to figure out how Rob Phinisee and Khristian Lander fit into the equation, Johnson remained steadfast in commanding the offense.
That's not to say his first season in Bloomington didn't have its hiccups.
Johnson took a while to settle in at Indiana. His aggressive style of play and headstrong attitude on the court held him back while he learned how to navigate his place on his new team.
Woodson considered it growing pains.
"You've got to have coach Woodson's point guard mentality and know when to pull out X's," Woodson said Feb. 4 of developing Johnson.
During his development, fans grew impatient. Johnson was booed at the Crossroads Classic when he shot 3-of-11 from the floor and recorded four turnovers against Notre Dame. The criticism of Johnson continued on social media — and he saw it firsthand.
When Johnson got down on himself midseason, it was Trayce Jackson-Davis who helped lift him back up. There was a reason Brad Underwood called Johnson the most underrated point guard in the Big Ten.
"I'm just gonna keep trying to pick them up because I've already been through this situation," Jackson-Davis said on Feb. 23.
The next day, Johnson had an almost perfect shooting performance against Maryland. He dropped 24 points on 100 percent shooting from the floor and 7-of-8 from the free throw line — missing his only shot with 19 seconds left in the game.
"He's come a long way from the beginning when we started to where he is today," Woodson said after the game. "When I see things like that, that means he's put in time and he's working."
The motivation to prove the doubters wrong combined with something bigger for Johnson. His grandfather passed away in early February, and that's who he credited his midseason acceleration to.
"It just hit me. Hit me a lot," Johnson said March 14 ahead of Indiana's First Four game. "I was playing well before that. And he's one of my biggest fans. And I know he's still watching. And I dedicate my game to him."
One aspect of his game that truly elevated throughout the end of the season and postseason was his pick-and-roll play with Jackson-Davis. The pair took their chemistry to a whole new level that made them hard to stop when they got going downhill.
Johnson scored in double figures in the team's final 10 games and averaged 6.6 assists per contest in that stretch.
Johnson figured out how to read what was unfolding right in front of him. He matured enough to know when the play was there and when it wasn't. When Johnson and Jackson-Davis knew they'd developed the chemistry, they went to Woodson to ask for more pick-and-roll plays.
"If you go back and look at the beginning of our season and probably midway through our season, we try to run a lot of pick-and-rolls, but X wasn't there yet at the time," Woodson said March 14. "Now X, he's grown. He's figured it out."
However, Johnson's offseason has gotten off to an unfortunate start. He was arrested in early April for reckless driving and resisting law enforcement. No disciplinary action has been announced by the program.
Johnson was also among the five players suspended for Indiana's loss at Northwestern in early February due to missing curfew.
Bottom line: Although this was Johnson's fourth season, he still has one season of eligibility left. He didn't go through with Senior Day and has made no indication of wanting to transfer. If Johnson is back at the helm of the offense next year, it could mean big things for Woodson's program. Even if Jackson-Davis leaves for the NBA, Johnson has shown he can develop pick-and-roll play with anyone. Aside from his skill and basketball IQ, his intensity and desire to win will be instrumental.
Quotable: "Coach is always believing in me, keep shooting. He's not going to tell me to stop shooting. I just get in the gym and he sees me always just working on my game. I'm always working on my craft every day and now it's just starting to come." — Johnson after Indiana's win over Illinois in the Big Ten tournament.
Filed to: Xavier Johnson