That's A Wrap: Miller Kopp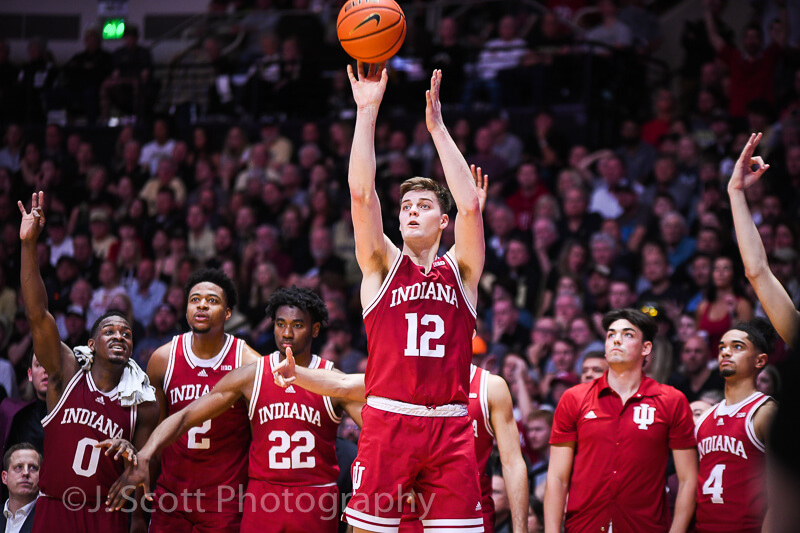 Welcome to "That's A Wrap," our player-by-player recap of the 2021-2022 Indiana Hoosiers. Today: Miller Kopp.
Kopp (35 games): 6.0 points, 2.5 rebounds, 1.1 assists, 35.6 FG%, 36.1 3PFG%, 86.5 FT% in 25.1 minutes per game.
Previously: Logan Duncomb, Tamar Bates, Anthony Leal, Trey Galloway, Jordan Geronimo, Khristian Lander, Trayce Jackson-Davis, Parker Stewart, Xavier Johnson, Michael Durr
Indiana fans were familiar with Miller Kopp for years before he announced his transfer into Bloomington in the spring of 2021.
The freshest memory of Kopp, a 6-foot-7 sharpshooter from Texas, was from December 23, 2020. Kopp and Northwestern played spoiler for Indiana's conference opener by coming into Bloomington and knocking off the Hoosiers 74-67 in front of a stunned Assembly Hall crowd. Kopp scored 13 points in the win, including a 3-of-4 performance from 3-point range.
Given the program's need for shooting help on the perimeter and Kopp's familiarity with the conference, it made sense for Mike Woodson and the Hoosier coaching staff to pursue him in the transfer portal in April of 2021.
"Obviously I feel like I can shoot the ball and coach (Woodson) knows that," Kopp said shortly after announcing his pledge to the Hoosiers. "Really just using that to help everybody else in terms of spacing the floor, but also things that I haven't done as much like handling the ball and playing out of pick-and-roll and making the right reads in that kind of environment. And also being a better rebounder is something coach wants me to do and it's something I want, too."
Kopp's first season at Indiana got off to a strong start. He scored 12 points and made a pair of 3-pointers in a 76-74 win over St. John's in the Gavitt Tipoff Games on Nov. 17. Two games later, he scored 12 points again in a 70-35 blowout win over Jackson State in Bloomington.
His notched a career-high 28 points in Indiana's 112-110 double-overtime loss at Syracuse in the Big Ten-ACC Challenge on Nov. 30. Kopp was 9-of-16 from the field, including 4-of-9 on 3s, and 6-of-7 from the free throw line. He also added four rebounds, three assists and two steals in 48 minutes.
But despite that performance, Kopp's offense stalled for the next three months.
Over the team's next 20 games, the Houston native didn't score in double figures once. He went scoreless three times over those 20 games and had four other outings where he scored only three points. Kopp's lack of offense for a good chunk of the season was a result of a lack of aggressiveness on his part at times and also the coaching staff failing to put him in positions to succeed.
Late in the season, Kopp, who started all of the team's 35 games, was able to find his groove offensively for an eight-game stretch which included two double-figure performances. From the Maryland game on Feb. 24 through the loss to Iowa in the semifinals of the Big Ten tournament on March 12, Kopp averaged 7.1 points and shot 40 percent on 3-pointers.
Unfortunately, Kopp was unable to find his touch from the perimeter in the first NCAA tournament appearance of his career. In Indiana's 66-58 win over Wyoming in Dayton, Kopp went scoreless and only attempted two shots in 21 minutes. And in IU's 82-53 blowout loss against Saint Mary's in Portland, Kopp was 0-of-4 from the field in 23 minutes.
With one season of eligibility remaining, all signs are pointing to Kopp returning for his fifth and final year of college basketball as a Hoosier.
Four other IU players have entered the NCAA transfer portal, including three in Michael Durr, Parker Stewart and Rob Phinisee who also have just a year of eligibility left. Kopp hasn't explicitly stated that he'll be back, but he didn't go through senior night festivities. He will maintain a major role next season as an experienced shooter who is well-liked in the locker room and is a leader on and off the floor.
Bottom Line: While Kopp's offensive output may have been lower than expectations, he did shoot 36.1 percent on 3s overall and 35.1 percent in conference play. Those numbers were upgrades on an Indiana team that has struggled to make perimeter shots since Tom Crean was fired in the spring of 2017. Kopp will have competition to hang on to his starting spot next season and he needs to shoot much better than the 34.9 mark he produced on 2s last season.
Quotable: "My confidence is always high. Whether I make a lot of shots a game or don't, I always have high confidence in my shot and myself. It was good just to see some go in and make a couple (against Syracuse) and be able finally have a game like that, so it felt good." – Kopp before Indiana's Big Ten opener against Nebraska and following his 28 points against Syracuse.
Filed to: Miller Kopp