That's A Wrap: Michael Durr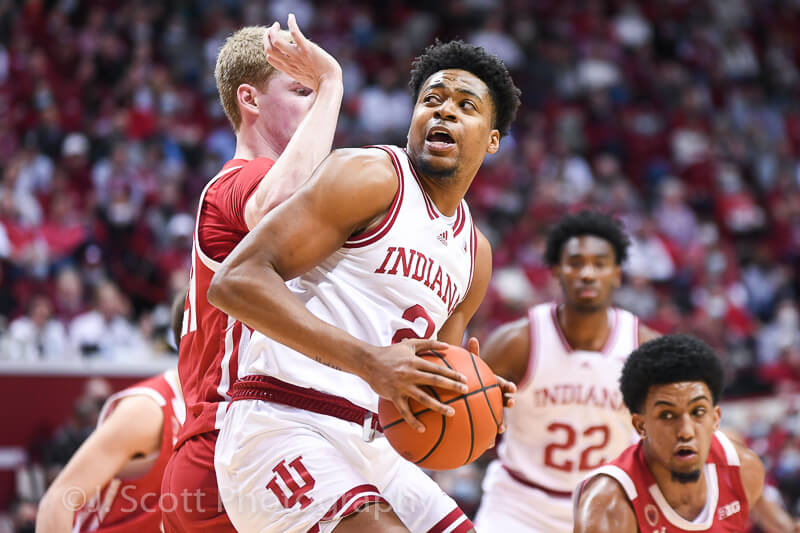 Welcome to "That's A Wrap," our player-by-player recap of the 2021-2022 Indiana Hoosiers. Today: Michael Durr.
Durr (30 games): 1.5 points, one rebound, 0.5 assists, 38.2 FG%, zero 3PFG%, 73.1 FT% in 7.1 minutes per game.
Previously: Logan Duncomb, Tamar Bates, Anthony Leal, Trey Galloway, Jordan Geronimo, Khristian Lander, Trayce Jackson-Davis, Parker Stewart, Xavier Johnson
Michael Durr announced his commitment to IU in May 2021.
The center, listed at 7-feet and 250 pounds, played at the University of South Florida for three seasons prior to coming to IU. In his three seasons with the Bulls, Durr averaged 6.7 points and 6.5 rebounds per game. He also started 85 of his 87 appearances.
After entering the transfer portal following the 2020-21 season, Durr initially pledged to Virginia Tech before ultimately reopening his recruitment. It led to IU, Durr had a previously known Yasir Rosemond, was familiar with Kenya Hunter (who coached at UConn when they were in the same conference as USF) and knew of Mike Woodson from his coaching days in the NBA. The history of the IU program, feeling confident in what the 2021-22 team could accomplish and Woodson's pitch to help Durr improve his game were also factors in his decision.
After then committing to IU, it seemed like Durr would be able to fill a gap that Indiana largely lacked the previous season. When Joey Brunk got hurt during the 2020-21 season, Indiana didn't have a true rotation center off the bench to provide rest to Trayce Jackson-Davis and Race Thompson. It seemed, though, like Durr could potentially fill that need.
It turned out to be a 2021-22 season where Durr wasn't able to put up the scoring and rebounding per game averages that he did at USF.
Over the summer and into the start of the season, Durr dealt with an injury/injuries (IU never publicly disclosed the information). In August 2021, Durr didn't play in Indiana's two games in The Bahamas. Nor did he play in IU's season-opener against Eastern Michigan.
Durr made his season debut against Northern Illinois, where he scored two points and tallied one assist in 10 minutes. Including and after his season debut, Durr's numbers were relatively underwhelming. In his first eight appearances, he only played double-digit minutes four times and failed to score more than four points.
"Yeah, I feel like it's coming along well, it's still a process," Durr said in December of his conditioning and stamina."But it's coming along well and it's just gonna continuously improve day-by-day and game-by-game."
As the season continued, though, Durr's production remained relatively the same and he wasn't able to carve out large chunks of playing time.
That, however, gave way to Indiana's home matchup with Purdue, where Durr played arguably his most important minutes of the season. When Trayce Jackson-Davis picked up his second foul at the 14:24 mark of the first half, Durr provided a crucial lift off the bench. Ultimately, Durr played a season-high 24 minutes and scored four points, along with two steals and two blocks, helping the Hoosiers to victory.
After that game, though, Durr didn't play more than 12 minutes in a game for the remainder of the season. In February, Durr was one of five Indiana players to not play against Northwestern for disciplinary reasons.
His impact in games for the remainder of the season was relatively minimal. He was held scoreless in nine of his last 11 appearances.
Following the conclusion of Indiana's season in March, Durr entered the transfer portal, per Verbal Commits.
Bottom Line: In all, Durr's statistics were largely underwhelming. His season-high in rebounds, which came against Jackson State, was five. His season-high in points, which came against Northern Kentucky, was six. During his last 12 appearances of the season, he was called for 18 fouls while scoring just six points.
Quotable: "Honestly, it's been tough because this… is my fourth year in college and it's something that I've pretty much never done in college. So it's just something that I'm trying to adjust and try to perfect — doing all I can when I'm in. And just doing all I can to help the team win." — Durr in December on transitioning to coming off the bench and his mentality in that role.
Filed to: Michael Durr