6-Banner Sunday: IU's season ends following first NCAA tournament appearance in six years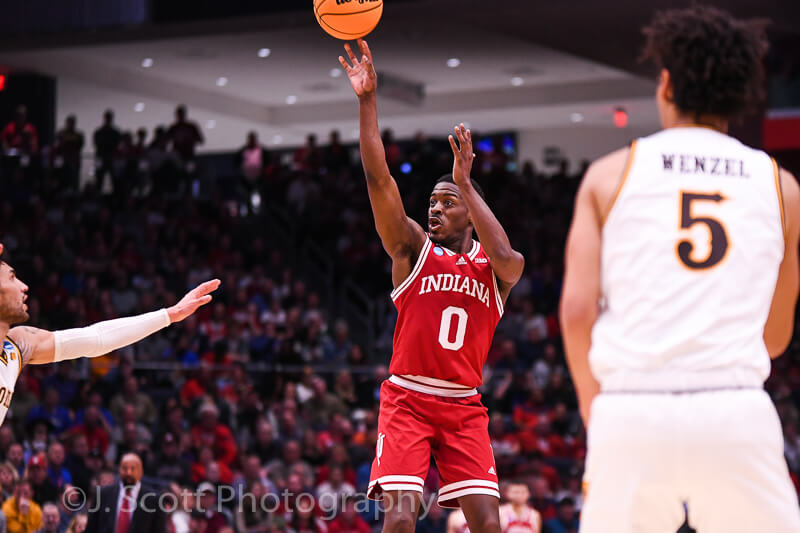 6-Banner Sunday is Inside the Hall's weekly newsletter in partnership with The Assembly Call. More than 9,000 Indiana fans receive the newsletter each week. In addition to appearing each week on the site, you can also opt to receive 6-Banner Sunday by email. A form to subscribe via email is available at the bottom of this week's 6-Banner Sunday.
Welcome to another edition of 6-Banner Sunday, a joint production between The Assembly Call and Inside the Hall where we highlight the five most essential IU basketball stories of the past week, plus take a look at how the other IU sports programs are doing.
While IU's season came to an end, Hoosier coach Mike Woodson's first year can go down as a success. While more improvement is needed, the fact Woodson guided IU to its first March Madness appearance in six years and won a game there signals the program is headed in the right direction. The Hoosiers completed the season 21-14 which is the most victories since 2016 and the fourth most in any year since the beginning of the Tom Crean era in 2008. The 2021-2022 season also saw IU beat Purdue and Michigan for the first time since Crean roamed the sidelines, and the Hoosiers' first appearance in the Big Ten tournament semifinals since 2013 and the first time they won multiple games in the event since 2003.
While the men's season is over, the women's NCAA tournament is just beginning and IU has a legitimate shot at a national championship despite a very tough bracket. Also, a former Hoosier coach has found a new job and as usual, we will conclude 6-Banner with a look at other IU sports.
• IU beats Wyoming in First Four
• IU season ends with loss to St. Mary's
• Podcast on the Brink and AC postgame
• IU women begin their tournament run with victory over Charlotte
• Former Hoosier coach Archie Miller hired by Rhode Island
• Hoosier Roundup
Banner #1 – IU beats Wyoming in First Four
Following Selection Sunday, the Hoosiers were in the field of 68 for the first time in six years and drew a First Four game in Dayton against Wyoming. This allowed many fans to see the team one last time this season with the game being just over the border from Indiana and under three hours from IU's campus. The atmosphere was a virtual home game and the Hoosiers road the crowd to a hard-fought 66-58 win behind another strong game from Trayce Jackson-Davis and Jordan Geronimo's best action so far as an IU player.
Afterward, Inside The Hall had a Photo Gallery, Ryan Corazza had his Minute After and Film Session, Woodson spoke, Alex Bozich wrote Five Takeaways, while Tyler Tachman had a feature story on Geronimo, and Grace Ybarra a story on the team's toughness in general.
Banner #2 – IU season ends with loss to St. Mary's
The selection committee did IU no favors as they sent the Hoosiers from Dayton all the to Portland Oregon to play less than 48 hours later. On top of the long trip, the plane to get them out there was delayed several hours. As a result of all of this, an exhausted Hoosier team ran out of gas in an 82-53 loss to a good Gaels team.
Afterward, Woodson and St. Mary's coach Randy Bennett spoke, Corazza had his Minute After and Film Session, Bozich penned Five Takeaways and had a story about Jackson-Davis being undecided on his NBA future, Ybarra had a column on IU being worn out after their travel, and Tachman had a story that wrapped up the Hoosiers' season and discussed its success.
Banner #3 – Podcast on the Brink and AC postgame
Podcast on the Brink released two episodes this week. The first was recorded with Corazza and discussed IU's announced draw in the NCAA tournament following their selection. The second was done after the season ended and recapped the year with Tachman.
Assembly Call was also busy this week and released many different shows. The first was a recording that discussed the draw both the men's and women's teams got in the NCAA tournament. There were also special edition shows that were recorded to preview the matchups with Wyoming and St. Mary's with people who cover those teams. In addition to these, new episodes of the Tamar Bates and Grace Berger Shows were released this week. Lastly, normal postgame shows were recorded following the games against the Cowboys and Gaels, as well as Doing The Work after the women's first NCAA tournament game against Charlotte.
Banner #4 – IU women begin their tournament run with victory over Charlotte
While the men's season is over, the women's may still have a few more weeks left. They drew their highest NCAA Tournament seed ever (a three) and easily routed Charlotte 85-51 while hosting their first March Madness games ever in Assembly Hall. I also had a column in the Assembly Call Community for subscribers about the game.
Dreams of a Final Four and national championship are very much on the table but the Hoosiers have a tough bracket moving forward. Their next game is Monday at 8 pm against Princeton on ESPNU and tickets can be bought here. The Tigers are a strong 25-4 on the season and upset six-seed Kentucky to earn their date with IU.
Should the Hoosiers win that game it only gets tougher from there, as a likely match with powerhouse UConn awaits in the Sweet 16 in a virtual home game for the Huskies in Bridgeport. Also in IU's bracket are strong NC State, Oklahoma, and Notre Dame teams. If the Hoosiers can make their first-ever Final Four run they will have very much earned it.
Also, as a result of their terrific season, star Grace Berger was named an All-American by two different organizations.
Banner #5 – Former Hoosier coach Archie Miller hired by Rhode Island
While Woodson had a solid first season coaching his alma mater, the recently departed Hoosier coach has a new job.
Following his firing by IU last year, Archie Miller has found his next gig. He will return to the Atlantic 10 Conference where he was very successful with Dayton before becoming the head coach for the Hoosiers. This time he will go much further east and try to resurrect a program that has only made two NCAA tournament appearances in the last 23 years.
Banner #6 – Hoosier Roundup
• Baseball continues to have struggles with pitching and got swept by Troy. They then outslugged rival Kentucky in a mid-week game before losing their first two games in a series with Xavier.
• Softball went 3-2 this week to run their record to a solid 15-6. They split games with Eastern Kentucky and Louisville, before going 3-1 so far this weekend.
• Football added a new wide receiver's coach.
• Women's Tennis lost to Michigan State and the College of Charleston.
• Men's Tennis fell to South Florida.
• Water Polo was edged by Michigan.
• Women's Swimming and Diving finished 11th a the NCAA championships.
• Women's Golf competed in a tournament at Briar Creek.
• Wrestling concluded its season at the NCAA Championships.
• Rowing opened its season at Oak Ridge.
Thanks for your continued support for The Assembly Call and Inside the Hall. We'll be back next weekend with a new roundup.
Now go enjoy yourself a 6-banner Sunday.
Aaron (Ari) Shifron
Assembly Call Contributor
Filed to: