The Minute After: Saint Mary's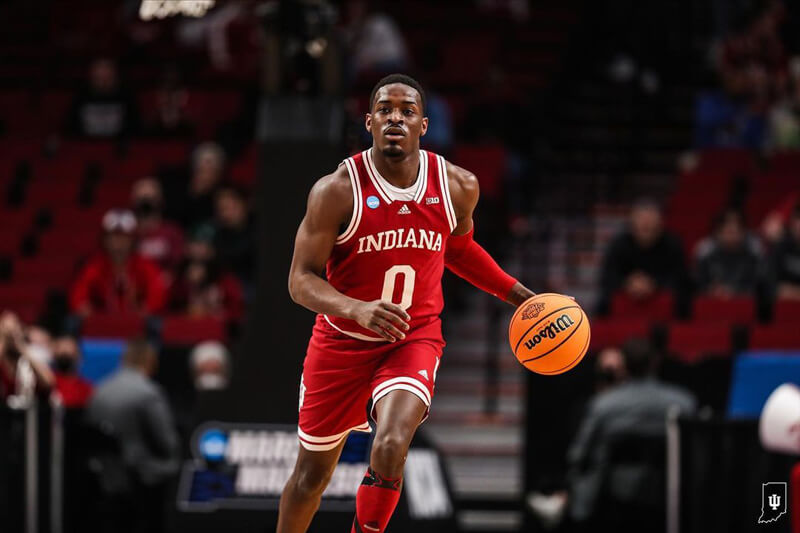 Thoughts on an 82-53 loss to the Gaels:
This was an absolute drubbing. A clinic. A cut-up. A mauling. A whooping. A clock-cleaning. An epic fail.
It was also Indiana's worst NCAA tournament loss in its history.
And so the season ends here in Portland in the round of 64, Indiana's fifth game in eight days with an overnight flight debacle thrown in for good measure. It was an exhausting stretch.
"You could see it on their faces," Gaels coach Randy Bennett said after the game. "They were gassed probably at halftime."
Indiana started out well. Xavier Johnson and Trayce Jackson-Davis got it going in ball-screen action. Parker Stewart hit a 3-pointer. The Hoosiers held a four-point lead (21-17) at the 8:35 mark on a Trey Galloway runner. The bench lineup Mike Woodson has gone to the last several games before the under-8 timeout was holding serve.
When Woodson subbed back in the starters just less than two minutes later at the 6:41 mark, however, the four-point lead had quickly turned to a four-point deficit. It would go to five when Indiana got the ball back, as the starters came into the game between free throw makes from Dan Fotu. That unit picked up right where they left off. Jackson-Davis scored a bucket on Indiana's next possession. Xavier Johnson made a three-point play on the one after that, the four-point lead now down to two.
But the script flipped from there.
The Gaels closed out the half on a 12-2 run to go up 40-28 at half.
And Indiana started off the second half in awful fashion, making just one field goal in the first 10 and half minutes of game clock. On the other end, Saint Mary's cut them up on play after play. Things ran away in a hurry, as the Gaels were a snowball gaining speed downhill the Hoosiers had no chance of stopping. Saint Mary's scored 26 points off Indiana miscues. The Gaels' precision and discipline in the half court had them spraying shooters from deep across all 40 minutes, as they hit 10-21 (47.6 percent) from 3-point range. Indiana missed all five of its 3-pointers in the second half and made just 2-of-10 all game.
The halftime deficit of 12 ballooned all the way up to 33 with just over four minutes to go before settling at the final 29-point loss. Jackson-Davis finished shooting 50 percent from the field (5-of-10, 12 points), but was far from the superstar he's been over Indiana's last several contests. The Gaels did a nice job of forcing him out a few feet further from the basket, making him take less efficient looks. Xavier Johnson had five turnovers against five assists. He was the only other Hoosier in double figures with 11.
Indiana's defense, so stout and solid all season long, really fell apart in this one as the lead ballooned. The Gaels got just about whatever they wanted on offense. Logan Johnson was a match for Indiana's athleticism and went 8-of-13 (20 points). Matthias Tass (6-of-10, 12 points) played TJD to a draw. Point guard Tommy Kuhse dished out six assists and scored 19 points, hitting 3-of-6 from deep. Alex Ducas also hit 3-of-6 from distance on his way to 13 points.
The Gaels (1.21) outscored Indiana (.78) by .43 points per possession in this one.
"I have nothing but love for these 17 players," Mike Woodson said after the game. "… They put this program back in the fold in terms of being back in the Big Dance."
Huge credit to Indiana for its late run this season, turning a disappointing end of the Big Ten regular season play play into something to get behind after a run in the Big Ten tournament.
Mike Woodson brought the program back to the NCAA tournament for the first time since 2016, a success in his first year as head coach.
Can he keep the momentum going as he looks to build Indiana into a consistent winner and national title contender?
It's a big question and big jump for a program that hasn't made it past the Sweet 16 in 20 years.
(Photo credit: IU Athletics)
Filed to: 2022 NCAA tournament, Saint Mary's Gaels