Jordan Geronimo's energy ignites Indiana past Wyoming, helps keep Hoosiers dancing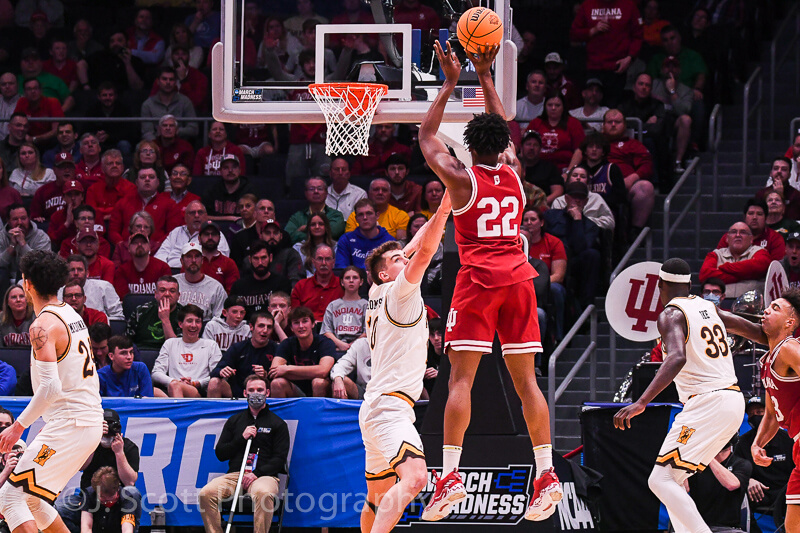 DAYTON, Ohio – In 18 seconds, the potential of the future became realized as the success of the present.
The first play happened with just under 13 minutes left in the second half of Indiana's First Four matchup against Wyoming on Tuesday night. Cowboys guard Hunter Maldonado spun over his right shoulder, dipping into the painted area and getting some leverage on Trey Galloway. Unfortunately for Maldonado, Jordan Geronimo was on the floor. As Maldonado rose up, Geronimo slid down from near the elbow and exploded into the air. Then Jordan Geronimo made a Jordan Geronimo type of play. With both hands, he snatched the ball right from Maldonado, securing it and bringing it down.
"He's a freak, that's what we call him, freak of nature," Trayce Jackson-Davis said postgame. "Sometimes even in the huddle he'll do something and I'll look at him and say you're a freak. Because some of the things he does is just out of this world."
On the following offensive possession, Indiana swung the ball around the perimeter. Geronimo was open in the corner and drained the three. It put Indiana up by six points.
The sequence encapsulated what has made Geronimo such an intriguing player in just his second season. He has a moment that could make you question the law of physics. Then he can step out and make a jump shot.
On Tuesday, some of that potential was on display. He was crucial in Indiana's 66-58 win over Wyoming. In a game that seemed to slog by, and in which Indiana's offense struggled, the Hoosiers needed a spark. Besides Jackson-Davis, who scored 29 points, Indiana's starters mostly didn't have their best performances. Race Thompson and Parker Stewart had four points each. Xavier Johnson had 10 points, but was 3-of-12 from the field. Miller Kopp was held scoreless. Enter Geronimo. In 19 minutes off the bench, he scored 15 points on 7-of-11 from the field, including numerous putback dunks and seven rebounds. It was arguably the most important performance in his career at IU.
"I'm happy for him because he's performing at a really, really high level for us," Jackson-Davis said. "And without him, we probably would have lost that game."
It has been a journey for Geronimo to get to this moment. He was once an overlooked recruit before blowing up on the travel basketball circuit as a rising senior. He eventually committed to Indiana and then head coach Archie Miller. Perhaps, that accounts for his humility. Last summer, Geronimo greeted a college-aged reporter — whether he realized their age or not — by saying "yes, sir."
"JG always had a smile on his face," Jackson-Davis said when asked what he remembers about Geronimo when he arrived on campus. "He was really goofy."
Geronimo's first season at IU was mostly defined by inconsistencies — both in production and playing time. One of the highlights of the season was when Geronimo managed to slow down Luka Garza in Indiana's upset win over Iowa. But his freshman season was far from normal as the world navigated the COVID-19 pandemic. Then at the end of the season, Miller was fired. Geronimo entered the transfer portal. Unlike the other three members of the 2020 recruiting class, Geronimo isn't from the state of Indiana.
But then he spoke with Mike Woodson, who was hired as Indiana's new head coach. Geronimo knew Woodson's experience coaching in the NBA. Woodson told Geronimo how he was going to develop him to get to the next level. So Geronimo decided to stay at IU. "I just felt like he'd be the best guy to get me where I want to go," Geronimo said of Woodson.
During Indiana's trip to the Bahamas in August, Geronimo made the type of plays in which numbers don't totally quantify their significance. Asked how he'd get time on the court, he said "Just be an athlete. Just get after it. And I feel like playing hard is the way I'm going to get to the floor." It also came with reps. He'd sometimes get in work on the shooting gun at night.
"One thing I tried to keep up was consistency, just trying to get in the gym every day no matter what I did," Geronimo said. "If it was free throws that day or getting shots up or working on my dribbling. Whatever it is, just trying to be consistent, because it goes a long way."
This season, Geronimo has again been both inconstant while also flashing moments of growth. He had 13 points and 13 rebounds in a December game against Merrimack, in which after the game he declared, "God gave me this body to get rebounds." He had 10 points and eight rebounds in IU's win at Nebraska. But from Jan. 20 to the end of the Big Ten tournament, Geronimo only scored in double-figures once. Regardless, it's usually pretty clear that he will provide energy and effort, at the very minimum. In a home game against Maryland, Geronimo swatted the ball off the floor after a missed free throw, improbably sending it careening into the basket. "I'll take my two points," Geronimo said later.
Part of the reason Geronimo plays like this is because of the principles his mother Dawn, who played college basketball at North Carolina, pressed upon him.
"She has a lot to do with it, a majority, I would say," Geronimo said of his mother's influence on his basketball career. "Just from a young age, when I played basketball, she always just tell me to always play hard and, you know, just leave everything on the court and good things will happen. And so I just took that with me throughout the basketball career and, yeah, it's been good to me."
On Tuesday, Geronimo played as if he was following his mother's advice. While Indiana's offense was struggling, Geronimo came flying through for a putback dunk with 8:31 left in the first half. Then Geronimo did it again with 12 seconds remaining in the half. In the second half, it took Geronimo less than five minutes before he jammed in another putback. Even before the game, when Indiana was running out of the tunnel, he was filled with energy, bouncing up and down, giving high fives and yelling.
Tuesday served not only as a moment to appreciate what Geronimo is able to do now, but also as a chance to think about what the future could hold should he continue to develop. Tuesday's performance also came after returning from an ankle injury he suffered last week against Illinois. The next step is consistency and rounding out his game.
In fitting fashion, Geronimo ran off the court shortly after the game, as shown in a video he later posted on Twitter, still amped up, slapping more fans' hands,
"You reap what you sow," Jackson-Davis said of Geronimo, "and he's reaping the benefits."
Filed to: 2022 NCAA tournament, Jordan Geronimo