Delays and TikTok: Inside Indiana's interesting night of travel — 'All you want to do is win'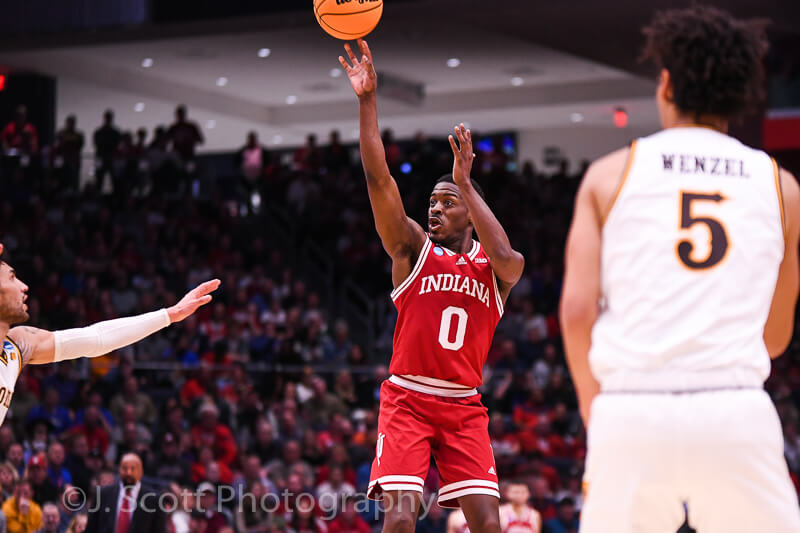 Xavier Johnson chimed in late. Johnson sat alongside Trayce Jackson-Davis and Race Thompson. It was Indiana's pre-Saint Mary's press conference, less than 24 hours after the Hoosiers were in Dayton, less than four days since Selection Sunday and less than a week since the team was in Indianapolis for the Big Ten tournament. Now they are in Portland, Oregon. In between Dayton and Portland, Indiana endured plane troubles. Asked what they did to pass the time, Johnson chimed in late.
"And we made a TikTok," Johnson said.
You may have already seen it. If you haven't, you should.
It was posted on Miller Kopp's TikTok account. The song "Jersey Anniversary Sheesh Mix (Corpses)" by VIXXLE plays over a montage of videos. First there is Trey Galloway, standing in the aisle, a pair of headphones around his neck, sunglasses on, shimmying his arms and hips. Then there's Jordan Geronimo, who had an outstanding performance in Indiana's win over Wyoming, rocking side to side and rubbing his hands on his torso. There's manager Adam Howard and Miller Kopp both showing off their moves. Then Galloway again. Finally, there's Johnson hopping up and down.
As of Wednesday night, it has more than 150,000 likes on TikTok.
"Went viral," Johnson said.
That was just one window into Indiana's trip, leading to a Thursday matchup with Saint Mary's in the round of 64. Consider, though, what Indiana has been through over the last seven days.
Last Thursday, Indiana played Michigan at the Big Ten Tournament in Indianapolis, which the Hoosiers won.
Last Friday, they beat Illinois.
Last Saturday, they lost to Iowa on a Jordan Bohannon banked 3-pointer from near half-court.
On Sunday, the Hoosiers learned they made the NCAA tournament for the first time since 2016 at a watch party in Bloomington. Indiana, though, was placed in Dayton, Ohio, to play in the First Four.
Starting at a little before 6 p.m. EST on Monday, media availability was held with Johnson, Trayce Jackson-Davis. Mike Woodson followed after. Then there was a shootaround open to the public.
On Tuesday, Indiana's 9:10 p.m. EST scheduled start was pushed back because the game before it finished late. Indiana beat Wyoming, 66-58. Media availability ended after 12 p.m. EST. The Hoosiers were then off to Portland, Oregon, the sight of the next game.
Then it really gets interesting. Indiana got on its first plane.
"We got on that plane, we were there, and then they're like hour delay," Jackson-Davis said. "So we're like, all right. We were enjoying the win."
But then, Indiana had to switch planes. According to a statement posted by IndyStar's Zach Osterman, the NCAA said "Unfortunately, a crew member was late arriving for Indiana's men's basketball team flight from Dayton to Portland, and weight limitations would have required a fuel stop, which could not be arranged at that hour. We were able to get the travel party and their equipment assigned to a larger aircraft to minimize the delay…"
"Two hours later we are taking off," Jackson-Davis said, also noting that the flight was bumpy.
Johnson said that Indiana arrived in Portland at about 7 a.m. PST. Jackson-Davis said there was a 30-minute bus ride to the hotel.
"By that time I was like can we please just get here," Jackson-Davis said. "We finally got to the hotel room, and I probably fell asleep in three minutes."
Woodson said the coaches "didn't really sleep" due to the fact that they were prepping, getting guys out of bed and down for a meal. They also did a walk-through. Then there was media availability, which began at just before 4:15 p.m. PST. Woodson followed. After that, another shootaround. Woodson said tomorrow the team will have their normal routine, with the game scheduled to tip-off at 4:20 PST.
A whirlwind schedule similar to this is something Woodson, who spent numerous years playing and coaching in the NBA, has experienced before. Woodson said he'd catch red-eye flights and sleep in chairs at the airport.
"In the NBA, back in the old days, man, it might have been the worst travel in the world," Woodson said. "…But we were signed up as NBA players, and that was part of it. They have it pretty damn good right now, I think."
Thursday will mark Indiana's fifth game since the beginning of the Big Ten Tournament and its fifth in eight days. Should they win, the Hoosiers will play again on Saturday.
"We think of it as you're going in, maybe you don't get as much sleep as you want, but you're playing one game, and this one game could be the last game of your season," Jackson-Davis said. "You don't have time to hone in on how tired your legs are because all you want to do is win that game. So it's basically whatever it takes. And maybe our legs are tired, but we're going to play through it and play as hard as we can."
Filed to: 2022 NCAA tournament