Despite the loss to Saint Mary's, this is an Indiana team worth remembering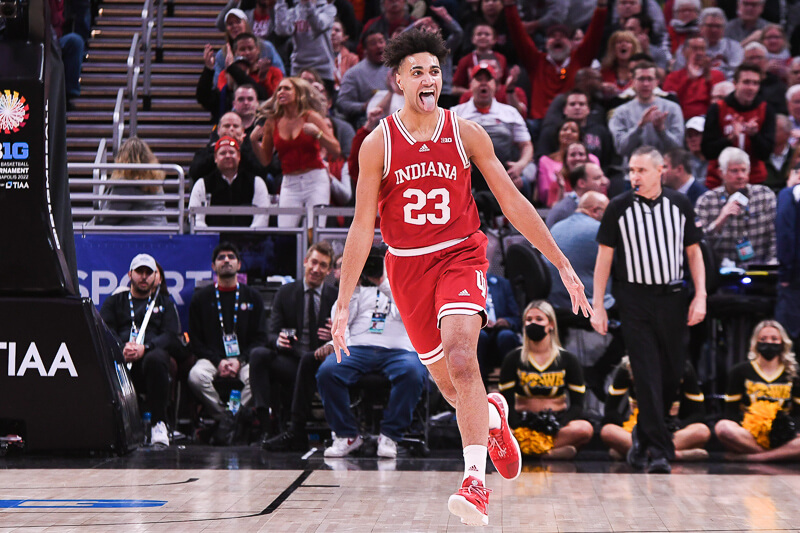 Down by 30 points with just over three minutes remaining, Anthony Leal dove on the floor for a loose ball. This was the same Anthony Leal who hadn't made a game appearance since Feb. 24 against Maryland. On Thursday, the game was all but decided, Indiana's NCAA tournament run almost out. Yet Leal tumbled on the floor, put his body on the line, drew a foul and proceeded to hit two free throws.
This was a brief moment, one that wouldn't make a difference in who won the game. The Hoosiers were thoroughly outclassed by Saint Mary's 82-53 on Thursday at the Moda Center. In many statistical categories, the Gaels had their way. They shot 52 percent from the field and 48 percent from three to Indiana's 34 percent from the field and 20 percent from three. Saint Mary's also scored 26 points off Indiana turnovers and outrebounded the Hoosiers by 11.
It was a sour game to end the season for Indiana.
But in some ways, the play by Leal seemed to paint a picture of this Indiana team. In some seasons, there comes a point where you just want it to be over. Other times, there are teams that are easier to embrace. This Indiana team seems to fall in the latter. Once down 17 points with their season on the line, they fought back. They showed some charisma and personality. They played with passion. Thursday's loss shouldn't take away from that.
This is an Indiana team that's worth remembering. For the thrilling moments, triumphs, shortcomings and comical soundbites. This team should also be remembered for laying a foundation. In his first season as IU's head coach, Mike Woodson led the program to its first NCAA tournament appearance since 2016. Culture was established. The future isn't certain, but there seem to be many indications that Woodson is taking this program in the right direction. Thursday's loss shouldn't overshadow that.
"It was a great run for our ball club this season getting back into the Big Dance, and now we've got to build on it for future," Woodson said postgame. "That's what it's all about at this point."
This season delivered various memorable moments. In November, Trayce Jackson-Davis scored an Assembly Hall record 43 points in a win over Marshall. In January, Rob Phinisee delivered a game-winning 3-pointer to beat Purdue for the first time since 2016, leading to a court-storming at Assembly Hall. In the Big Ten tournament last week, Indiana was once down by 17 points to Michigan in the second half, its NCAA tournament hopes seemingly dwindling with a loss. But the Hoosiers made a remarkable comeback. Then they knocked off top-seeded Illinois the following day. It secured a bid to the NCAA tournament, where the Hoosiers beat Wyoming in the First Four on Tuesday for its first win in the Big Dance since 2016.
What makes it all the more rewarding is understanding the resilience it took to get to this point. At various moments in the season, Trey Galloway and Rob Phinisee were sidelined with injuries. In February, Indiana went on a five-game losing streak. Once viewed as an NCAA tournament team, the Hoosiers were back on the bubble. Indiana lost its final two games of the regular season, both close, potentially demoralizing losses. But Indiana had more left in postseason play
"Seeing the Hoosier Hysteria around the state, it was a blessing to be a part of it," Jackson-Davis said. "Just seeing the guys rally when adversity struck and being able to compete and clawing our way back in and making the Big Dance. I know it's not how we wanted to go out, but it's an honor and blessing to be here."
There are some moments, not even during the games, that are worth reminiscing on. Once asked a question that mentioned Trayce Jackson-Davis' potential fatigue, Woodson told Big Ten Network: "Well, hell, he's 20 years old. Shit, he should be able to respond. He's a young man." Earlier in the season, after recording a double-double, Jordan Geronimo declared "God gave me this body to get rebounds." Then there was a moment during Indiana's open practice the day prior to its matchup with Wyoming, where kids delivered passes from the stands to Xavier Johnson, who knocked down 3-pointers from the corner.
Some of this culture should be attributed to Woodson. In March, Woodson, who played for Bob Knight at IU, was announced as Indiana's head coach and tasked with trying to bring a once-dominant program back into consistent relevancy. From early on, Woodson's charisma seemingly captivated the fanbase. He wouldn't hold back his language during press conferences and once made a joke about his golf game.
For Woodson, establishing this culture extends to what's done off the court. This is someone who seems to understand the big picture. The life picture. He has spoken about the importance of school. "You've got to rely on your education, which is first and foremost with me, and then basketball is secondary," Woodson said recently. In a February game at Northwestern, five players, including two starters didn't play due to disciplinary reasons. "I'm building a culture here," Woodson said after the loss to the Wildcats. "I'm not here to mess around with guys that don't want to do what's asked of them."
"I really just think, honestly, with Coach Woodson, it's accountability," Jackson-Davis said when asked about how Woodson has helped make him a better man. "It's all about family. It's all about us as students and athletes second, honestly. He puts a really big emphasis on that. He's almost like our dad in that sense where we can come to him for a lot of things, and he's going to help us out and do whatever he needs to do."
That is among the unquantifiable characteristics that Woodson has displayed in his first year coaching at IU. From a statistical standpoint, Indiana finished the season with a 21-14 record and 9-11 in the conference — excluding the Big Ten tournament. There are needs and improvements that need to be addressed this offseason, but this is a worthy foundation. The experience playing in the NCAA tournament is something Indiana players haven't gotten in recent seasons.
"The pressure was really on this young team, and these guys stepped up, and they did what they had to do to get us to this day," Woodson said. "So it's something to build on, man. It's all positive, I think, moving forward for our program, but we do have to get better."
Indiana's season ended with a loss. But for various reasons — the unfiltered language, senior night speeches, the adversity and rewards — this is an Indiana team worth remembering.
Filed to: 2022 NCAA tournament