Five takeaways from Indiana's loss to Saint Mary's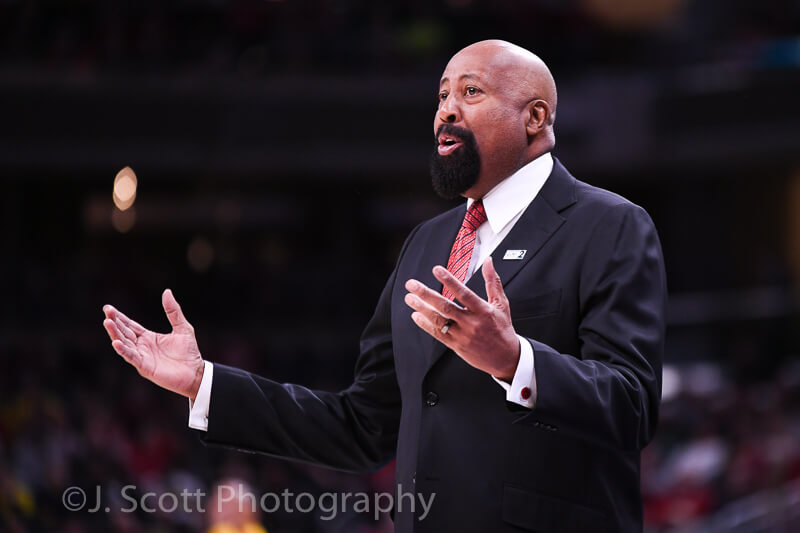 Indiana's 2021-22 season ended on Thursday night with a 82-53 loss to Saint Mary's in the NCAA tournament at the Moda Center in Portland.
The Hoosiers finished the season 21-14 and reached the NCAA tournament for the first time since 2016. Here are five takeaways from the loss to the Gaels:
Indiana's defense couldn't hold up against disciplined Gaels
Indiana and Saint Mary's was a matchup between two teams ranked in the top 20 of KenPom's adjusted defensive efficiency ratings. Only one team lived up to that billing.
The Hoosiers started the game with energy and defending well, but it was short-lived. At the under eight media timeout of the first half, Indiana led 21-19 and was allowing just 1.02 points per possession.
But things fell apart quickly.
Over the final 7:47 of the first half, Saint Mary's scored 21 points to claim a 40-28 halftime lead. Once a Tommy Kuhse 3-pointer fell to open the second half scoring for the Gaels, the game was out of reach for Indiana.
The 1.209 points per possession allowed by Indiana was a season-worst. It eclipsed the 1.205 the Hoosiers allowed in an ugly 80-62 home loss to Michigan on Jan. 23.
For a team that has won with defense all season, it was a disappointing performance. Indiana allowed Saint Mary's to shoot 53.8 percent on 2s, 47.6 percent on 3s and the Gaels grabbed 10 offensive rebounds. The Hoosiers were a step slow for most of the night, likely the result of five games in eight days and a cross country trip early Wednesday morning.
"I think we wore them down," Saint Mary's coach Randy Bennett said. "And I think all the factors came into play with them playing Tuesday and having to travel."
Saint Mary's guards dominate backcourt matchup
Saint Mary's dismantling of Indiana happened in large part because of its guard play.
Seniors Tommy Kuhse and Logan Johnson combined for 39 points in 66 minutes. Johnson played stellar defense on Xavier Johnson and finished with six rebounds and three steals to go along with his 20 points.
Kuhse, a sixth-year senior, controlled the pace from the point guard position, dished out six assists and hit three of his six 3-point attempts.
The duo, which has produced consistently for the Gaels all season, showed just how far Indiana has to go with its backcourt play.
Xavier Johnson was Indiana's only guard to reach double figures in scoring with 11 points and also had five assists, but committed five turnovers. Parker Stewart hit a 3-pointer early for Indiana, but didn't score the rest of the game. Rob Phinisee came off the bench for 17 minutes and didn't score. Miller Kopp also went scoreless.
Besides Johnson, Indiana's guards and wings were inconsistent all season. As Mike Woodson begins his first full offseason as Indiana's coach, improving the backcourt play has to be a top priority.
"These guys are young, man, and they've got a lot to learn in terms of basketball and how I want to play and the style of play that I want," Woodson said following the loss. "So it's going to be a work in progress, but that's what we all signed up for. We just got to get through that process and get better for next season."
Indiana's 3-point shooting is a no-show
The Hoosiers were a mediocre 3-point shooting for most of the 2021-22 season and Thursday was no exception. While Saint Mary's took and made some tough and contested 3-pointers, Indiana once again struggled from distance.
The Hoosiers shot 2-of-10 from distance compared to 10-of-21 for Saint Mary's. Indiana was outscored by 24 points from the perimeter against Saint Mary's. In last week's loss to Iowa, it was a -27-point performance from distance for Indiana.
As a team, Indiana made only 206 3-pointers, which averaged out to 5.89 per game. Its opponents made 265 3s or 7.58 per game.
From a percentage standpoint, Indiana only improved marginally from last season, jumping from 32.4 percent to 33.3 percent. The Hoosiers only scored 24.9 percent of their points this season on 3s, which ranked just 324th nationally.
Jordan Geronimo again provides a spark off the bench
For the second straight game, Indiana forward Jordan Geronimo provided a positive for the Hoosiers off the bench.
The 6-foot-6 Geronimo scored nine points in 20 minutes off the bench in the loss to the Gaels. His five first half points gave the Hoosiers an 18-14 lead at the 11:13 mark.
Over two NCAA tournament games, Geronimo scored 24 points and grabbed 13 rebounds in a total of 39 minutes.
It was a huge step late in the season for a player who is pivotal to the program's frontcourt moving forward.
"I just gained, I guess, a lot of confidence in myself," Geronimo said postgame. "Knowing that I'm able to provide to help my team win. And just being able to work with my team is always a good experience. It was a good experience."
Indiana's first season under Mike Woodson was a success
Mike Woodson accomplished what should be the baseline for Indiana basketball in his first season in Bloomington: making the NCAA tournament.
The program hadn't reached March Madness since 2016 and Woodson talked often this season that his goal was to take the program back to the tournament in his first season.
He did just that.
The overall record wasn't pretty at 21-14 and Indiana had to scratch and claw its way into the postseason with a run in the Big Ten tournament, but Woodson and the players deserve credit for reaching their stated goal.
"Now these guys, they have a feel," Woodson said. "They got this summer to go and work on things that can make them better as ballplayers and make us better as a team when they come back. So it's a lot of positives making the Big Dance this year for our program."
Filed to: 2022 NCAA tournament, Saint Mary's Gaels