'They were gassed': Indiana suffers worst-ever NCAA tournament loss to Saint Mary's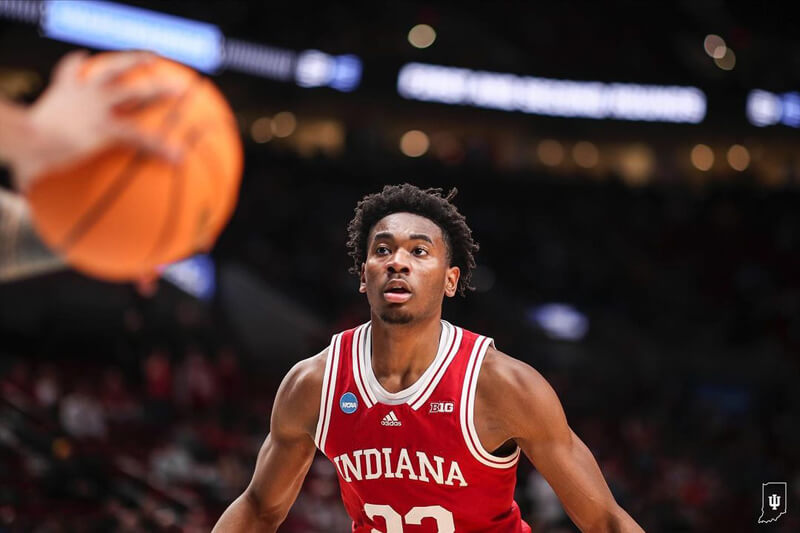 PORTLAND, Ore. — Mike Woodson stood on the sideline with his arms crossed and a blank expression on his face watching Tommy Kuhse shoot free throws. It wasn't even halftime yet — that was still four minutes away. The foul shots only put Saint Mary's up by four, but it stopped any momentum Indiana had to regain the lead it possessed just four minutes before.
The Hoosiers would never take back the lead. Instead, Saint Mary's piled the points on to hand Indiana its worst NCAA tournament loss in history — 82-53.
Indiana got off to a good start — leading for seven of the 11 first minutes. But the rest of the game consisted of moments that left Woodson scratching his head.
To everyone but the team itself, it seemed like the Hoosiers ran out of gas.
"First ten minutes, I didn't think we were great defensively," St. Mary's head coach Randy Bennett said postgame. "After that, we did. I think we wore them down, and I think all the factors came into play with them playing Tuesday and having to travel."
It was true. It was Indiana's fifth game in the span of a week. The Hoosiers were tasked with a cross-country trip after defeating Wyoming on Tuesday, and it wasn't an easy one. Their flight was delayed three hours on top of the already-lengthy five-hour flight to Portland. Then, Indiana had to play No. 5 seed Saint Mary's just about 36 hours later.
None of that mattered to Woodson, though. His reasoning for his team's loss was simple — Saint Mary's was the better team Thursday.
"I've never been a coach that makes excuses," Woodson said. "Traveling had nothing to do with it."
Woodson took the blame, saying he had to do better. But he never attributed his team getting blown out to fatigue.
Indiana shot poorly — making just 18 of its 53 field goal attempts. Woodson was the first to admit his team's shooting needs major work. But he knew it wasn't uncharacteristic of his team.
What was unlike Indiana was its defense. Indiana came into the game ranked 18th in adjusted defensive efficiency by KenPom. That's what Woodson chalked the blowout up to — he said they were a step slow on defense.
But Bennett said what Woodson couldn't — Indiana didn't have a chance.
"I know Indiana won't use this as an excuse, but the situation they had is tough," Bennett said. "They were just playing Wyoming, they're trying to get that win. They just finished their conference tournament. They really didn't have any chance to prepare for us."
All of those factors manifested in ways beyond just failing to guard the wings on defense. It was missed rebounds, unforced turnovers and unnecessary fouls, too.
In the opening minutes of the game, Xavier Johnson had a defensive rebound bounce right to him but he waited for someone else to grab it — and that person was on Saint Mary's.
"What is wrong with you?" a fan screamed from the stands.
It didn't stop there. Indiana gave up 10 offensive rebounds for 11 second-chance points. For the game, Saint Mary's grabbed eight more rebounds than the Hoosiers.
There were still 13 minutes to play when Trayce Jackson-Davis got his shot blocked by Dan Fotu. Jackson-Davis didn't even make an attempt at the offensive board.
"I don't think it had anything to do with legs," Jackson-Davis said. "Obviously, when you start playing a lot of minutes, you get tired regardless."
When things looked bleak, Johnson moved at a hurried pace to try and make something happen. His speed worked against him.
Johnson tried to push the pace three minutes into the second half after a missed Saint Mary's shot, looking for Miller Kopp on the right wing. Instead, he launched a laser that found Dane Fife on the bench. That was just one of his five turnovers of the day, adding to the team's total of 13.
The turnovers just added to Indiana's foul count. Indiana moved too fast on offense and threw the ball away, then it couldn't get back fast enough on defense — so it fouled.
It was obvious to everyone except the team. The Hoosiers found themselves in too deep a hole and didn't have the energy to find a way like they did a week ago against the Wolverines in the Big Ten tournament.
"You could see it on their faces," Bennett said. "They were gassed, like probably at halftime."
(Photo credit: IU Athletics)
Filed to: 2022 NCAA tournament, Saint Mary's Gaels